Chart of the day: Capacity utilisation and unemployment
---
"New moon on Monday, And a fire dance through the night, I stayed the cold day with a lonely satellite" Duran Duran
Last week's NAB business survey revealed just how quickly the COVID-19 shutdown was impacting Australia's businesses. According to the March 2020 survey, business conditions (a decent leading indicator of Australian GDP growth) collapsed 21 points to -21 points, the largest decline on record. In one month, conditions fell to a level slightly worse than the trough of the GFC, though remain well above levels in the 1990's recession. All three major components of the survey (profitability, trading conditions and employment) fell sharply in March.
Today's chart also draws from the NAB survey and shows the collapse in businesses' 'capacity utilisation'—effectively how hard they are running their operations (shown inverted in the chart). While not a perfect relationship, not surprisingly, capacity utilisation tracks unemployment reasonably well. The decline in capacity in March (even ahead of the fuller shutdown in April) from 81% to 75% is roughly consistent with a jump in unemployment to 7.5% over the next couple of months from its current 5.2%. Capacity utilisation would be expected to fall further in April.
Capacity utilisation will also be a key indicator to watch as Australia's phased easing of restrictions, likely through May and June, should see a rebound in businesses' capacity utilisation into Q3. This could provide insights into how quickly job losses, which are likely to be significant in coming months, can be reversed (though returning to 5% unemployment will likely take years). Also, it is worth a look is this week's new Australian Bureau of Statistics Weekly Payroll Jobs and Wages report , the first of its kind for Australia. Using the ATO's 'single touch payroll system', which covers approximately 99% of large and medium-sized businesses and around 70% of small businesses, we are likely to get some interesting (and potentially worrying) insights into just how sharp the impact of COVID-19 has been on actual jobs over the past several weeks.
NAB survey—capacity utilisation and unemployment
Source: NAB survey.
Be the first to know
I'll be sharing Crestone Wealth Management's views as new developments unfold. Click the 'FOLLOW' button below to be the first to hear from us
........
General advice notice: Unless otherwise indicated, any financial product advice in this email is general advice and does not take into account your objectives, financial situation or needs. You should consider the appropriateness of the advice in light of these matters, and read the Product Disclosure Statement for each financial product to which the advice relates, before taking any action. © Crestone Wealth Management Limited ABN 50 005 311 937 AFS Licence No. 231127. This email (including attachments) is for the named person's use only and may contain information which is confidential, proprietary or subject to legal or other professional privilege. If you have received this email in error, confidentiality and privilege are not waived and you must not use, disclose, distribute, print or copy any of the information in it. Please immediately delete this email (including attachments) and all copies from your system and notify the sender. We may intercept and monitor all email communications through our networks, where legally permitted
---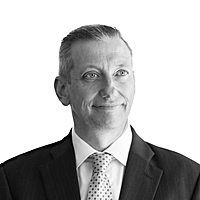 Chief Investment Officer
Crestone
Scott has more than 20 years' experience in global financial markets and investment banking, providing extensive economics research and investment strategy across equity and fixed income markets.
Expertise