Chart of the day: foot traffic for Australian retailers
---
"The more we are locking down, the more we are slowing the spread. The other side to that is that it prolongs the extent of the economic shutdown." Phillip Coorey, AFR
Not unexpectedly, social distancing and 'stay-at-home' orders have led to a dramatic reduction in Australia's retail activity. Today's chart from UBS reveals the extent of that collapse with foot traffic (from ShopperTrak) down 70% relative to two months ago). A large swathe of Australian retailers—most of which function on relatively tight margins—have shut their doors with the intention of hibernating through this period. According to the Australian Bureau of Statistics, retail is Australia's second largest employer with around one-third of workers between 15-24 years old.
It is too early to tell when the Government will assess it is time to lift the stay-at-home order (though last week's news that New South Wales's lockdown laws will be enforce for at least 90 days is a signal of sorts). Tomorrow (Tuesday 7 April) Prime Minister Morrison is expected to release the latest modelling of how the virus outbreak may play out, and he hinted last week that it will be a better outlook than he released mid-March. For the optimists, this could suggest a rise in foot traffic for retailers (and repair of likely much higher unemployment by then) through Q3 this year.
As Bank Credit Analyst Research noted today, "While lockdowns clearly have an extremely negative initial effect on economic activity, there appears to be an inverse relationship between their severity and duration…investors and economic agents fully recognise that a recession is occurring because of the deliberate actions of policymakers. Thus, they may be less inclined to extrapolate (i.e. severe second round effects), meaning that demand may recover faster than usual once activity resumes."
Foot traffic falls for Australian retailers
Source: ShopperTrak, UBS.
Be the first to know
I'll be sharing Crestone Wealth Management's views as new developments unfold. Click the 'FOLLOW' button below to be the first to hear from us.
........
General advice notice: Unless otherwise indicated, any financial product advice in this email is general advice and does not take into account your objectives, financial situation or needs. You should consider the appropriateness of the advice in light of these matters, and read the Product Disclosure Statement for each financial product to which the advice relates, before taking any action. © Crestone Wealth Management Limited ABN 50 005 311 937 AFS Licence No. 231127. This email (including attachments) is for the named person's use only and may contain information which is confidential, proprietary or subject to legal or other professional privilege. If you have received this email in error, confidentiality and privilege are not waived and you must not use, disclose, distribute, print or copy any of the information in it. Please immediately delete this email (including attachments) and all copies from your system and notify the sender. We may intercept and monitor all email communications through our networks, where legally permitted
---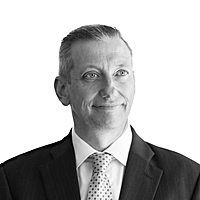 Chief Investment Officer
Crestone
Scott has more than 20 years' experience in global financial markets and investment banking, providing extensive economics research and investment strategy across equity and fixed income markets.
Expertise