Chart of the day: Labour market slack hits a record 20% in Australia
---
"Progress is impossible without change; and those who cannot change their minds cannot change anything". George Bernard Shaw
Measuring unemployment is a strange dynamic. If I lost my job but didn't seek employment straight away (because I wanted to refresh and recharge), I fall out of the unemployment rate…I am not 'unemployed'. Maybe my hours of casual work got cut from 20 hours per week to 1 hour (yes, I know, unlikely to be possible due to our laws on short shifts)…but despite a 95% cut in my gross income I'm employed…because I worked one hour!
And so it goes with yesterday's devastating pandemic-ridden jobs report. In line with expectations, the number of people employed fell by 594,000…that's almost 5% of the workforce. Prior to this, our worst ever job loss was 72,000 (-1.0%) in the wake of the 1990-91 recession. Around 63% of the job losses in April were for part-time workers. Still, against expectations for a rise from 5.2% to 8.3%, unemployment only rose 1 percentage point to 6.2%.
What happened? People 'fell out of the jobs market'. About 2.5% of the people who lost their job didn't make it back into the jobs market for unknown reasons, but likely they did not actively seek work during that week. One reason they may not have been in a rush to look for work (despite a significant income loss) is due to the decision by the Morrison government to waive for a time the 'mutual obligation requirements' that require those seeking unemployment benefits to go to job interviews (and to work for the dole). The Australian Bureau of Statistics noted that if it had applied the US measures of unemployment, Australia's jobless rate would be 11.7%.
Thankfully, in our chart today from UBS, we can see that, despite a less-than-expected rise in the unemployment rate to 6.2%, the 'underutilisation rate', a more accurate measure of labour market slack, showed a rise from 14.0% to 19.9% (a 6 percentage point rise) to its highest on record (and above the 18.2% in the 1990s recession). To its credit, after having dismissed suggestions last month that its job-relief packages would need to be reviewed or extended, the Morrison government has announced that it will extend till 1 June (and continue to review over coming months) the 'mutual obligations' requirement for JobSeeker payments. Moreover, it has also announced it will review JobKeeper at the end of June.
The measured unemployment rate will probably continue to rise toward the Reserve Bank of Australia's 10% forecast in coming months. How quickly it declines will depend on how many folk can just slip back into their 'lost jobs' when lock-downs mostly end, likely to be easier for those who lost part-time jobs. But history suggests unemployment heals slowly, often taking more than a year to retrace half of its prior rise.
True labour market slack hits 20% of workforce
Source: UBS, RBA, ABS.
Be the first to know
I'll be sharing Crestone Wealth Management's views as new developments unfold. Click the 'FOLLOW' button below to be the first to hear from us.
........
General advice notice: Unless otherwise indicated, any financial product advice in this email is general advice and does not take into account your objectives, financial situation or needs. You should consider the appropriateness of the advice in light of these matters, and read the Product Disclosure Statement for each financial product to which the advice relates, before taking any action. © Crestone Wealth Management Limited ABN 50 005 311 937 AFS Licence No. 231127. This email (including attachments) is for the named person's use only and may contain information which is confidential, proprietary or subject to legal or other professional privilege. If you have received this email in error, confidentiality and privilege are not waived and you must not use, disclose, distribute, print or copy any of the information in it. Please immediately delete this email (including attachments) and all copies from your system and notify the sender. We may intercept and monitor all email communications through our networks, where legally permitted
---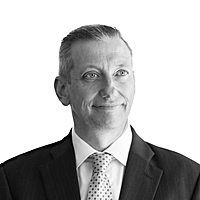 Chief Investment Officer
Crestone
Scott has more than 20 years' experience in global financial markets and investment banking, providing extensive economics research and investment strategy across equity and fixed income markets.
Expertise