Chart of the day: the rise of the Aussie dollar
---
"Failed plans should not be interpreted as a failed vision. Visions don't change, they are only refined. Plans rarely stay the same, and are scrapped or adjusted as needed. Be stubborn about the vision, but flexible with your plan".           John C. Maxwell, American Author
The Aussie dollar (AUD) ended 2019 a touch over USD 0.70, having risen almost 4% through the last quarter of the year, most likely on the back of improving momentum in global and domestic growth data. However, by mid-March 2020, the AUD had plunged to USD 0.55 as the dash for (US dollar) cash globally intensified. The outlook for the global economy had abruptly and sharply deteriorated on the back of the spread of COVID-19 globally, rolling government lockdowns of global activity and a collapse in the oil price.
Yet, as our chart today shows, the AUD has jumped from around USD 0.55 to over USD 0.63 now, a rise of over 13% in less than a month. Has the macro outlook improved? Has global data got better? Not at all. Indeed, last night, US retail sales fell by a record 8.7% for March, while Australia's NAB Business Confidence index on Tuesday fell to its worst on record (from -2 to -66), to a level twice as bad as during the GFC. Today's local jobs data is expected to show a 40,000 fall and a jump in unemployment from 5.1% to 5.5%.
Foreign exchange markets are fickle, with a penchant to changing their focus to different factors that might influence a currency's value for a time. In the AUD's case, Australia's starkly better outcomes (to date) in 'flattening the COVID-19 curve' and driving a relatively swift collapse in the new disease cases in Australia seems to have been a key driver of the AUD. While current macro data is destined to deteriorate, the potential for the Australian economy to recover more quickly (and its close ties to China, where activity levels are already starting to return to normal) does appear to be helping the AUD higher near term.
Obviously, this chart has its limits (evidently where Australia's new daily cases fall to zero and the AUD hypothetically rises to around USD 0.67). How resilient the AUD may be to any near-term weakness in equity markets and several months of recessionary domestic and global data remains to be seen. However, as UBS recently noted in making its case for the AUD to rise to USD 0.69 by the end of this year, the "AUD is seemingly becoming less sensitive to equity market movements and risk sentiment more broadly" and is likely a an early beneficiary of a rebound in growth in China and a much better current account/external trade position.
Australia's daily new COVID-19 cases and Australian dollar
Be the first to know
I'll be sharing Crestone Wealth Management's views as new developments unfold. Click the 'FOLLOW' button below to be the first to hear from us.
........
General advice notice: Unless otherwise indicated, any financial product advice in this email is general advice and does not take into account your objectives, financial situation or needs. You should consider the appropriateness of the advice in light of these matters, and read the Product Disclosure Statement for each financial product to which the advice relates, before taking any action. © Crestone Wealth Management Limited ABN 50 005 311 937 AFS Licence No. 231127. This email (including attachments) is for the named person's use only and may contain information which is confidential, proprietary or subject to legal or other professional privilege. If you have received this email in error, confidentiality and privilege are not waived and you must not use, disclose, distribute, print or copy any of the information in it. Please immediately delete this email (including attachments) and all copies from your system and notify the sender. We may intercept and monitor all email communications through our networks, where legally permitted
---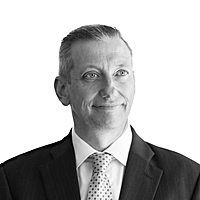 Chief Investment Officer
Crestone
Scott has more than 20 years' experience in global financial markets and investment banking, providing extensive economics research and investment strategy across equity and fixed income markets.
Expertise