Today in the AFR I write about the coming of Cold War 2.0 after last week's missive explaining that the only important questions right now revolve around who is China's President Xi Jinping and how is he going to respond to the prospect of western liberal democracies seeking to decouple from the Middle Kingdom as we enter into a new ideological battle between capitalism and "socialism with Chinese characteristics". Click here to read the full column or AFR subs can click here. Excerpt enclosed:
If there was any doubt about the gravity of this situation, which could absolutely lead to a full-blown kinetic conflict between the world's two major superpowers over Taiwan (or via miscalculations in the South China Sea), the White House released a detailed paper outlining changes to the "United States Strategic Approach to the People's Republic of China".
And you don't need to go beyond the first few paragraphs to get a sense of the profound shift in the zeitgeist apropos China, which has coalesced with even greater intensity since the advent of COVID-19.
"Since the United States and the People's Republic of China (PRC) established diplomatic relations in 1979, United States policy toward the PRC was largely premised on a hope that deepening engagement would spur fundamental economic and political opening in the PRC and lead to its emergence as a constructive and responsible global stakeholder, with a more open society," the US government begins.
"More than 40 years later, it has become evident that this approach underestimated the will of the Chinese Communist Party (CCP) to constrain the scope of economic and political reform in China. Over the past two decades, reforms have slowed, stalled, or reversed.
"The PRC's rapid economic development and increased engagement with the world did not lead to convergence with the citizen-centric, free and open order as the US had hoped. The CCP has chosen instead to exploit the free and open rules-based order and attempt to reshape the international system in its favour.
"Beijing openly acknowledges that it seeks to transform the international order to align with CCP interests and ideology. The CCP's expanding use of economic, political, and military power to compel acquiescence from nation states harms vital American interests and undermines the sovereignty and dignity of countries and individuals around the world."
The importance of this statement is that it is not simply a hawkish Pentagon refrain. It is rather a whole-of-government consensus that was signed off by all relevant US agencies, and which increasingly reflects the position of other leading Western states. Welcome to Cold War 2.0.
Over the weekend, US President Donald Trump's former chief strategist, Steve Bannon, gave an extraordinarily blunt interview with The Wire China's Pulitzer prize-winning journalist David Barboza that hammers home the point that the only thing that should matter in markets right now is the burgeoning US-China conflict that threatens to embroil us all.
"We're in 1938," Bannon exclaims. "For Hong Kong, this is that moment. If we blink, we're heading on a path to war, to a kinetic war, if we don't stop it right now. The elites are going the wrong way. This is not a cold war. This is a hot information and economic war, and we're sliding rapidly. We are inexorably going to be drawn into an armed conflict if we don't stop this now."
Bannon's rhetoric echoes the bi-partisan view that has emerged over the last 12 months in Washington - that the positive, patient paradigm of encouraging China to embrace the rules-based, liberal-democratic business model has failed miserably, and the only approach that will now work is acceptance of the fact that they are engaged in unabashed strategic conflict.
"Look, no one in the world wants war, but to avoid it you can't look the other way," he says. "The only thing these dictatorships understand is when you stand up to them."
Last week this column argued that the questions surrounding the China-US rivalry "are the most serious confronting humanity today". "If you don't have an informed sense of the distribution of possible futures that flow from them, you risk being wiped out. Perhaps both financially and physically."
In his brute-force fashion, Bannon delivers a similar message. "This is the only thing that matters," he says. "Not that the pandemic hasn't changed world history, but even with the pandemic, China is the only thing that matters … The single most important thing is that it has clarified things. It's made things crystal clear. We're in a war with the CCP. That's what we're talking about."
Overnight a London-based trader and I chatted about how markets seemed oblivious to these risks. It reminded us both of mid-February prior to the virus crisis.
The key difference this time around, of course, is that central banks have unleashed the mother-of-all liquidity and quantitative easing programs to furnish the global economy with a bridge to that time when vaccines are universally available to protect us against COVID-19.

The latest fracas over Hong Kong's autonomy presents another potential tipping point, with President Trump slated to announce the US response to China's imposition of new national security laws on Saturday morning, Australian time.
Never miss an update
Stay up to date with my content by hitting the 'follow' button below and you'll be notified every time I post a wire. Not already a Livewire member? Sign up today to get free access to investment ideas and strategies from Australia's leading investors.
........
Disclaimer: This information has been prepared by Smarter Money Investments Pty Ltd. It is general information only and is not intended to provide you with financial advice. You should not rely on any information herein in making any investment decisions. To the extent permitted by law, no liability is accepted for any loss or damage as a result of any reliance on this information. Past performance is not an indicator of nor assures any future returns or risks. Smarter Money Investments Pty Limited (ACN 153 555 867) is authorised representative #000414337 of Coolabah Capital Institutional Investments Pty Ltd, which holds Australian Financial Services Licence No. 482238 and authorised representative #001277030 of EQT Responsible Entity Services Ltd that holds Australian Financial Services Licence No. 223271.
---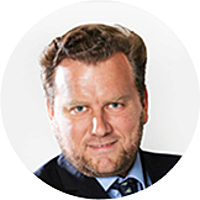 Portfolio Manager & Chief Investment Officer
Coolabah Capital
Chris co-founded Coolabah in 2011, which today runs $7 billion with a team of 33 executives focussed on generating credit alpha from mispricings across fixed-income markets. In 2019, Chris was selected as one of FE fundinfo's Top 10 "Alpha...