Complexity Premia on the Big Credit Rally, the Housing Bust Ending, Unconventional RBA Policy, & Much More...
---
A big thanks for the incredible interest in our Complexity Premia podcast! Please note that this is nerdy investment content, and not for retail punters. In this episode we: discuss the huge credit rally that no experts expected at the end of 2018 (capitalising on this, our insto-only Active Composite Bond strategy returned 9.14% before fees over the year to March 2019 compared to the Composite Bond Index's 7.20%); make the case that the housing bust could be about to end; reveal that the RBA is considering unconventional monetary policy; argue (again) that ScoMo has a much better chance of winning the election than betting markets/political experts think; canvass rising RMBS risks as house prices plunge; explain why the Senate will probably kill the ALP's franking policy as it stands; and consider Magellan's entry into the simmering LIC debate.
Listen on:
This information is suitable for wholesale investors only and has been produced by Coolabah Capital Institutional Investments Pty Ltd ACN 605806059, which holds Australian Financial Services Licence No. 482238 (CCII). The views expressed in this recording represent the personal opinions of the speakers and do not represent the view of any other party. The information does not take into account the particular investment objectives or financial situation of any potential listener. It does not constitute, and should not be relied on as, financial or investment advice or recommendations (expressed or implied) and it should not be used as an invitation to take up any investments or investment services. Whilst we believe that the information discussed in the podcast is correct, no warranty or representation is given to this effect, and listeners should not rely on this information when making any decisions. No responsibility can be accepted by CCII to any end users for any action taken on the basis of this information. No investment decision or activity should be undertaken without first seeking qualified and professional advice. CCII may have a financial interest in any assets discussed during the podcast. Listeners in Australia are encouraged to visit ASIC's MoneySmart website to obtain information regarding financial advice and investments.

---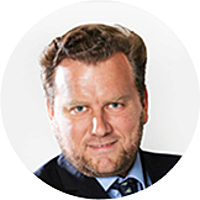 Portfolio Manager & Chief Investment Officer
Coolabah Capital
Chris co-founded Coolabah in 2011, which today runs $7 billion with a team of 33 executives focussed on generating credit alpha from mispricings across fixed-income markets. In 2019, Chris was selected as one of FE fundinfo's Top 10 "Alpha...