Corporate Travel Lays Down the Runway for a Rerating
---
Corporate Travel Management (CTD) has been one of the most topical stocks on the ASX in recent months, specifically due to being the target of a well-publicised, short report at the end of October 2018 which sent the share price tumbling from ~$28/s to ~$20/s in one trading session. Since then, the share price has staged a recovery to $27.50/s (at the time of writing, following the release of 1H19 results today).
While the short report posed some questions that required further investigation, a 30% drop in the share price to a market participant's biased view seemed excessive, and potentially an opportunity to purchase shares in a quality company at a more reasonable price. Our quick analysis at the time, and subsequent work, continued to support our original view that this is a quality business with a large runway of growth opportunities ahead of it that should last many years.
For those unfamiliar with the story, CTD provides travel management services to the corporate sector globally. Services include travel advisory services, ticketing, and reporting. The company was founded in 1994 by Jamie Pherous in Australia, and has grown strongly to become a genuine global operator.
The company's listing in 2010 allowed it access to capital to pursue an accompanying acquisition strategy as part of its growth plans. Importantly, outside of acquisitions, we value the company's ability to grow organically and generate returns for shareholders.
Three key takeaways from today's result
The organic growth in the business remains strong. While overall EBITDA grew 21% on pcp, the organic growth component was ~85% of this i.e. in the absence of earnings acquired last year, the company grew 18% organically.
Guidance looks readily achievable, given conservative FX assumptions. CTD has said that it's currently tracking at the top end of the FY19 guidance range ($144-150m EBITDA). Assumptions around FX are: USD0.76c/HKD6.00/GBP0.56p, yet the USD and HKD haven't touched those levels all financial year, and spot FX levels are several percent away from the assumption levels. This provides some upside to the earnings delivery in FY19.
Despite the strong growth, the company continues to invest in the business. CTD has an unrelenting focus on delivering exceptional customer service through having a technological edge. To that end, the company has previously guided to $18m in software development costs in FY19, and that decent level of investment continues to be the case.
Still offering reasonable value
The interim result today demonstrated a company firmly on a strong growth trajectory. It's entirely reasonable for a quality company growing its earnings per share organically at 15-20% annually (with a realistic expectation that this will continue for many years given the large addressable market, and acquisitions to provide additional earnings growth), with strong returns and a highly capable management team, to be trading at above-market multiples.
Looking at consensus data over the last six years (back to the time it became evident that CTD was looking to build a global operation, having purchased some US-based businesses), CTD's PE multiple has ranged between 20-35x (with the share price increasing in that time from $4/s in 2013 to the $27.50/s today). Incidentally, the short report cited earlier took the share price right back to 20x, a level not seen since 2013, providing a rare opportunity to purchase shares in a quality company at a substantial discount to what we believe the shares are worth.
At today's share price, the company is trading on a PE of ~25x, still towards the bottom end of its PE multiple trading range, and a level that we believe represents reasonable value.
Result dispels fears about organic growth
As a company that has been reasonably aggressive (yet focused) on making acquisitions, there has rightly been attention over time on the company's ability to generate organic growth. Pleasingly, this result demonstrates that organic growth remains very strong on the back of the continued success in winning new clients.
The strategy set some years ago to build a global business is starting to bear fruit. This global presence has meant that CTD has been able to win global accounts that it couldn't have won some years ago.
A demonstration of this in today's result was in the particularly strong Europe segment where EBITDA grew 30% (all organic), which the company called out was supported by global clients, won in the US, transacting in Europe.
This cross-border dynamic has not been a major feature of the business historically, but is something we would expect to continue into the future and which further supports the organic earnings growth potential of the business.
---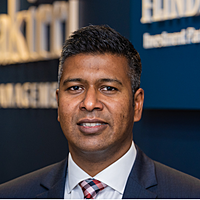 Partner and Deputy Portfolio Manager
Flinders Investment Partners
Naheed is Deputy PM of the Flinders Emerging Companies Fund which provides investors with an actively managed portfolio of listed small and emerging Australian companies, and is one of the top investment managers in the space.
Expertise