EGL's PFAS-tastic Results
---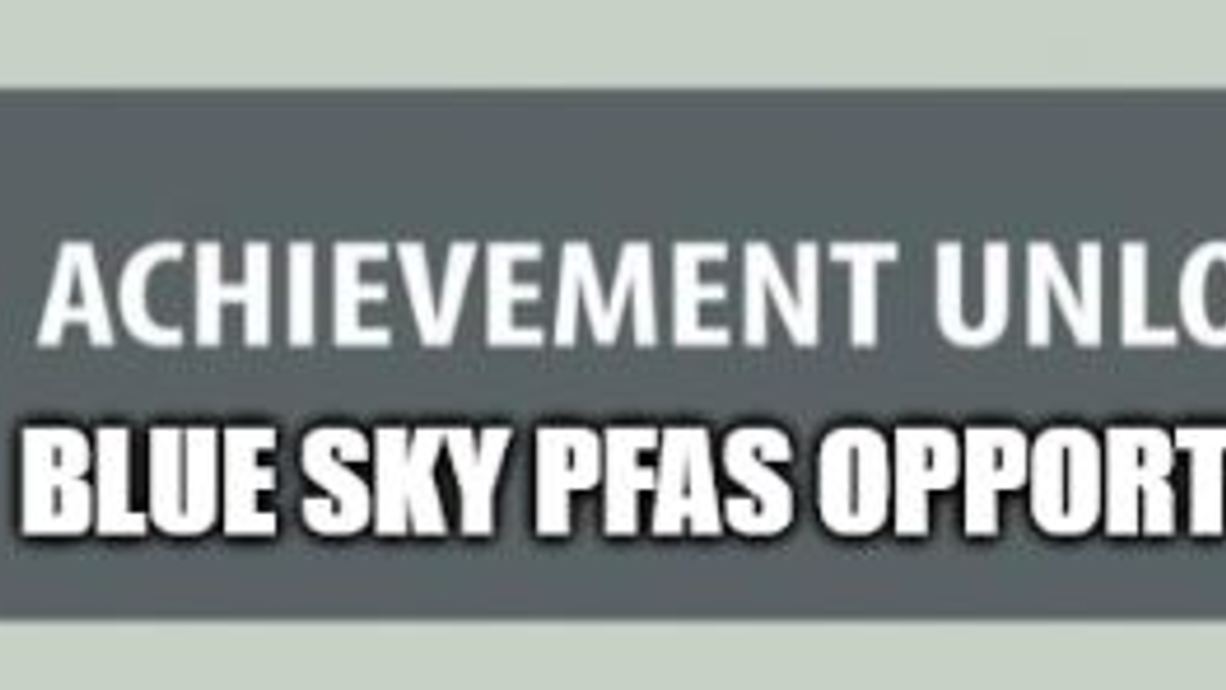 Keeping to the theme of our original note, EGL has unlocked a major achievement this month, announcing highly positive results from its commercial trials for its PFAS solution. Suffice to say, they are PFAS-tastic (terrible pun translation: fantastic) results!
Overview of The Environmental Group (ASX:EGL)
Before we get stuck into the details of those results, here's a quick refresher on the EGL business and our thesis.
EGL has five operating business units being the core and profitable Baltec, TES and TAPC divisions, and the newer EGL Water and EGL Waste divisions. Each of these divisions specialise in environmental solutions for a wide range of industries from gas power generation through to emissions control units for refinery operations.
Whilst we implore you to read the original note to get a better understanding, our thesis is essentially summarised as follows:
The core business is profitable and growing with tailwinds. In particular, we note TAPC (Total Air Pollution Control), which is experiencing a step change in opportunity and growth trajectory due to the current investment cycle in battery metals. These core businesses are the primary driver of EGL being on track to achieve ~$4m of EBITDA in FY22.
Success in the new business units, now substantially de-risked due to the successful PFAS trial results, which would open new and potentially highly profitable growth opportunities over the longer term.
And finally, a new management team, with skin in the game and aligned incentives, that would improve the operations under the existing and new business divisions, including through potential M&A, in order to maximise long-term growth and profitability.
A key catalyst in our original thesis, which we believe will drive a larger re-rate in the stock, was the announcement of positive results from EGL's commercial PFAS trials.
The trial results and what they mean
The results, detailed below, show that their solution is highly effective in extracting regulated PFAS from various waste streams. In most cases, it was reduced to the point below of any of today's available technology to detect PFAS at all, and importantly, below the limits prescribed in the National Environmental Management Plan 2.0 (NEMP2.0) guidelines. It also shows it is effective in extracting overall PFAS (i.e. also those that aren't regulated).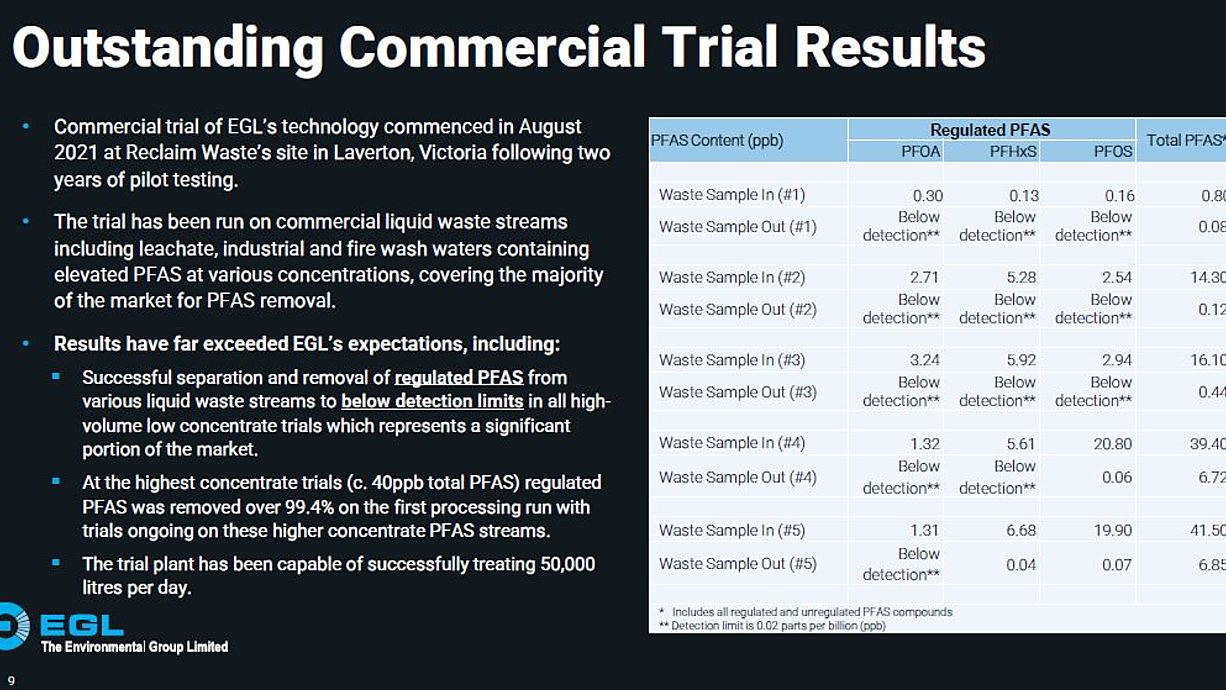 Whilst EGL's solution isn't the first to claim these capabilities, we think it is the simplest and most cost effective technology to date, and in our view is likely to be recognised as 'best in class'. 
With a simple and cost effective solution now available in market, we think this will encourage the various State EPAs and water authorities to become even more proactive in enforcing PFAS management, and in particular, for low level PFAS contaminated liquid and solid wastes, which often don't get treated in any manner.
Whilst NEMP2.0 has separation, treatment and destruction at the top of the hierarchy (see below), it is common to see solutions largely fall to the last option (removal to landfill) as many liquid or soil wastes have a relatively low level concentration had previously made separation, treatment and destruction a cost prohibitive option.
Source: Pg 67 NEMP2.0 Report Jan 2020
In the Westgate Tunnel example, which we highlighted in our original note, these solutions appear to be containment and hand off strategies with the contaminated soils spread out across three landfill sites (Bulla, MBC and Ravenhall). Whilst each site will have a treatment plant to remove some of the PFAS for destruction, if waste can't be effectively treated, the EMPs state it will be further managed/stored on-site or sent elsewhere. The below excerpt from the Ravenhall EMP details the above, although we note CWY has the best capability of the three to manage PFAS waste that can't be treated or stored effectively on site.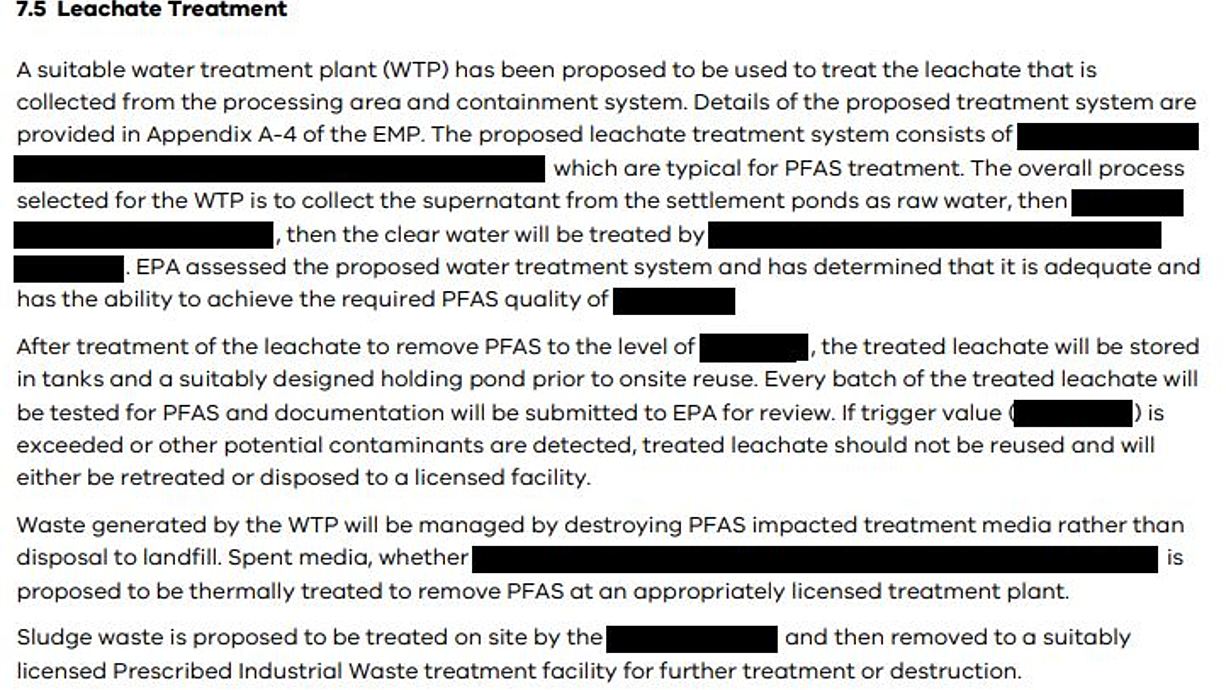 Source: 1970: EMP Assessment Report - Cleanaway (Ravenhall)
For this Westgate Tunnel solution, there was community backlash and legal challenges to using Ravenhall as a disposal site for contaminated soil. We also note a recent example here, where the South Australian EPA rejected a licence for a landfill to take PFAS waste, despite its design proposing the "best practice engineering measures" in line with NEMP2.0.
With community backlash constraining storage options, this only adds fuel to the fire for the imminent need of identifying cost effective separation, treatment and destruction solutions to ensure all PFAS waste is eliminated rather than sorted.
Even if storage supply wasn't an issue, the NEMP2.0 report states that the key issue to enforcing option 1 (PFAS separation, treatment and destruction) has been limited due to the lack of proven, commercially available solutions to manage high volumes of PFAS contamination.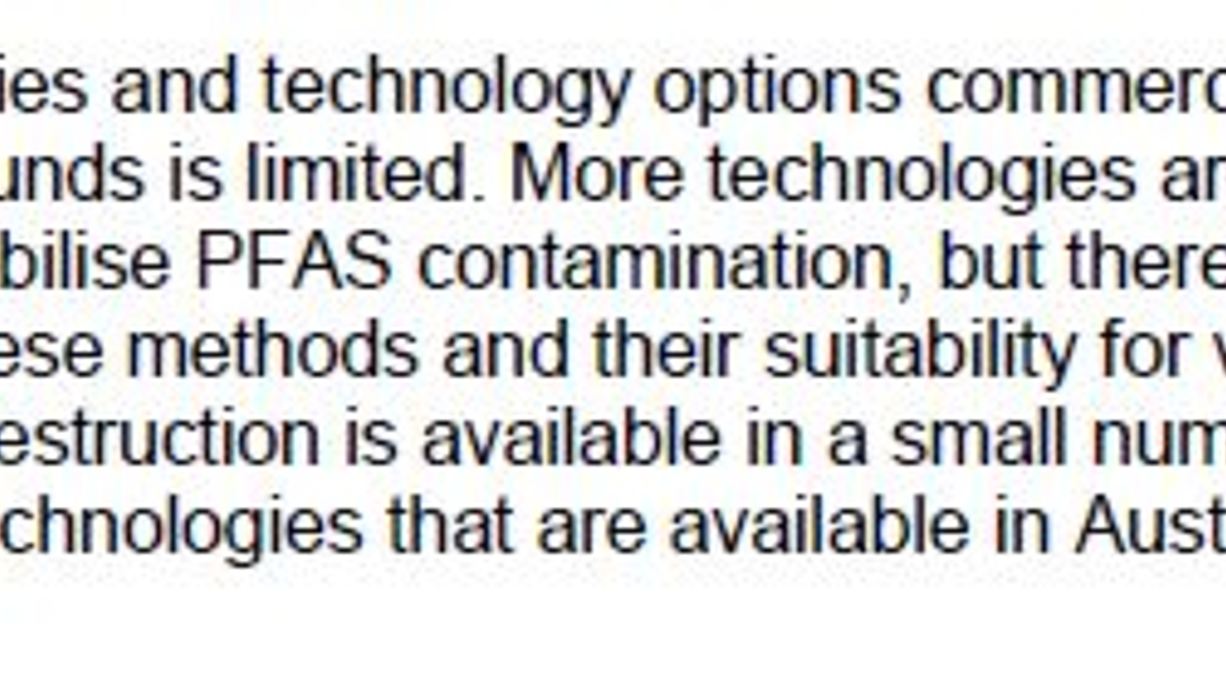 Source: Pg 67 NEMP2.0 Report Jan 2020
It is this problem that EGL's technology is solving which, as recent real life examples have shown (link), is a multi-billion dollar global problem.
We understand that the challenge to commerciality is cost effectiveness and the reason for cost challenges is due to the relatively low concentration of PFAS in water or soils required to be considered toxic. We think EGL's solution provides a cheap and scalable way to concentrate PFAS through its separation from a waste stream, thus representing a step change in the economics for PFAS management that environmental authorities across the globe have been waiting for.
What is the market opportunity?
Given the nature of EGL's PFAS technology, we think there are three broad segments in which they could sell a PFAS plant:
Hazardous liquid waste facilities and landfill sites
Any liquid landfill site that can handle hazardous waste could be a potential customer for an EGL plant, which could be used to treat new incoming waste as well as manage on-site liability such as leachate discharge from existing waste stockpiles.
Trawling through and corroborating the different reporting standards of the State EPA databases is a challenge, however, we think there are up to 40 sites across the country that could broadly be considered candidates, although it's likely that less than 30 of these would be currently licenced or have the potential to be licenced, thus represent a more immediate tangible target set.
We also think that such a solution could enable more sites to apply for a license to cover PFAS waste if the site engages in separation, treatment and destruction rather than storage.
Thinking more broadly, it is conceivable that many of Australia's 1000+ landfill sites could require a treatment plant for managing PFAS effluent from leachate discharge into waterways. This is an area in which we think state EPAs and Water Authorities would take the lead on through the ongoing environmental and licensing process.
Civil Construction
Many construction sites can encounter PFAS contamination in which there is growing action to ensure this PFAS waste is managed properly. Some notable examples include the Westgate Tunnel, and the Gateway Road Project, whilst we expect future infrastructure projects to be an opportunity as PFAS waste becomes a focal point of a project's environmental plan.
This would likely require EGL to develop a mobile, on-site solution otherwise it would benefit from contaminated soils being processed through hazardous waste sites/landfills which have an EGL plant.
Site Remediation
Australia has a laundry list of contamination sites which will have to be dealt with which range from abandoned firefighting training sites through to major operating airports. The following website provides one of the better snapshots of contamination across the country.
Same as for construction projects, this would likely require EGL to develop a mobile, on-site solution otherwise it would benefit from contaminated soils being processed through hazardous waste sites/landfills which have an EGL plant.
Whilst we have only focused on the more immediate Australian opportunity for this technology, we would be surprised if this technology couldn't be taken globally in time as other regions such as the US and Europe have larger PFAS contamination challenges compared to Australia.
What do these results mean for the stock?
If you've read this far, you've probably worked out that we are even more encouraged by the opportunity now ahead of EGL upon these successful commercial PFAS trials. We think it puts the company front and centre in what is becoming an increasing focal point in environmental management and regulation. This success is expected to see first commercial sales occur in CY22 and is likely to drive accelerating overall growth for EGL in CY23 and beyond.
In conjunction with the trial results, EGL also raised $4.75m from some of Australia's top fund managers, a couple of whom typically do not invest in companies this small unless the opportunity is incredibly compelling. This is a credit to EGL management and the growth opportunity that is now ahead of them.
The capital raise leaves them fully funded both for commercialising their PFAS technology and, just as importantly, for continued growth in the core business.
At the AGM in November, management noted that Baltec's pipeline was strong, TAPC was growing strongly into FY22 with a number of near-term prospects and EGL Waste will submit tenders for recycling plants worth approximately $50m by the end of calendar 2022. They remain on track to hit their core business earnings guidance, and we expect EGL to make accretive acquisitions in time.
From a stock perspective, EGL finds itself in the middle of perhaps the most important investment themes of our lifetime. With limited pure play ways to invest in 'green investing' in Australia, EGL is likely to be the beneficiary of large capital flows that, if our thesis is correct, should drive a sustained re-rate.
At a market cap of ~$68m post raise and fully funded, we believe the current share price hasn't yet factored in the full potential of either the blue sky opportunity it has unlocked in its PFAS treatment solutions, let alone the value of its core businesses.
With growing profitability, strong tailwinds, impressive management and now an attractive blue sky story that could justify a share price multiple of current levels, EGL has become Capital H's highest conviction pick in the Inception fund leading into the new year.
Never miss an insight
Enjoy this wire? Hit the 'like' button to let us know. Stay up to date with my content by hitting the 'follow' button below and you'll be notified every time I post a wire. 
Not already a Livewire member? Sign up today to get free access to investment ideas and strategies from Australia's leading investors.
........
Any information contained in this article is limited to general information only, whilst the opinions and views detailed are those of the author only, and as such does not constitute advice or a recommendation in any capacity. The information contained in this article has not taken into consideration your specific financial needs, goals or objectives, so please consider consulting a licenced adviser before considering acting on this information. The Capital H Inception Fund holds shares in EGL at the time of publishing.