EPS of $20 by 2025? Progress and Profile to Power Paradigm's Share Price
---
Paradigm Biopharmaceuticals (PAR.ASX) have $108M in cash, no debt and are well advanced in the progression of clinical trials in addressable markets worth up to as much as $36B p.a. The next two years are particularly exciting for Paradigm Biopharmaceuticals as they are set to announce:
Complete recruitment of 1150 patients for the stage 3-clinical OA trials.
Embarkment of stage 3 clinical trials for MPS
Potential for Australian approval to begin treatment – which would lead to first significant earnings.
Addition of Paradigm to the ASX 300 – leading to greater coverage
Publication of results in peer-reviewed journals.
Each of those pieces of news could drive significantly more interest in the company, and result in a materially higher share price.
Positioned for success: where they are and where they are headed
Paradigm Biopharmaceuticals has repurposed a drug (pentosan polysulfate – branded as Zilosul©) that has historically been used as an anticoagulant and anti-inflammatory.
The drug has recently successfully passed stage two clinical trials and is about to embark on stage 3 clinical trials for the treatment of Osteoarthritis, and a lesser-known illness mucopolysaccharidoses (MPS).
Both MPS and OA could independently be a company maker, with the addressable market for MPS being estimated to be around $1 billion per annum, and the target market globally for OA being between $18 and $36 billion p.a.
Given the excellent safety record of the drug over its 60 years in use, its proven effectiveness in clinical trials and in the treatment of over 500 Australian real-world patients, and the fact that the company is fully funded for at least the next 2 years, being valued at just $600m seems to be quite a disconnect from the potential value of the business over the next 24 months.
The above chart (which you can click for a larger image) shows how over time, the share price of Paradigm has reflected the flow of news and updates on the clinical outcomes of the drug.
Given that the company has recently completed treatment on ten high profile US sports people, and that the US regulator has given every indication that the stage three clinical trials will be performed on the same basis as the stage two trials, there is every reason to believe that the exceptional share price growth will continue as investor sentiment improves on the other side of COVID-19.
Effect of COVID-19
Due to good planning or good luck, Paradigm has not been affected by the outbreak of COVID-19.
Having completed its major stage 2 clinical trials for OA some months ago, PAR is currently completing the planning process for the start of its stage 3 clinical trials due to begin in January 2021.
As things currently stand, the major business of Paradigm Management involves written reports and teleconference meetings with key parties – activities that are not affected by social distancing and isolation policies.
Though it is possible to imagine that COVID-19 could continue to influence the world into 2021, Paradigm are in the unique position that it has experience in decentralising its clinical trials.
Due to the fact that there are very few sufferers of MPS across the world, the company has decentralised its clinical trials in order to reach as many patients as possible.
Though diversifying the clinical trials to several locations may be slightly more costly than using a traditional centralised model, it also means that the trials are at considerably lower risk of being disturbed by an outbreak or natural disaster specifically effecting a particular location.
For illustration, if a clinical trial was underway in New York during the early part of 2020, the entire trial would have been ruined by the current pandemic. However, if instead the trial was spread around several States, Europe, and Australia, the trials would have been continued (albeit not in certain locations).
Outlook for 2020/2021
There is a lot of news flow due in the coming months from Paradigm. First set of news from the company is likely to relate to the treatment of 10 American footballers as part of a compassionate use program authorised by the US regulator.
Although official results are not due for at least a couple more weeks, social media posts from some of those participating in the program have suggested excellent outcomes. We expect official results to be made available to market in the second half of the year. And though 10 patients isn't material in a clinical sense, the exposure the company will receive from the 10 players (some of whom are Hall of Famers) will be significant.
Into 2021, the major focus of Paradigm will be on the results from its two concurrent stage 3 clinical trials (MPS and OA).
A positive outcome in stage 3 trials is the last major hurdle before a pharmaceutical company can turn its attention to production, distribution, and sustainable profitability.
Given previous industry experience, we suspect that as results begin to become available in late 2020 and 2021, management will begin to engage with potential partners for the wide, global distribution of Zilosul.
Valuing Paradigm Biopharmaceuticals
In a traditional value investment situation, a company is valued based on its existing cash flows. With a company like Paradigm, that is a little troublesome given that it is still pre-commercialisation.
Nevertheless, there are some simple calculations and comparisons that can be made.
Comparisons: As the table below shows, there have been some transactions in the Osteoarthritis space over the last couple of years.
The largest recent deal was between Pfizer and Lilly that valued a partnership on a new OA drug (tanezumab) at almost AUD$3billion. This was despite the fact that it was a 50% stake, and that the stage 2 clinical trials failed, before they embarked on stage three trials which also failed.
On the basis that Zilosul has passed stage 2 clinical trials, and has none of the safety problems that tanezumab has, we'd expect a JV valuation of at least as much as the Pfizer/Lilly deal.
Potential market opportunity
Studies suggest that approximately 10-15% of the population across the developed world suffers from some form of Osteoarthritis. On recent numbers provided by the industry, the US market for a drug like Paradigm's is in the vicinity of $90 billion per annum.
On the assumption that Paradigm is able to capture 10% of the addressable US market, the company would stand to generate revenues of $9 billion per annum. If margins on the sale of Zilosul were 50% (after costs, tax and ongoing R&D), earnings per share would fall at $20 per share.
We are not suggesting that the company is currently worth a multiple of $20, but we are pointing out the massive market that exists should Paradigm complete its stage 3 clinical trial, and properly manage the commercialisation, production, and distribution of Zilosul.
Balance sheet
Paradigm is fully funded for its Osteoarthritis stage 3 trials and has sufficient extra capital to get them through to the point of commercialisation.
Having undergone raisings in 2018 and 2019, the company topped up its balance sheet in April of 2020. Now with a cash balance of approximately $108,000,000 the company expects costs of under $90 million for both sets of stage 3 clinical trials (MPS and OA) in 2021. With excess capital of almost $20 million the company is very well positioned to enter the next stage of its development without any concerns for its balance sheet or cash flows.
Market coverage
Having predominantly flown under the radar, Paradigm has gradually increased its profile. A confluence of reaching the last leg of its clinical trials coupled with inclusion into the ASX300, is likely to see a raft of interested parties seeking the company out and beginning coverage of it.
The challenge for the local market thus far seems to be that there are not a lot of late-stage biopharmaceutical companies in the ASX, and so there are not a lot of specialist analysts who can properly identify the risks and benefits of Paradigm.
We suspect that entry into the ASX300 and possibly even the ASX200 will see some of the larger brokers initiate coverage on the company.
Additionally, continuing and successful stage three trials are likely to garner interest from the major pharmaceutical companies with a potential deal for distribution possibly priced at a substantial premium to the current market cap.
Final thoughts
Paradigm has two separate stage-three clinical trials set to recruit and begin in the next few months. Given that the regulators have proposed that the structure of the stage 3 trials broadly follow those of the stage 2 trials, we expect a positive outcome. Additionally, as more patients are treated under compassionate programs, more and more data is available about the effectiveness of the drug in the real world.
If either trial is to succeed (MPS or OA), we would expect larger pharmaceutical companies to approach Paradigm to strike a deal of distribution and possibly production. At which point we would not be surprised to see deals that value the company at greater than AUD$4billion.
If PAR achieves even a small part of what they hope to, the company could be contemplating a place in the ASX50 over the next couple of years. 
Stay in touch
Our investment style can be best described as 'active value investing', with a willingness to consider contrarian ideas. Click the 'FOLLOW' button below to receive our insights in your inbox.
---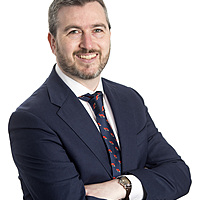 Managing Director and Portfolio Manager
Collins St Value Fund
Michael is the MD and one of the founding partners of the Collins St Value Fund. The Collins St Value Fund is one of the best performing Funds in Australia - having ranked among the top 10 performing funds across all Australian Equity mandates by...