Following Evergrande, more Chinese real estate companies are defaulting on their debts...
---
Following in the footsteps of Evergrande, our credit analysts have provided the following update on two other Chinese real estate companies that are failing to repay their debts: Fantasia Holdings and Sinic Holdings. On Monday, Fantasia Holdings (Fantasia), a mid-sized residential property developer in China, revealed that it had not repaid a US$206m bond maturing that day. Fantasia also failed to repay a RMB700m (~US$108m equivalent) loan to Country Garden Services Holdings. 
The missed payments come two weeks after Fantasia claimed that "the Company's operating performance is good with sufficient working capital and no liquidity issue", and reflects the deterioration of both the operating and financing environment for Chinese property developers as exemplified by China Evergrande's woes (see our analysis here). 
We have a pretty simple and yet far-reaching Environmental, Social & Governance (ESG) criterion, which is that we cannot invest in securities issued by companies based in non-democratic countries. As basic as this sounds, I am not aware of many (if any) other investors applying it. This prevents us from allocating to bonds issued by any Chinese entities even though they often pay attractive interest rates, seem to be ostensibly low risk, and frequently have appealing growth prospects.
A quick summary of the latest default dramas is enclosed for your benefit.
---
Fantasia is a tiny player compared to Evergrande---ranking 60th in China by contracted sales in 1Q21 relative to Evergrande's position as the third biggest developer---and has a significantly smaller quantum of offshore and local bonds outstanding (~US$4.7bn versus Evergrande's ~$27.6bn according to Bloomberg). Fantastia's obligations to suppliers and customers are also a fraction of Evergrande's with total liabilities of RMB83bn (relative to RMB1,967bn for Evergrande) as at 30-Jun-21. 
Fantasia has faced a similar cash crunch as real estate sales have slowed and access to external financing sources has been curtailed as a result of the "Three Red Lines" policy that was implemented by the Chinese government in late 2020 (see more about this here). S&P downgraded Fantasia's credit rating by three notches from B to CCC on 29-Sep-21 due to a lack of access to liquidity to meet its debt repayment obligations, and has subsequently further downgraded the company's rating to SD following the missed repayment earlier this week.
News of Fantasia's payment default adds to investor concerns about the outlook for China's property sector and particularly for highly levered property developers, which comprise roughly a quarter of the country's high yield bond index. The cost of, and access to, funding has worsened across the sector in recent weeks, creating liquidity problems for many developers that have also experienced a sharp drop-off in sales volumes as a result of the new restrictions. 
While China's central bank has pumped ~US$120bn of liquidity into its financial system, it is unclear if or when the Chinese government will step in to bail-out or "rescue" the sector. If there are further delays in the provision of public support, other over-levered Chinese property developers may likewise fail to meet their payment obligations.
S&P highlights that another Chinese issuer at risk of a near-term default is Sinic Holdings, which is also a mid-sized property developer (ranking 35th by scale in 2020). Sinic has an upcoming US$246m maturity due on 18-Oct and has already failed to pay RMB39m of interest on its onshore debt obligations. A US$75m offshore facility has been accelerated for repayment due to Sinic's severe liquidity issues, and S&P suggests that other facilities may be similarly accelerated. 
S&P downgraded Sinic's credit rating by four notches from CCC+ to CC on 4-Oct whilst Fitch has also downgraded the company's rating from CCC to C on 5-Oct. Sinic's Hong Kong-listed shares have been halted from trading since 20-Sep after they fell by 87%. The company has yet to release any announcements addressing its debt repayment issues...
........
Investment Disclaimer Past performance does not assure future returns. All investments carry risks, including that the value of investments may vary, future returns may differ from past returns, and that your capital is not guaranteed. This information has been prepared by Coolabah Capital Investments Pty Ltd (ACN 153 327 872). It is general information only and is not intended to provide you with financial advice. You should not rely on any information herein in making any investment decisions. To the extent permitted by law, no liability is accepted for any loss or damage as a result of any reliance on this information. The Product Disclosure Statement (PDS) for the funds should be considered before deciding whether to acquire or hold units in it. A PDS for these products can be obtained by visiting www.coolabahcapital.com. Neither Coolabah Capital Investments Pty Ltd, EQT Responsible Entity Services Ltd (ACN 101 103 011), Equity Trustees Ltd (ACN 004 031 298) nor their respective shareholders, directors and associated businesses assume any liability to investors in connection with any investment in the funds, or guarantees the performance of any obligations to investors, the performance of the funds or any particular rate of return. The repayment of capital is not guaranteed. Investments in the funds are not deposits or liabilities of any of the above-mentioned parties, nor of any Authorised Deposit-taking Institution. The funds are subject to investment risks, which could include delays in repayment and/or loss of income and capital invested. Past performance is not an indicator of nor assures any future returns or risks. Coolabah Capital Institutional Investments Pty Ltd holds Australian Financial Services Licence No. 482238 and is an authorised representative #001277030 of EQT Responsible Entity Services Ltd that holds Australian Financial Services Licence No. 223271. Equity Trustees Ltd that holds Australian Financial Services Licence No. 240975. Forward-Looking Disclaimer This presentation contains some forward-looking information. These statements are not guarantees of future performance and undue reliance should not be placed on them. Such forward-looking statements necessarily involve known and unknown risks and uncertainties, which may cause actual performance and financial results in future periods to differ materially from any projections of future performance or result expressed or implied by such forward-looking statements. Although forward-looking statements contained in this presentation are based upon what Coolabah Capital Investments Pty Ltd believes are reasonable assumptions, there can be no assurance that forward-looking statements will prove to be accurate, as actual results and future events could differ materially from those anticipated in such statements. Coolabah Capital Investments Pty Ltd undertakes no obligation to update forward-looking statements if circumstances or management's estimates or opinions should change except as required by applicable securities laws. The reader is cautioned not to place undue reliance on forward-looking statements.
---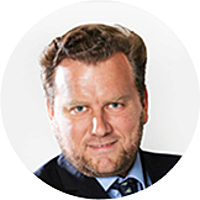 Portfolio Manager & Chief Investment Officer
Coolabah Capital
Chris co-founded Coolabah in 2011, which today runs $7 billion with a team of 33 executives focussed on generating credit alpha from mispricings across fixed-income markets. In 2019, Chris was selected as one of FE fundinfo's Top 10 "Alpha...