For Meta or worse: Facebook announces rebranding
---
In a surprise twist for the world's biggest social media platform, billionaire CEO Mark Zuckerberg has announced Facebook has rebranded as Meta. 
Whether it's a ploy to shake off the bad publicity (and regulatory scrutiny) that has hounded Facebook over the past few years, or a new desire to be more than just a social media platform, the tech giant will now focus its efforts on bringing "the metaverse to life" and helping people "connect, find communities and grow businesses" (read: continue to dominate global advertising spend). 
Some of you will already be across the metaverse. But for those, like me, for whom this is new, it is (according to the experts at Technology Review) typically thought of as an immersive online 3D environment in which you can interact with multiple other users using avatars - like a virtual reality (VR) version of The Sims, or perhaps a more interactive Zoom. 
"The metaverse will feel like a hybrid of today's online social experiences, sometimes expanded into three dimensions or projected into the physical world," the newly-minted Meta said in a release. 
"It will let you share immersive experiences with other people even when you can't be together — and do things together you couldn't do in the physical world. It's the next evolution in a long line of social technologies, and it's ushering in a new chapter for our company." 
While the firm's corporate structure is not changing, it will henceforth report on two operating segments (starting with its results for the fourth quarter of 2021) - Family of Apps and Reality Labs. It will also start trading under the ticker code MVRS from December 1st. So long, FB. 
So will this rebrand actually turn Facebook's fortunes around? Or have we seen the Meta part of this tech conglomerate's run?o find out, I spoke to James Rodda from Antipodes, who notes that Facebook is one of their largest positions.
I've also grabbed a few quotes from the ever illuminating NYU Stern School of Business' Marketing Professor, Scott Galloway, for an alternative point of view. You can read more of his views on the metaverse here.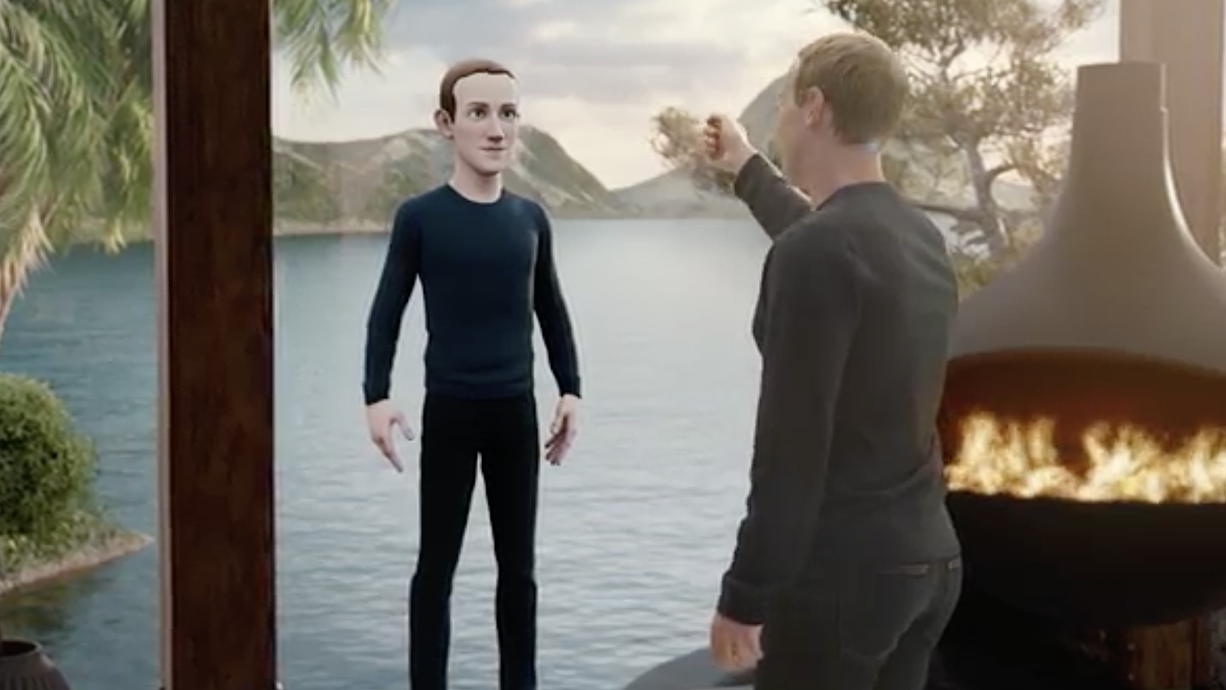 Zuckerberg, in a virtual reality world looking at an avatar of himself. Spoiler alert: Why does this remind me of the scene in Squid Game where the police officer Jun-ho realises his brother was the Front Man all along and then plummets off a cliff to his death? 
What is the metaverse? 
Despite all the brouhaha, Professor Galloway doesn't believe Meta/Facebook's idea of the metaverse is anything new.
"The metaverse is a concept that's been floating around tech for decades, and it is legitimately interesting. But also, legitimately not anywhere near real," he writes.
"Interest spiked after Epic Games announced a US$1 billion funding round devoted to its "long-term vision of the metaverse" — well-timed after a year of lockdowns and Zoom calls that have made a virtual world feel more real." 
Games like World of Warcraft and Fortnite provide illustrations of what this metaverse could look like, Galloway says. There are 10 million transactions every day on the former, with some items trading for the equivalent of nearly US$1000, he adds. 
Meantime, Fortnite, which was "once a relatively simple game in which 100 strangers fought one another elimination-style for sole possession of an island over and over again — think Hunger Games — it's now a multibillion-dollar enterprise that hosts Travis Scott concerts and Christopher Nolan premieres," he explains. 
"Its publisher, Epic, is all-in on the metaverse hype. The company opened its antitrust trial against Apple with its CEO claiming Fortnite isn't a video game at all, but 'a phenomenon that transcends gaming,' no less than the metaverse itself." 

While Zuckerberg may believe that Facebook may no longer be known as an advertising company, Galloway argues that the metaverse is in fact Facebook's nightmare. 
"It would essentially render the social network irrelevant," he writes.  
"Facebook's most valuable asset is its social graph, its dataset of users, links between users, and their shared content. In a metaverse future, we'll all have identities on the metaverse, and anyone can open a virtual space for sharing photos of your 10-year-old's birthday party or arguing over vaccines.
"There will be trillions of dollars in value created by the creators of these spaces, and the infrastructure to support them, but an open world of interoperable identities and information is antithetical to Facebook's project, which is to keep you on Facebook." 
That said, could this rebrand help alleviate Facebook/Meta's poor publicity and be a positive move for the tech giant? 
A cloud of bad publicity has followed Facebook over the past few years. Who could forget its Cambridge Analytica scandal, or the widespread media coverage of its dissemination of hate speech, or documentary The Social Dilemma, and most recently, the Facebook Papers released by whistleblower Frances Haugen, which in her words, reveal that Facebook repeatedly puts "growth over safety".
And yet, Rodda says that despite the rebrand, the Facebook/Meta business isn't actually any different. Really, it has just released its vision for the future, and it hasn't yet defined what its metaverse will specifically look like.
"I think you need to think about this as separate to the core business for the moment. Zuckerberg is future-proofing the company and would like to own the next big platform. And that platform is going to be virtual," he says. 
"So this change is probably more reflective of the business direction, than something that is going to deflect any negative PR that comes their way. 
Obviously, when you look at those issues going forward, they likely continue until you get some legislation that sets the rules around content moderation and content safety."
That said, from an investor point of view, Rodda believes the rebrand to be positive. 
"The reason it's positive is it highlights the underlying value in the core business. So just the simple valuation numbers for Facebook, its market cap at the moment is about US$900 billion, with US$60 billion of net cash," he says. 
"In terms of its core business, it's only going to report a little bit less than US$50 billion. In spinning out Reality Labs as a separate segment, Facebook has revealed it is spending in excess of $10 billion per year on the metaverse project." 
With these figures, Facebook would only be trading on a P/E multiple of 13.5 times, Rodda says, "which is very low for a company that has had the growth that Facebook has had". 
If you removed WhatsApp from the mix, which Rodda believes has more users globally than the core Facebook business, it would only be trading at a little over 10 times. 
"So this split is really positive for investors as they can see the core profitability of the business... And valuation has become a very simple story now as a result of this disclosure," he says. 
"When Amazon and Google have provided more segment disclosure in the past that highlights loss-making businesses, it's been very good for their share price."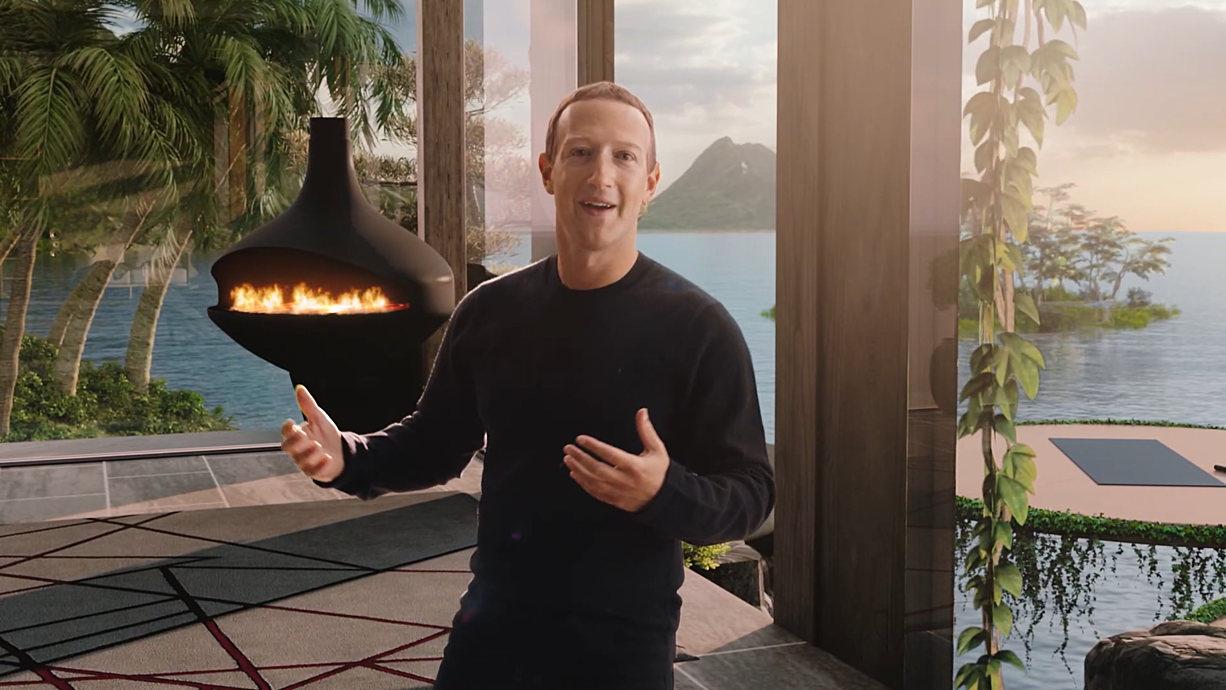 Source: Meta 
What opportunities does this open up for Meta/Facebook? 

Rodda believes that Facebook/Meta is betting on the uptake of virtual reality in more homes, and will be used for more than just gaming. 
"The gaming opportunity with it is clearly larger on a long term view than what we've historically seen, but it is a broader opportunity to provide virtual experiences," he says. 
"We personally don't value a shred of revenue from this opportunity because we can't predict with significant confidence where this is going to land. But we can tell you there's a lot of market opportunity there."
With Facebook investing the most to take advantage of that market opportunity, Rodda believes it will be well placed to benefit from this segment over the coming five or 10 years.

"The most obvious market and the one with the highest probability for success for virtual reality is the gaming market," he says. 
"Gaming revenue globally is probably close to US$150 billion, so taking a slice of that market is very attractive." 
Other immersive experiences could include attending a concert in San Francisco that you can't attend as someone based in Sydney, or catching up with your friends online and playing poker, Rodda explains. 
"There's a lot of applications in fitness as well," he says.
"Monetisation is unclear at the moment, but the idea that that would be attractive to a lot of people is very believable, I would say."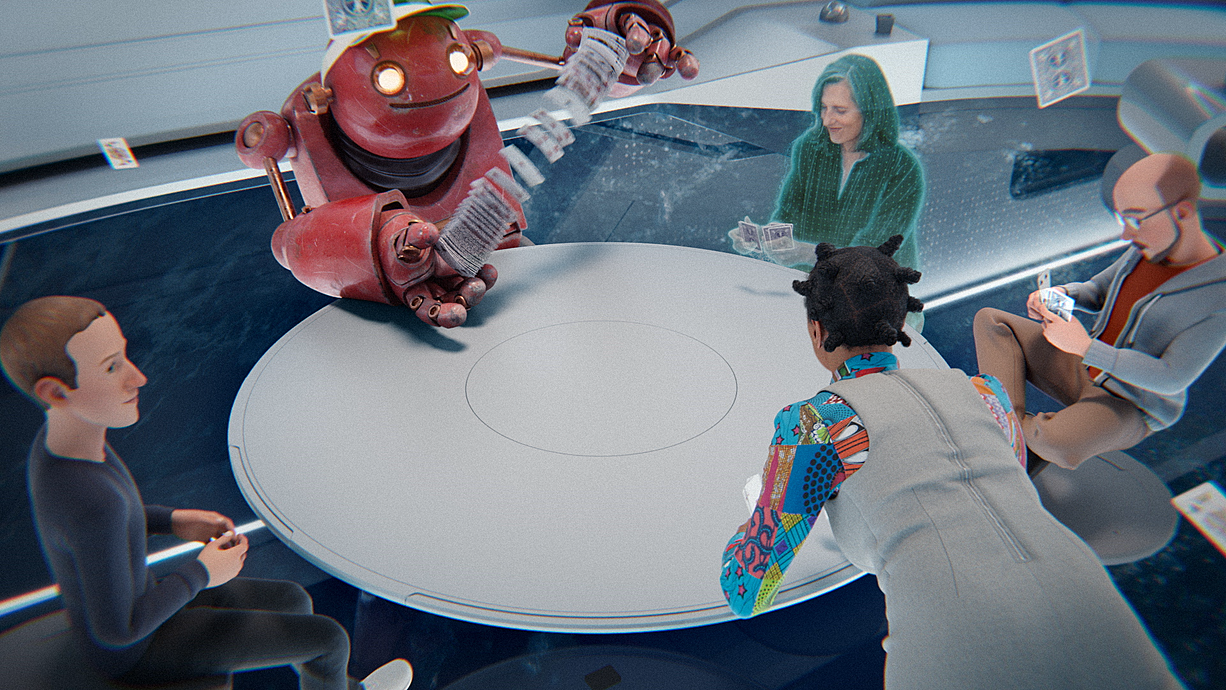 The future of socialising with friends according to Meta. Source: Meta.
If Reality Labs fails, what will happen to Meta/Facebook?
"Well there are different levels of failure, right?" Rodda says. 

There's failure to get a return on your investment, or failing to build a business that makes a profit, he explains. 
"We know investments (in Reality Labs) is going to rise for the next year or two from current levels. But if it looks like they're not getting a return from the business, the positive for Facebook would be that in future years they can slow down this investment and the core profitability of the business would go up," Rodda says. 
"Then, the underlying valuation that I spoke about earlier starts to come through. And people might refocus on the great wins they already have available, like Facebook Marketplace, with 250 million monthly users." 
There's a lot of good stuff in the core business, he adds. And while investors will endeavour to find out everything they can about this new segment, it will probably take "many, many years before they see a return." 
A final note
Interestingly, there has already been a metaverse company, also called "Meta", that was once a major augmented reality player in Silicon Valley. The company ran out of money and was shut down in January 2019. An investment group later bought the business's assets, but the momentum of the original business was lost. 
Does this foreshadow the path of Facebook's new brand? And will VR and AR technologies truly take off? I guess we will all just have to wait and see. 
But if lockdowns have taught us anything, there really is no replacement to seeing friends and family face to face.
---
Never miss an update
Enjoy this wire? Hit the 'like' button to let us know. Stay up to date with my content by hitting the 'follow' button below and you'll be notified every time I post a wire.

Not already a Livewire member? Sign up today to get free access to investment ideas and strategies from Australia's leading investors.
........
Livewire gives readers access to information and educational content provided by financial services professionals and companies ("Livewire Contributors"). Livewire does not operate under an Australian financial services licence and relies on the exemption available under section 911A(2)(eb) of the Corporations Act 2001 (Cth) in respect of any advice given. Any advice on this site is general in nature and does not take into consideration your objectives, financial situation or needs. Before making a decision please consider these and any relevant Product Disclosure Statement. Livewire has commercial relationships with some Livewire Contributors.
---
Content Editor
Livewire Markets
Ally Selby is a content editor at Livewire Markets, joining the team at the end of 2020. She loves all things investing, financial literacy and content creation, having previously worked for the likes of Financial Standard, Pedestrian Group, Your...
Expertise