Future of house prices in RBA's hands
---
In the AFR I write that what the Reserve Bank of Australia says these days is more-or-less meaningless: with the advent of brisk core inflation, their actions will be eventually dictated by the data.
The enormous uncertainty, and profound disruptions to activity, wrought by the pandemic required the RBA to provide both extreme policy stimulus and a convincing narrative that demonstrated there was a bright light at the end of the tunnel.
That narrative was built on the foundation of the RBA's "forward guidance" and yield curve target, which clearly signalled that rates would remain low until 2024. As much as the RBA is being pilloried for getting this wrong, it is precisely this confidence and certainty that has helped power the recovery. Put differently, Martin Place is partly a victim of its own success.
It's important to point out that while the RBA's forward guidance was delivered with conviction, which gave consumers and business the confidence to go out and spend and invest, these statements were always bound by state-dependence. That is to say, the data was always going to determine the course of interest rates, irrespective of the narratives spun by Martin Place.
Given its power over the media, the RBA has been fond of telling stories to rationalise its outlook. The challenge with this is that its outlook at any juncture is based on a set of judgemental forecasts. And the RBA is the first to admit that its predictions are not normally worth the paper they are written on beyond 12 months or so. Even within that time-horizon, the RBA can find it hard to divine our destiny.
Since late last year, our central case has been that the RBA would lift rates in second half of 2022 or early 2023. The inflation and employment data now makes late 2022 quite likely. With the RBA about to be subject to an important independent review of why it has missed its inflation target for most of Governor Philip Lowe's term, it will be inclined to overachieve, rather than underachieve, on outcomes.
After undershooting the 2-3 per cent inflation target since 2016, it will not hurt to overshoot for a period, which is precisely what the RBA is now projecting. This probably explains Martin Place's recent prioritisation of the full employment aspect of its mandate, and a desire to see a 3-handle on the jobless rate, over and above a fixation with keeping core inflation in the middle of its target band.
The last time the RBA was reviewed was during the 1997 Wallis financial system inquiry. This resulted in it losing its banking supervision responsibilities with the creation of the Australian Prudential Regulation Authority. A politically adroit Martin Place managed to get itself formally excised from the terms of reference of the 2014 Murray financial system inquiry, which was not permitted to evaluate its policy efficacy.
The forthcoming appraisal represents a threat to the RBA in the form of change, which it is institutionally predisposed to resist. One worst-case scenario is that the review recommends an injection of independent corporate blood via Lowe's successor (along the lines of Bernie Fraser's appointment in 1989), jeopardising the currently proposed transition to his cerebral deputy governor, Guy Debelle.
After years of overestimating inflation and wages growth, Lowe is justified in taking his time to assess whether the current pulse is sustainable. By creating a policy question in May around whether the RBA should reinvest the proceeds of its maturing bonds into new securities (it will not), he has eliminated the prospect of an awkward debate about whether rates should rise during an election campaign.
The central case is, therefore, 2-3 rate hikes in the second half of 2022 alongside much of the rest of the central banking world, including the Federal Reserve, the Bank of England, and possibly the European Central Bank.
At the peak of the recent housing boom in October 2021, this column argued that national house prices would continue to climb before commencing a 15-25 per cent correction after the first 100 basis points of RBA cash rate increases. While the rate of capital gains has demonstrably slowed since October, national dwelling values have appreciated by 3.4 per cent over that time.
After leading the initial charge, the Sydney and Melbourne housing markets have cooled: whereas Sydney is grinding out modest gains, prices in Melbourne appear to be flat-lining. Unsurprisingly, cheaper markets like Brisbane, Adelaide and Perth, which previously lagged the larger capital cities, are now driving the last legs of this boom.
To be clear, our October 2021 forecasts apropos property prices, which some economists have started converging towards, remain unchanged: national home values will climb a little higher before retrenching 15-25 per cent after the first 100 basis points of RBA cash rate hikes.
Cheap money gave us capital gains worth 26 per cent since their September 2020 nadir, which is in line with the 20-30 per cent we had been looking for. Reduced purchasing power will take some of this away.
Mitigants include robust household income growth and a slow RBA hiking trajectory, both of which are likely. We have replicated and refined the RBA's complex internal housing model, which accounts for both the demand- and supply-sides of the market, and it points to a much steeper 33 per cent fall in prices after a permanent 100 basis point increase in mortgage rates.
A tentative RBA coupled with a return to robust wages growth should help ameliorate this downside case. On this note, Lowe made an interesting remark during the week. He observed that because of the increase in household debt, the economy is much more sensitive to interest rate changes.
While this is self-evident, it raises the prospect, as this column has previously asserted, that the RBA's neutral cash rate might be a lot lower than the 3.5-4.0 per cent level Lowe recently claimed as the most probable estimate. Let's be real: god help Aussie house prices if the RBA is compelled to lift its cash rate to 4 per cent, which would mean mortgage rates above 6 per cent.
My colleague Kieran Davies recently highlighted the disconnect between the financial market's estimate of neutral, which is slightly north of 2 per cent, and the RBA's modal case around 3.5-4.0 per cent. The resolution of this debate has enormous consequences for all asset prices.
Applying the RBA's latest economic forecasts to the widely referenced Taylor Rule, which guides optimal monetary policy decision-making, Davies finds that the RBA's cash rate should hit 3.0 per cent by the end of 2023 if the market's estimate of neutral is right. If the RBA's neutral estimate is correct, the cash rate should increase to 4.8 per cent by end 2023.
In our housing analysis, we are not looking past the first 100 basis points of mortgage rate increases, or a standard variable rate a little over 3 per cent. Home loan rates north of 5 per cent represent an entirely different proposition.
To put the power of cheap money in perspective, national dwelling values have risen 34 per cent since the RBA started lowering its cash rate from 1.5 per cent in June 2019 to 0.1 per cent today. What cheap money giveth, expensive money can take-away.
But there is also an inherent circularity: the RBA is not going to keep mindless lifting rates as house prices plummet, which brings us back to Lowe's comments on the potency of monetary policy in a highly leveraged economy. The true neutral cash rate may be lower than either the market or the RBA thinks.
Access Coolabah's intellectual edge
With the biggest team in investment-grade Australian fixed-income and over $7 billion in FUM, Coolabah Capital Investments publishes unique insights and research on markets and macroeconomics from around the world overlaid leveraging its 14 analysts and 5 portfolio managers. Click the 'CONTACT' button below to get in touch.
........
Investment Disclaimer Past performance does not assure future returns. All investments carry risks, including that the value of investments may vary, future returns may differ from past returns, and that your capital is not guaranteed. This information has been prepared by Coolabah Capital Investments Pty Ltd (ACN 153 327 872). It is general information only and is not intended to provide you with financial advice. You should not rely on any information herein in making any investment decisions. To the extent permitted by law, no liability is accepted for any loss or damage as a result of any reliance on this information. The Product Disclosure Statement (PDS) for the funds should be considered before deciding whether to acquire or hold units in it. A PDS for these products can be obtained by visiting www.coolabahcapital.com. Neither Coolabah Capital Investments Pty Ltd, EQT Responsible Entity Services Ltd (ACN 101 103 011), Equity Trustees Ltd (ACN 004 031 298) nor their respective shareholders, directors and associated businesses assume any liability to investors in connection with any investment in the funds, or guarantees the performance of any obligations to investors, the performance of the funds or any particular rate of return. The repayment of capital is not guaranteed. Investments in the funds are not deposits or liabilities of any of the above-mentioned parties, nor of any Authorised Deposit-taking Institution. The funds are subject to investment risks, which could include delays in repayment and/or loss of income and capital invested. Past performance is not an indicator of nor assures any future returns or risks. Coolabah Capital Institutional Investments Pty Ltd holds Australian Financial Services Licence No. 482238 and is an authorised representative #001277030 of EQT Responsible Entity Services Ltd that holds Australian Financial Services Licence No. 223271. Equity Trustees Ltd that holds Australian Financial Services Licence No. 240975. Forward-Looking Disclaimer This presentation contains some forward-looking information. These statements are not guarantees of future performance and undue reliance should not be placed on them. Such forward-looking statements necessarily involve known and unknown risks and uncertainties, which may cause actual performance and financial results in future periods to differ materially from any projections of future performance or result expressed or implied by such forward-looking statements. Although forward-looking statements contained in this presentation are based upon what Coolabah Capital Investments Pty Ltd believes are reasonable assumptions, there can be no assurance that forward-looking statements will prove to be accurate, as actual results and future events could differ materially from those anticipated in such statements. Coolabah Capital Investments Pty Ltd undertakes no obligation to update forward-looking statements if circumstances or management's estimates or opinions should change except as required by applicable securities laws. The reader is cautioned not to place undue reliance on forward-looking statements.
---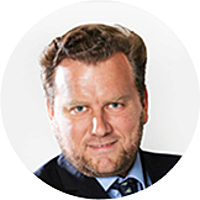 Portfolio Manager & Chief Investment Officer
Coolabah Capital
Chris co-founded Coolabah in 2011, which today runs over $8 billion with a team of 26 executives focussed on generating credit alpha from mispricings across fixed-income markets. In 2019, Chris was selected as one of FE fundinfo's Top 10 "Alpha...