Global dividends surge to new record in 2018, with more growth in 2019
---
According to the latest edition of the Janus Henderson Global Dividend Index (Index), global dividends finished 2018 at a new record high, as a strong fourth quarter shrugged off rising volatility in global financial markets. 
Despite more challenging equity market conditions, investors can take comfort in the ability of the world's companies to continue to generate income. Dividend yields in most markets are at attractive levels, while the 8.5% dividend growth recorded in 2018 was ahead of the long-term trend. 
This strength reflects a number of factors – several sectors, such as mining, oil and banking have been normalising their dividend payments after a period of low or no dividends, while some of the biggest tech firms are increasingly adopting a dividend-paying culture. The impact of tax cuts in the US clearly helped dividend growth there too.
Report findings
Total dividends jumped 9.3% in headline terms to $1.37tn for the year, $10bn ahead of our forecast. On an underlying basis, this was equivalent to an increase of 8.5%, the best performance since 2015 and ahead of the long-term trend of 5-7%. Almost nine in ten companies around the world raised their payouts or held them steady.
Overall growth finished the year faster than we anticipated with emerging markets, Japan and North America performing strongly, while Europe lagged behind. Japan, North America, Europe and Asia Pacific all saw record payouts, along with almost a third of the individual countries in the Index. 
The Index ended the year at a new record of 187.3, indicating expansion of almost nine tenths in global dividends since 2009 when the Index was launched.
Chart 1: Janus Henderson Global Dividend Index by region


Source: Janus Henderson Investors as of 31 December 2018.
A weaker quarter for Australia
Australian payouts inched ahead just 0.9% year-on-year on an underlying basis, the weakest level among the world's major developed stock markets. Australian banks account for almost half the country's total dividends and weak profitability, combined with already high payout ratios, means it is difficult for them to increase their dividends. 
Almost a quarter of Australian companies cut their dividends, although in most cases they only made very small reductions. Telstra's cut, however, was large, slashing the total paid to shareholders by $1.3bn in a bid to preserve cash and protect its balance sheet. This was Telstra's first cut in 20 years. QBE insurance also made a steep cut following poor results. Mining companies, by contrast distributed a collective $1.6bn more to their shareholders.
Mining, financials and energy strong, while telecoms remained challenged
The mining sector exhibited the fastest growth in 2018, helped by dividends in Australia, Russia and the UK as companies restored payouts. Financials, of which banks are the largest group, paid the most dividends around the world, and growth of 11.7% on an underlying basis beat the global average. Higher oil prices over most of 2018 meant oil dividends surged 15.4%. The telecoms sector stood out as the weakest, with payouts flat or down in half the countries in the Index.
Chart 2: Janus Henderson Global Dividend Index by sector


Source: Janus Henderson Investors as of 31 December 2018.
What's ahead?
For the year ahead, we expect dividend growth to be more in line with the longer-run trend. Corporate profit expectations have fallen as global economic forecasts have been revised down, although most observers still expect companies to deliver positive earnings growth in 2019. Dividends in any case are much less volatile than earnings, so we remain optimistic on the prospects for income investors.
We forecast underlying growth of 5.1% in 2019, which translates into headline growth of 3.3%, assuming the US dollar maintains its current exchange rate against the other major currencies. That means the world's companies are set to pay their shareholders $1.414tn this year, almost $700bn more than they did 10 years ago.
What is the Janus Henderson Global Dividend Index?
Janus Henderson Global Dividend Index, a long term study which tracks the world's 1,200 largest firms by market capitalisation, measuring the progress global firms are making in paying their investors an income on their capital.
Note: All dollar figures are in US dollars.
---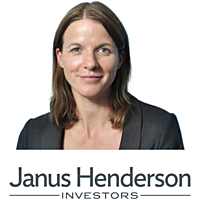 Portfolio Manager
Janus Henderson
Jane Shoemake is a Client Portfolio Manager on the Global Equity Income Team at Janus Henderson Investors. Prior to joining Henderson in 2006, Jane spent two years at Threadneedle Investments and five years with J.P. Morgan Asset Management, where...
Expertise