Green investment boost after regulator's shot in the arm
---
If exploding coal-fired power stations around the world and looming energy shortfalls as "old world" facilities are retired weren't enough, recent comments from the head of Australia's Energy Market Operator might convince you that renewable energy isn't just a futuristic concept. It's here now.
"We need to be in a position where we can manage for 100% instantaneous penetration of renewables: that is what our forecasting tells us," Daniel Westerman, the CEO of AEMO, told a forum in mid-July.
The tide is turning, and fast, with Westerman setting a target of 2025 for the Australian grid to be fully updated. His comments followed an explosion at the Callide power station in Biloela, Queensland in late May, which caused the state's worst power outage in decades, leaving almost 500,000 customers without electricity. And in the last couple of days, one of the world's newest and most expensive coal-fired power plants, a billion-dollar facility in South Africa, also suffered a catastrophic explosion.
In the following interview, Dennis Freedman, head of investment and development, Octopus Investments Australia, discusses the opportunity renewables present for Australian investors. He explores the many moving parts of these huge projects, explains why transmission is the number one challenge and how local investors can get exposure to the sector. Freedman also reveals a couple of new solar projects his team is preparing to roll out.
Having started in the energy space with regulated utility AusNet Services, what did you learn from your time in the traditional energy sector?
"When I started with AusNet, Victoria's first wind farm on the grid at transmission-level, Waubra (outside Ballarat, Victoria) had just launched. And AusNet had a vision that this was going to happen more, but being a more traditional utility, it wasn't quite set up properly with the required commercial nimbleness to face to the market. That was my entry into the transmission world, having spent over eight years there.
My last role there was as head of infrastructure investments, working with all the renewable developers across the country that wanted to connect with the transmission grid, essentially the high voltage towers.

That gave me an amazing insight into how the energy market worked and was transitioning, and that's a totally different game now to what it was even five years ago.
This experience enabled me to build an enormous list of contacts, because ultimately, building a wind farm, solar farm or battery, you deal with everybody, including:
Developers,
Asset owners,
The big retailers – eg. Origin, Energy Australia and AGL
Equipment manufacturers from around the world
Regulators and government
Lawyers, consultants and bankers.
These are all the parts that go into bringing a wind or solar farm to market, including the additional transmission you need to build. I had the best apprenticeship to understand how it all comes together - from a technical, engineering, commercial and financing perspective.
What is the Australian Integrated System Plan and what are the next milestones?
In Australia, our coal plants are nearing their end of life and, thankfully, new ones aren't being built. The future state of how we're going to create our electricity is from the wind that's blowing, the sun that shining or the pumped hydroelectricity that's flowing. But the challenge we face now is on the transmission front, with not enough pipes to get this power where it's needed.
The Integrated System Plan, the first national transmission plan spanning the next 20 years, has been created by the Australian Energy Market Operator to outline where and when we need these new pipes. Broken down into separate milestones, the latest update on these should be announced in December.
It's a very good plan that is well supported by the industry, but the challenge is that maybe it's too slow.
In terms of projects that are currently underway, the speed of progress varies between different Australian states and territories. The NSW Government is running at this full steam, having announced, along with the South Australian Government, the Project Energy Connect – which is the new line between the two states. They have announced:
Hume Link – this project will allow for all the power generated within the Snowy 2.0 hydroelectricity scheme to be distributed.
West Orana Renewable Energy Zone – the first of the transmission network REZs. The government is currently taking feedback on the required scale, where it should be located within the region and which projects will connect to it.
The Queensland Government is doing similar things in the northern part of the state. And the Victorian Government has established a new entity called VicGrid, which is tasked with planning for the delivery of six identified new transmission buildouts in the state.
All the states are tackling it differently, but there's a real drive to build the transmission network because this unlocks the ability for more renewables to come online.
Octopus globally invests in 260 renewable energy projects globally but only one here in Australia. Why the big difference between these numbers?
Darlington Point is the largest solar farm that's currently connected to the grid in Australia and is one that we're really proud to be involved with.

We're typically approached by between two and four projects each week, and these are a combination of both good and bad. Our book is a mix of shovel-ready projects, where construction is due to begin, and development projects, which can take some time.
The real value for investors is knowing that most of the projects coming into the Octopus portfolio have been directly developed by Octopus. This provides the assurance that when a project is ready to produce electrons, it should do what it's meant to.
When you buy shovel-ready projects, they're typically time-compressed transactions, meaning you have only a small window in which to do your due diligence. That creates a risk that things slip through and in turn affect the investment return.
We've recently announced a couple of solar farms in Victoria's Gippsland region in a Joint Venture with the federal government-owned Clean Energy Finance Corporation: Perry Bridge, which is expected to start construction in Q1 of calendar 2022 and Fulham, which will follow closely behind.
We like these development plays because the grid in Victoria is quite constrained in the west and northwest region, which is where people go looking for sun and wind resources. The direct solar yield in Gippsland is a little lower than in western Victoria, but the strength of the grid here is a huge benefit.

If you think of a water pipe, when you turn on the tap, the water pressure can be quite strong. But if you've got a 100-metre hose, it may only trickle out. The same thing happens in the electricity market: you only get paid for what ends up at the consumers household, not necessarily for what you generate.
You need areas where the pipes are quite big, and in Gippsland, the yield loss is more than compensated by the network gain, so from an investors' perspective, we really like it.
What are the investment prospects for those in Australia looking to get exposure to renewables?
As an investor, if you're looking to find a pathway into the renewable energy space, traditionally it's been almost impossible, being the remit of the "gentailers" (generation retailers) like AGL or Energy Australia, who build their own assets to generate their own electricity.
The only way in has been to buy shares in those businesses, which also means you're often getting a really tenuous, indirect link to solar farms or wind farms. Or renewable generation was wrapped up in big funds, which might be asking for $50 million or $100 million in minimum investment.
The Octopus Renewable Energy Opportunities (OREO) fund is designed as a way for wholesale investors to get direct access to a portfolio of renewable energy assets via a long-term yield play.
How do events like the recent explosion of the Tesla-built battery in Moorabool, Victoria affect the appetite for renewable investment assets?
No technology is foolproof. If you look at coal, Yallourn almost flooded a couple of weeks ago and Callide in Queensland blew up. And in South Africa (a few days ago), one of the newest coal-fired plants – also one of the world's most expensive – which is operated by state-owned utility Eskom, suffered a catastrophic explosion
And of course, neither are battery farms or solar farms foolproof. We've seen solar farms that have been poorly engineered get blown over by hurricanes in north Queensland; we've seen some blades come off wind turbines; and the fire in the EOM battery at Moorabool in Victoria around two weeks ago.
While these stories might spook some, it's no different to any other asset class: nothing is 100%, these failures are outliers, and again it comes down to understanding your vendors and technology and having people in your team who know and can manage this stuff.
It doesn't dampen investment, and in my experience, it actually works in reverse: it tends to sharpen focus to ensure that people (investors) understand the technology and ask the right questions. You tend to see really fast improvement from vendors and developers after such events. Just like a residential home, poor quality products, a shoddy builder and sub-par O&M will lead to poor outcomes. Alternatively, do those things properly with a quality developer, and you'll have a high performing asset.

The (bleak) future of coal-fired power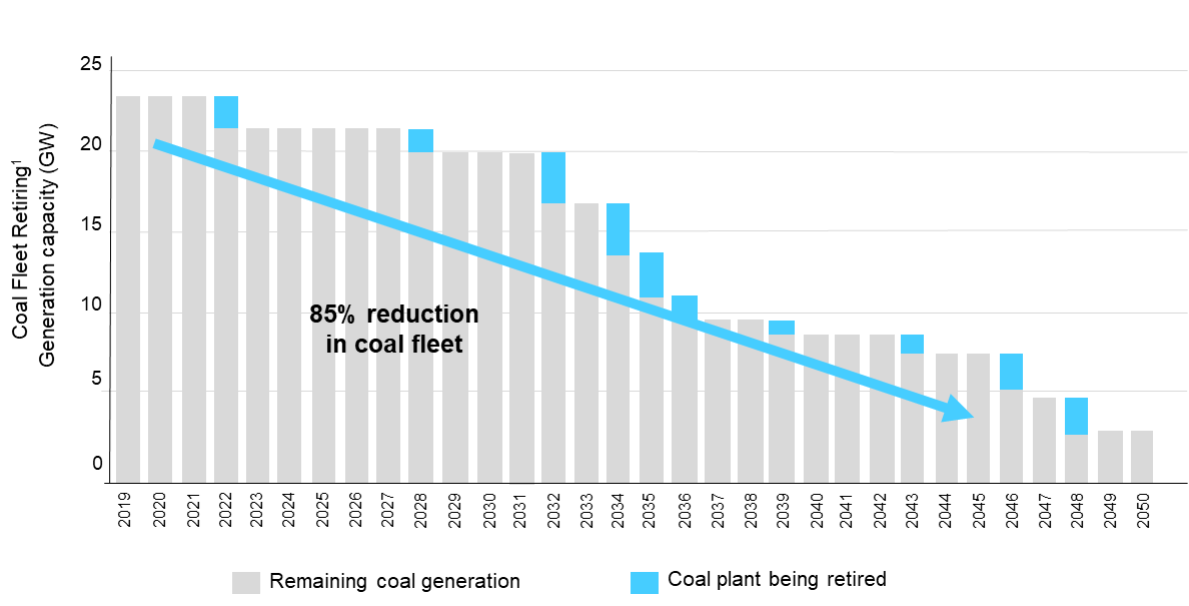 Source: AEMO
What's one thing every investor should understand about the opportunities that are opening up in renewable energy?
In the Australian market, we've got between 30 and 35 gigawatts of peak demand in the system and most of that is coal and gas, which we have to replace with renewables. But to replace it you don't just replace it with another 30gw of wind and solar farms; you've got to replace it with up to three times that.
In round numbers, a wind farm only works about 35% of the time and a solar farm only about 25% of the time. You need three solar farms to compensate for the same units of coal power – so ultimately, we're building 90gw of demand in the system plus some storage. This is without factoring the demand from electric vehicles, or what's less commonly spoken about, the shift of domestic heating from gas to electric as the gas supplies in Australia begin to dwindle. This is a monstrous opportunity.
Investors also need to understand just what these renewables projects mean for local communities in Australia. It's amazing to see the benefits of a wind farm, solar farm or battery being built and the way they change towns and communities if developed correctly.
They give people in the regions, where these assets are typically located, the chance for ongoing employment; to see small businesses – even the local bakeries and other businesses – thriving as the development takes place over multiple years, can mean the difference between a family staying in their country town or having to move back to a capital city to look for work. And it means security for farmers farmers because they've now got 25 or 30-year lease payments to secure their property, which might, in turn, allow them to invest in other areas of their farms. There's also the training and development in new skills for the locals involved in the assets through development, construction and operations, providing for real long term employment opportunities in regions that may typically be struggling.
Added to the enormous macroeconomic factors that mean renewable energy is here for a long time and makes sense, the combination of these things creates quite a unique investment proposition.

Leading Australia's drive towards a cleaner future
Octopus invests directly into the Australian renewable energy sector, helping to provide the innovative solutions it needs during its transition to a clean energy future. Visit their website for more information
Never miss an update
Enjoy this wire? Hit the 'like' button to let us know. Stay up to date with my current content by
following me
below and you'll be notified every time I post a wire
Welcome to Livewire, Australia's most trusted source of investment insights and analysis.
---
To continue reading this wire and get unlimited access to Livewire, join for free now and become a more informed and confident investor.
Glenn Freeman is a content editor at Livewire Markets. He has almost 20 years' experience in financial services writing and editing. Glenn's journalistic experience also spans energy and automotive, in both Australia and abroad – including the Middle East – where he was editor of an oil and gas publication in the United Arab Emirates.
........
Livewire gives readers access to information and educational content provided by financial services professionals and companies ("Livewire Contributors"). Livewire does not operate under an Australian financial services licence and relies on the exemption available under section 911A(2)(eb) of the Corporations Act 2001 (Cth) in respect of any advice given. Any advice on this site is general in nature and does not take into consideration your objectives, financial situation or needs. Before making a decision please consider these and any relevant Product Disclosure Statement. Livewire has commercial relationships with some Livewire Contributors.
---

Never miss an update
Get the latest insights from me in your inbox when they're published.
---