Higher interest rates creating opportunities
---
While the Reserve Bank of Australia raised rates by another 50 basis points this week for a record third consecutive meeting in a row, long-term interest rates actually declined on the day as investors priced in a slightly more anxious, and data-dependent, shift in tone. (There was no chance of the 75-basis point increase predicted by some pundits.)
The essential dilemma is that the RBA is shadow-boxing against a highly nebulous threat – permanently elevated inflation expectations.
If households and businesses were to become entrenched in the view that Australia's underlying consumer price pressures will remain stubbornly above the RBA's 2-3 per cent target band, this would drive actual inflation outcomes higher, which would in turn warrant much more aggressive interest rate increases.
The RBA is, therefore, once again waging a pre-emptive monetary policy campaign against an unknowable future risk that relies heavily on its fragile forecasting process.
To be clear, we support a data-dependent normalisation of interest rates in predictable, 25-basis point increments. As an investor in floating-rate bonds, we benefit from a higher RBA cash rate. What we find imprudent is the RBA's chosen path of pre-emptively smashing borrowers with an unprecedented 175 basis points of rate increases in about three months based on rubbery assumptions.
Put another way, the RBA is presenting a certain solution (sharply higher rates) to an extremely uncertain prospective problem (inflation expectations) and destroying its optionality in doing so.
Even one of the RBA's key board members, Treasury secretary Steven Kennedy, says there is no real evidence of a wage-driven inflation problem and that most of Australia's inflation is supply-side induced.
The concern is that one casualty of the RBA's pre-emptive increases is the hope that Australian workers can finally secure wage growth of 3-4 per cent annually that is required to maintain inflation sustainably within the RBA's target band.
If the inflation we are experiencing is predominately driven by supply-side factors, as Kennedy claims, trying to crush it by suffocating demand could have deleterious long-term consequences for the labour market.
There is undoubtedly merit in firmly jawboning inflation expectations with the spectre of a tough monetary policy posture, which is precisely what the RBA is doing.
But after promising not to lift rates until 2024 – which the RBA explicitly set in stone by establishing a never-before-seen 0.1 per cent yield curve target for the 2024 Commonwealth bond – it is reckless suddenly to smash the economy with more than 200 basis points of rate increases in just four months on the basis of a perceived risk the RBA has no conviction in. (That 200 basis points assumes we get another 25-50-basis point increase next month.)
New opportunities
The bond market is one area where much higher interest rates are now being welcomed (after a painful price adjustment).
Last week this column discussed NAB's five-year, BBB+ rated Tier 2 bond, which paid an interest rate of 6.44 per cent annually, superior to the franked dividend yield on Aussie equities. NAB printed $1.25 billion from $2.4 billion of investor demand (we bid for $200 million).
The bond has since performed strongly, as evidenced by its credit spread tightening some 31 basis points, which pushed its price much higher. This presumably convinced ANZ to capitalise on the investor appetite for these securities with a similar five-year, Tier 2 bond issue on Wednesday that secured $3 billion of demand despite a lower 5.9 per cent yield. Once again, the $1.75 billion bond has performed well, with its credit spread tightening immediately after the deal printed by 17 basis points (we bid for $250 million).
Higher up the capital stack, Westpac issued a AA-rated, three-year senior bond on Thursday with a 4 per cent annual interest rate that quickly galvanised $3.7 billion of investor bids (we bid for $100 million). Post issue, this promptly tightened some seven basis points in spread terms.
On the same day, UK bank NatWest hit the Aussie market with its first-ever bond issue via a $600 million, A-rated, three-year senior-ranking security that paid a 5 per cent yield (we bid for $100 million). This also promptly tightened 17 basis points on its first day. For credit markets, these are big moves!
Finally, the Victorian government also got in on the action on Thursday, issuing a AA-rated, 11-year bond paying 3.83 per cent in annual interest, which secured $3.7 billion in bids and immediately performed. This offered a chunky, 68-basis point spread above Commonwealth bonds. The demand from local banks to buy state government bonds as a liquid asset has been so strong that Victoria has been able to issue $12 billion of debt since its May 3 budget, completing 56 per cent of its total $21.3 billion funding task for 2023 in three months (i.e. leaving them only $9.3 billion to issue).
So the silver lining of much higher interest rates is new opportunities. In late 2021, we were extremely negative on our own asset class: specifically, credit spreads and interest rate duration risk. With fully-franked Aussie equities only yielding 6.3 per cent, bank bonds paying similar interest rates appear much more appealing right now.
........
Investment Disclaimer Past performance does not assure future returns. All investments carry risks, including that the value of investments may vary, future returns may differ from past returns, and that your capital is not guaranteed. This information has been prepared by Coolabah Capital Investments Pty Ltd (ACN 153 327 872). It is general information only and is not intended to provide you with financial advice. You should not rely on any information herein in making any investment decisions. To the extent permitted by law, no liability is accepted for any loss or damage as a result of any reliance on this information. The Product Disclosure Statement (PDS) for the funds should be considered before deciding whether to acquire or hold units in it. A PDS for these products can be obtained by visiting www.coolabahcapital.com. Neither Coolabah Capital Investments Pty Ltd, EQT Responsible Entity Services Ltd (ACN 101 103 011), Equity Trustees Ltd (ACN 004 031 298) nor their respective shareholders, directors and associated businesses assume any liability to investors in connection with any investment in the funds, or guarantees the performance of any obligations to investors, the performance of the funds or any particular rate of return. The repayment of capital is not guaranteed. Investments in the funds are not deposits or liabilities of any of the above-mentioned parties, nor of any Authorised Deposit-taking Institution. The funds are subject to investment risks, which could include delays in repayment and/or loss of income and capital invested. Past performance is not an indicator of nor assures any future returns or risks. Coolabah Capital Institutional Investments Pty Ltd holds Australian Financial Services Licence No. 482238 and is an authorised representative #001277030 of EQT Responsible Entity Services Ltd that holds Australian Financial Services Licence No. 223271. Equity Trustees Ltd that holds Australian Financial Services Licence No. 240975. Forward-Looking Disclaimer This presentation contains some forward-looking information. These statements are not guarantees of future performance and undue reliance should not be placed on them. Such forward-looking statements necessarily involve known and unknown risks and uncertainties, which may cause actual performance and financial results in future periods to differ materially from any projections of future performance or result expressed or implied by such forward-looking statements. Although forward-looking statements contained in this presentation are based upon what Coolabah Capital Investments Pty Ltd believes are reasonable assumptions, there can be no assurance that forward-looking statements will prove to be accurate, as actual results and future events could differ materially from those anticipated in such statements. Coolabah Capital Investments Pty Ltd undertakes no obligation to update forward-looking statements if circumstances or management's estimates or opinions should change except as required by applicable securities laws. The reader is cautioned not to place undue reliance on forward-looking statements.
---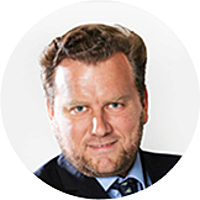 Portfolio Manager & Chief Investment Officer
Coolabah Capital
Chris co-founded Coolabah in 2011, which today runs $7 billion with a team of 33 executives focussed on generating credit alpha from mispricings across fixed-income markets. In 2019, Chris was selected as one of FE fundinfo's Top 10 "Alpha...