How do ASX hybrids compare to hybrids overseas?
---
During the Italian crisis there were some big moves in credit spreads overseas, and I've been asked a few times how current ASX hybrid spreads/returns compare to the major banks' hybrids issued in US dollars. Enclosed is a quick summary.
ASX hybrids issued by the major banks with 3 to 5 years to their expected repayment (or call) dates are paying spreads or trading margins above the bank bill swap rate (BBSW) right now of about 4 per cent (or 400 basis points) above 3 month BBSW, which is 1.99 per cent. In total yield terms, this means they are trading on yields of between 6.0% and 6.6% including franking, or between 4.0% and 4.9% excluding franking (see second chart  below).
One question is how these current returns compare to where identically rated (BB+) hybrids trade in the US dollar institutional over-the-counter (OTC) market. In the chart below we show the spreads offered on 21 different bank hybrids in the US, including hybrids issued by ANZ and Westpac. In short, outright spreads above the US equivalent bank bill rate (or Libor), are between 320bps and 350bps. If you swap these spreads back into Australian dollars, that is 344bps above BBSW for a 5 year major bank hybrid or 374bps above BBSW if we include all the European banks.
Assuming you can use franking credits, which most taxpayers can (even under Labor, non-taxpaying pensioners will still be able to claim cash rebates on franking credits), these USD hybrids make the ASX levels look quite cheap, especially when you compare the ANZ and Westpac USD implied 5 year margin of 344bps above BBSW to the current circa 400bps ASX level.
In the second chart you can also see how current ASX hybrid spreads compare to the unfranked/franked yield on the ASX200 equities index, which is paying 4.2% unfranked or 5.6% franked...Despite the superior yields to the wider sharemarket, ASX hybrids have historically displayed about one quarter to one half of the volatility of equities.
---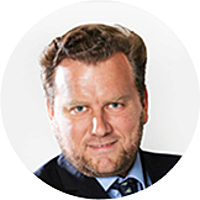 Portfolio Manager & Chief Investment Officer
Coolabah Capital
Chris co-founded Coolabah in 2011, which today runs $7 billion with a team of 33 executives focussed on generating credit alpha from mispricings across fixed-income markets. In 2019, Chris was selected as one of FE fundinfo's Top 10 "Alpha...