How to future-proof your portfolio
---
Investors should position their portfolios to benefit from three tidal waves ready to take the market - and the world - by storm in order to be successful over the coming decade.  
That's according to Holon Global Investments Heath Behncke, who argues investors should put their money where the future is; that being, major digital infrastructure providers - the likes provided by Google, Amazon, Alibaba and Tencent; new innovative technologies; and Web 3.0 - the next generation of the internet. 
Behncke came to this conclusion after spending decades working in funds management and realised that today's wealth strategies no longer serve investors as they once did. That's because defensive assets, those that have performed well in the past, are unlikely to deliver investors returns in the future. 
"That would mean that Australians would retire with less and have a lower standard of living and quality of life."
So, Behncke built a fund focused on "future-proofing" portfolios, targeting companies that embrace technological innovation. In this wire, he takes you through this strategy, as well as seven stocks that have caught his attention.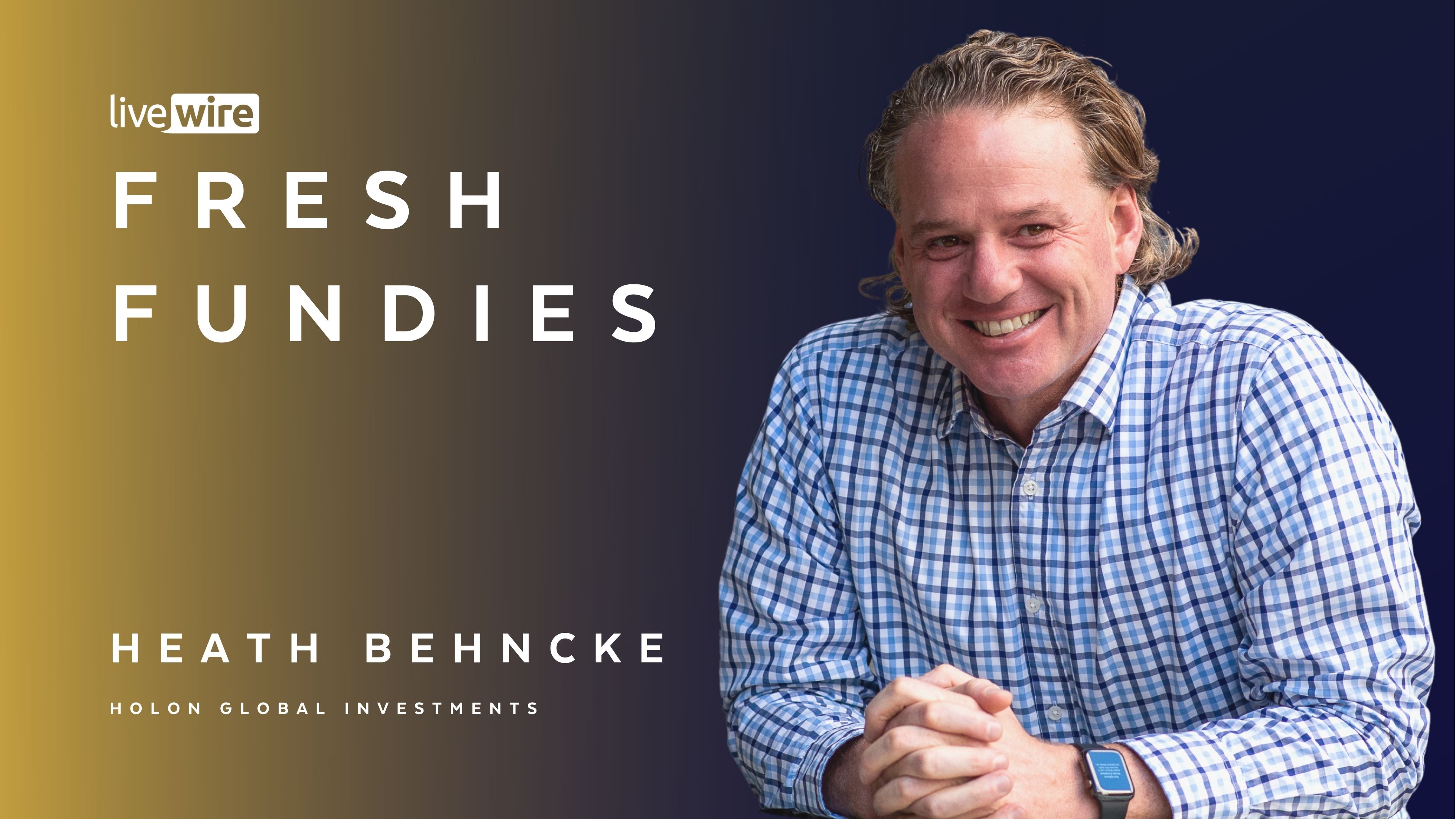 Fund at a glance: Holon Photon Fund 

Fund Manager: Heath Behncke
Asset class: Global equities
Objective: To outperform major global equity indices, in particular, the MSCI AC World Net Index in Australian dollars, over rolling seven-year periods (after fees and expenses but before taxes) by focusing on shares listed on the ASX and other global exchanges benefiting primarily from technological innovation.
Minimum investment: $5,000
Investment outlook: Seven years
Suitable for: Retail and wholesale investors 
Launch date: July 2019
Performance since inception: 32.9% p.a.
Management fee: 1.35% (incl. GST)
Performance fee: 15% in excess of the hurdle return with a high watermark payable six monthly as at 30 June and 31 December each year
Take us through how you built your fund from scratch to set it up for long-term success?
When we conceived the fund in July 2019 it was obvious that wealth management needed a new generation of fund manager and a new evolutionary philosophy.
The current financial system is failing investors. After spending decades working in funds management I started to see that wealth strategies did work, up to a point. But today, those strategies no longer serve investors because investments - such as banking and defensive assets - that have performed in the past, won't perform in the future. That would mean that Australians would retire with less and have a lower standard of living and quality of life.
So we built a fund that is focused on delivering returns, and 'future proofing' portfolios, in a world that is evolving and shifting quickly from 'local and linear' to 'global and exponential'.
Specifically, we have positioned the fund to benefit from a future that is being shaped by three 'tidal waves':
The type of digital infrastructure that allows businesses to scale and benefit from economies of scale, which is the force behind mega-cap success;
The exponential growth of innovative new technology, which is driving disruption; and
And Web 3.0, the next generation of the internet, which will bring explosive growth in areas such as finance, data and money.
The aim is to deliver total returns that are 10% p.a. in excess of those of the broader equity market across a five- to seven-year investment timeframe, which we have achieved to date. 
What are the strategies and techniques that set you apart from other fund managers?
We are a next generation fund manager. Our competitive advantage is staying ahead of the curve. There are three techniques that underpin this and that makes our fund unlike any other:
1. Investing across 3 time periods
The first is that we invest in three distinct types of global innovation companies:
Firstly, we invest in today's companies that own and operate the digital infrastructure of the world, such as the cloud data platforms of Google (NASDAQ: GOOGL), Amazon (NASDAQ:AMZN), Alibaba (NYSE: BABA) and Tencent (HKG: 0700).
Secondly, companies that are leveraging this infrastructure to launch the global digital products of tomorrow. Examples include global entertainment platform Roku (NASDAQ: ROKU) and accounting software platforms Xero (ASX: XRO).
Finally, as money itself shifts from physical fiat currency to digital currency, we look to identify companies of the future that will become the new payment rails and platforms to drive payment efficiencies and lower costs. We believe that the world is enormously underestimating the speed and potential of the accelerating switch to digital.
2. The 6Ds exponential growth model
The second is that, in terms of our investment process, we use the 6Ds thinking model to help us understand and identify exponential growth. Created by Singularity University founder Peter Diamondis, the 6Ds model describes the stages of technological progress, with technology becoming smarter and faster, and where visionaries leverage that technology to create new disruptive business models.
The birth and adoption of mobile technology, for example, went through its own exponential growth pattern along the 6D's arc as seen here.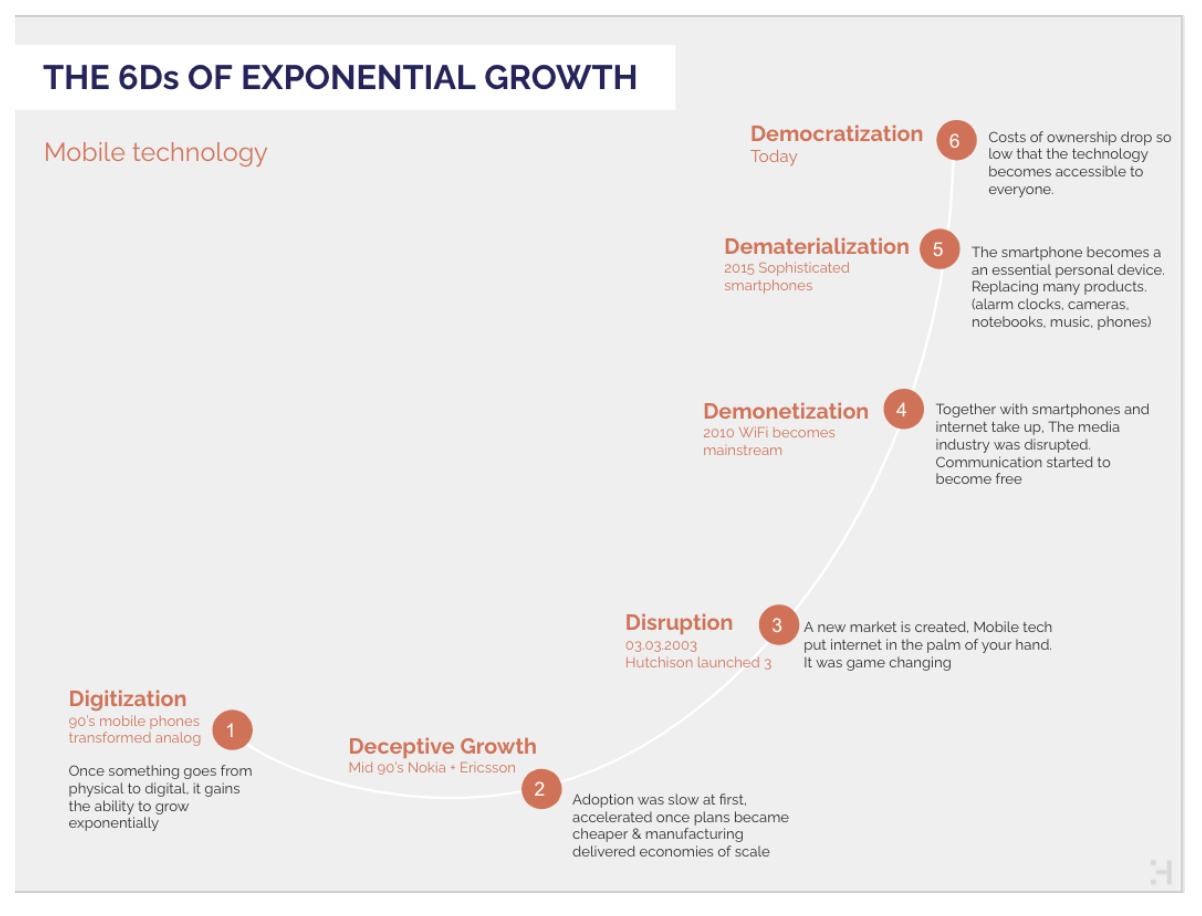 3. Gaining an investment edge by leading disruption
Thirdly, what also makes us particularly unique is that we test our assumptions through building tacit knowledge - that is, learning through doing.
There is a powerful Abraham Lincoln quote: "The best way to predict the future is to create it." 
Basically, we are getting in the ring. We are working and experimenting at the edge of disruption, and gaining unrivalled hands-on know-how.
For example, we are getting involved in Web 3.0 decentralised business models. We are setting up a mining venture as part of the Filecoin network. Filecoin (FIL) is described as the 'Airbnb for data storage,' it will disrupt traditional models of storage like Azure and Amazon. We think it has massive potential, so we are getting involved to test our assumptions.
This tacit knowledge is the secret sauce that informs our investment decisions. We are gaining intel other fund managers just won't have access to.  
Where are you seeing opportunities right now?
People mistakenly think that our products and solutions are tech funds. We don't invest in tech companies, we invest in companies that embrace technology, so we look for great global business models, fueled by innovation.
The mega-caps are obvious. They have a spot in any modern portfolio because their balance sheets are bulletproof.
We also like the next cohort of mega-caps. The ones that don't 'fit' a PE ratio -- like Megaport (ASX:MP1), Roku or Tesla (NASDAQ:TSLA) -- that have all the hallmarks of exponential growth and are universal in nature.
NASDAQ-listed MicroStrategy (NASDAQ: MSTR) is also a good investment and one of the best Bitcoin proxies for Australian investors. With central banks debasing currencies and the risk of rampant inflation increasing, we are strong believers in Bitcoin's value proposition as a store of wealth.
In terms of what the market is overlooking, we think media bias around China will prevent investors from evaluating the potential of Alibaba, Tencent and Xaomi (HKG: 1810) for example.
We also believe that mainstream investors are making a fundamental error when it comes to risk. They believe risk management means embracing safety and the status quo. But we believe risk management means embracing change and disruption. How well did failing to embrace change go for Kodak?
Wealth creation is taking place through innovation and disruptive new business models. It's critical investors and those who manage investors' money to get comfortable with change.
Ultimately, investors are investing in the Photon Fund because they can access unique investments they can't get anywhere else such as Chinese stocks, Roku, Microstrategy, etc.
In the future, we plan to offer a range of digital asset funds, which will provide investors with a huge opportunity to profit from disruption. 
Want to learn more about other newly launched funds?
Like this wire to let me know you enjoyed it. Hit follow so that you are notified of the other fresh fund manager profiles coming your way.
The interview is part of our Fresh Fundies series, focusing on newly launched funds (and their portfolio managers) with less than a three-year track record.
Over the next few weeks, we will be profiling:
Omkar Joshi, Opal Capital Management
Scott Williams, Fiftyone Capital
Ben Rundle, Hayborough Investment Partners
Michael Frazis, Frazis Capital Partners 
Emanuel Datt, Datt Capital
If you know of a newly launched fund that you think should be covered in this series - or if you are a portfolio manager who has recently launched a fund yourself - send us an email at content@livewiremarkets.com.
If you're not an existing Livewire subscriber you can sign up to get free access to investment ideas and strategies from Australia's leading investors.
........
Livewire gives readers access to information and educational content provided by financial services professionals and companies ("Livewire Contributors"). Livewire does not operate under an Australian financial services licence and relies on the exemption available under section 911A(2)(eb) of the Corporations Act 2001 (Cth) in respect of any advice given. Any advice on this site is general in nature and does not take into consideration your objectives, financial situation or needs. Before making a decision please consider these and any relevant Product Disclosure Statement. Livewire has commercial relationships with some Livewire Contributors.
---
Content Editor
Livewire Markets
Ally Selby is a content editor at Livewire Markets, joining the team at the end of 2020. She loves all things investing, financial literacy and content creation, having previously worked for the likes of Financial Standard, Pedestrian Group, Your...
Expertise