How to invest in today's market
---
As we reach the half way point of 2017, we took some time out to analyse how markets have performed since the start of the year, what areas are primed for a strong finish and our three top tips for investing. 
For further insights on the Australian equity market, and how Schroders Australia are positioned going into the second half of 2017, please click here 
Transcript of interview here 
The most important thing in investment is discipline, and to make sure you react to the same things the same way each time. That's why they call it an investment process if you like. From that perspective, we always think that the fundamentals of a business should drive how you look at it. What do I mean by that? The best way to think about buying a share is as though you're buying the whole business. I always try and think of companies in terms of the millions of dollars of revenue and profit they make, and the billions of dollars that you're paying for the earnings. When I say that, if you put yourself in the shoes of an owner and say, I have $500 million would I spend all of this $500 million buying this business? It tends to focus the mind. 
Thinking about shares the same way, we'd say is the greatest discipline. It forces you to go back and say, what are the revenues I'm buying? Why do I think the prospects a good bet or indifferent? Why do I think the amount that the business is earning now is likely to be sustainable into the future. That will always hold you in good stead, in terms of making sure you don't get carried away in what can be overly buoyant environments, and environments where people get caught up in share price moves, rather than whether the business fundamentals are actually keeping pace with those share price moves. 
The other thing that we'd say about an environment like now is we're in an uncomfortable territory when it comes to both asset prices, interest rates, and that leaves investors in a situation where financial leverage, which has been a real boom to asset prices over the past 25 years plus, is probably unlikely to provide the tail winds that it has in the past. That means that in buying a business at prices, which versus historical levels are now high by most standards, you want to be very cautious about the financing structure supporting those businesses. 
When interest rates are high and asset prices are low, a lot of financial leverage is likely to work in your favour, and make you more money, and the reverse is always true when you get an environment like this. Where asset prices are high, leverage is high, and interest rates are really low. Those tail winds for us are largely behind you. You want to take a very cautious approach about the financing structures behind businesses, and how your approaching investment, because those tail winds are the rear vision mirror. You've got to try and look forward in the windscreen.
---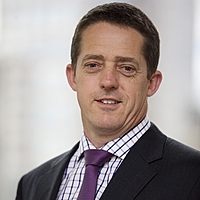 Head of Australian Equities
Schroders
Martin is the Head of Australian Equities, and leads the portfolio construction process for Australian Equity portfolios, while also retaining analytical responsibilities for a variety of sectors including Diversified Financials, Gaming,...
Expertise