How we're responding to this crisis
---
The global economy and markets have experienced multiple shocks over the past few weeks. The catalysts for past periods of panic and crisis at the time were often unknown (1987) and/or unique (the freezing of credit markets in 2008). And so too, the unique and multiple features of this crisis are adding to what is now clearly the most uncertain period of time for the world since the global financial crisis.
We started the year with improving economic momentum and global central banks prepared to signal the end of policy stimulus, with global unemployment at a 40-year low and no signs of stress in financial markets. Indeed, it is this backdrop that saw equity valuations drift to absolutely expensive levels through February, albeit seemingly fair relative to record low yields and low inflation.
From a macroeconomic perspective, a health crisis has now morphed rapidly to a severe economic crisis. Despite a positive backdrop, the failure of the developed economies, particularly Italy and the US, to contain the coronavirus (as China appears to have done) or deliver an appropriate governmental response has been damaging. The breakdown in negotiations between OPEC and Russia to support oil prices has also contributed to an unexpected rise in stress in global credit markets. The failure of society to contain the medical crisis is now almost certainly going to lead to a global recession in mid-2020 as economic activity around the world is sharply curtailed in an attempt to contain the virus' outbreak. The breadth of human fear and the propensity to panic at a time of more nationalistic and uncoordinated world governments, and simmering geo-political tension, are unique features of this crisis and remain pressing challenges ahead.
Sharp falls and heightened volatility have continued to increasingly dominate markets over recent days. Our past experience tells us that there will be few boundaries to the extent this downturn can permeate economies and sectors across the world. 
Key developments that have the potential to stabilise markets ahead include:
a deceleration in the pace of new virus cases globally, particularly in the US.
successful development of a vaccine or medication to mitigate the virus' fatality rate.
renewed talks between Russia and OPEC to stabilise oil prices and ease credit risks.
a larger and more effective globally coordinated fiscal, health and monetary response.
a return of valuation support for markets even under a recessionary earnings outlook.
While at some point world governments and society may choose to step back from curtailing activity and instead attempt to mitigate the daily consequences of the virus until a vaccine arrives, this now seems less likely for a time given the evident panic surrounding the virus. A period of sharp curtailment is increasingly inevitable.
How should we manage and respond through this period, what can history tell us and what have I learnt in my two years at Crestone and almost 30 years in markets?
The seeds of long-term portfolio underperformance are sown when we step away from disciplined asset allocation. Strategic and tactical asset allocation remains the key to long-term successful investing.
Actively managing our portfolio weights through drawdowns is a vital aspect of long-term portfolio protection. Equity allocations have potentially drifted 8-9% below our current tactical weight of neutral and courage is required to begin rebalancing to limit any significant under-exposure to a rebound.
Markets recover in the short to medium-term. Research reveals that since 1871, 80% of corrections have recovered within a year. And while sharp 40% plus declines can take 3 to 4 years to return to the prior peak, in the GFC, 50% of the drawdown was unwound in the first 9 months.
Cash remains unlikely to be the best performing asset class from here. In the 12 years including 2008 GFC, cash has not been the best performing (or second best performing) asset in any year. There has always been an asset class that outperforms cash.
We remain constructive on the economic outlook through H2 2020 and into 2021. While H1 2020 will likely contain challenging economic data, the inevitable rebound in activity, be that mid-year or a bit later, underpinned by an increasingly and historic policy stimulus now underway should deliver a rebound in risk appetite in time. The full weight of the global medical technology sector is now being applied to discovering a vaccine while sub-$40 oil prices remains an unsustainable scenario for both Russia and OPEC.
We remain neutral on equities and look for opportunities to selectively rebalance equity portfolio weights higher (with a view to moving more aggressively overweight equities at some point soon). As a business, we remain confident in our alternative investment opportunities. We remain negative global credit and view fixed income (and excess cash) as sources to selectively fund equity rebalancing.
Best regards and stay safe.
Learn what Crestone can do for your portfolio
With access to an unrivalled network of strategic partners and specialist investment managers, Crestone Wealth Management offer one of the most comprehensive and global product and service offerings in Australian wealth management. Click 'contact' below to find out more.
........
General advice notice: Unless otherwise indicated, any financial product advice in this email is general advice and does not take into account your objectives, financial situation or needs. You should consider the appropriateness of the advice in light of these matters, and read the Product Disclosure Statement for each financial product to which the advice relates, before taking any action. © Crestone Wealth Management Limited ABN 50 005 311 937 AFS Licence No. 231127. This email (including attachments) is for the named person's use only and may contain information which is confidential, proprietary or subject to legal or other professional privilege. If you have received this email in error, confidentiality and privilege are not waived and you must not use, disclose, distribute, print or copy any of the information in it. Please immediately delete this email (including attachments) and all copies from your system and notify the sender. We may intercept and monitor all email communications through our networks, where legally permitted
---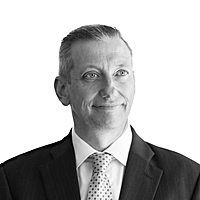 Chief Investment Officer
LGT Crestone
Scott has more than 20 years' experience in global financial markets and investment banking, providing extensive economics research and investment strategy across equity and fixed income markets.
Expertise