If the bears are right, an Australian property bubble, a recession for retailers and dramatically slowing Chinese growth rates towards the end of the year, combined with record high asset prices — especially assets that produce no income such as art and two-digit licence plates — are a recipe for a meltdown.
Then the question arises: is there anything you can do to potentially protect and even grow your capital and purchasing power during such a "fat tail-risk" event?
The answer of course is yes. Funds that were once described as "alternatives" are fast becoming mainstream, thanks to an increasing level of inquiry by sophisticated and wealthy individuals and family offices.
The opportunity to profit from some shares falling in price is one way investors can "hedge" or "in- sure" their portfolios against the more extreme events that some commentators are now openly warning investors against.
And if the most bearish predictions for Australian construction activity and retail spending come to pass, an expected fall in the Australian dollar (note the Aussie dollar was at US50c the last time the yield differential was this low) could mean that the best way to protect capital may be a global fund that can short sell.
With that in mind there are some interesting themes emerging in various global jurisdictions.
In China, monetary stimulus measures are tightening the most since 2013 as are regulatory controls on non-bank credit in an effort to contain financial risks. Property sales are cooling due to recently imposed curbs on residential purchases and this could slow construction activity and broader economic growth.
In the US, a variety of sectors are experiencing either structural or cyclical challenges or both.
Over 52 per cent of American households now have Amazon Prime accounts and to put that in perspective, that is more households than the number that say they attend church!
Previous predictions of "zom- bie" malls have proven correct with foot traffic to malls having declined by 50 per cent in the last three years. Opportunities to profit from short selling retailers, that grew their store footprint at well above the rate of population growth, abound.
While bricks and mortar retailers have been decimated with a litany of operators having filed for Chapter 11 bankruptcy protection, there may also be opportunities among the winning online providers. Shopify provides its online retailing platform to more than 400,000 vendors.
The problem is its price and it trades at a market capitalisation of $US8 billion ($10.5bn) but generates only $US500 million in revenue. And while revenues are expected to rise to $US800m in 2018, it currently does not make a profit. The US automotive sector has grown sales enormously since the 10.4 million unit lows of the GFC in 2009 to 17.5 million today.
What isn't widely known is the extent to which new car sales and leasing volumes are dependent on used car sale values. Because the success of a new car transaction is dependent on the equity value of the trade-in, when used car values slump so does the volume of new car sales.
During the GFC, dismal new car sales volume created a shortage of used cars, which in turn caused used car values to soar from 2009 to 2015.
In turn, this boosted new car sales volumes. After ramping up production, an oversupply of vehicles is now forcing manufacturers to dump stock and offer incentives, and as a consequence used car values are falling again. This will impact new car sales. Car dealers and institutions with large car financing operations are now in the firing line.
Returning to Australia: Mortgage borrowers now hold a record level of debt so the recent 70-basis- point out-of-cycle rate hike from the banks has hit more than half of mortgage holders must put future discretionary retail sales under pressure.
Meanwhile, the inevitable end of the residential construction boom and a slump in residential renovations and additions, will put pressure on suppliers of building products and furniture and white goods sellers. In turn these effects will be compounded by the eventual increase in unemployment and underemployment.
A large number of first-time property investors are in for a rude shock. The oversupply of apartments is already forcing developers to discount in some areas and the tightening of lending criteria for many suburbs and for certain types of loans will pull the rug out from under current and prospective buyers.
I have a close friend who is trying to sell an apartment for which there are simply no bids. None.
So what is the real value of that apartment? Prices are transient. Mortgages are far more permanent and interest rates could rise further. All of this will have an impact on our banks, which command a uniquely high weighting in the ASX 200 index.
With China slowing and with components of the US economy weakening, with the prospect for a property activity, and a property price, slump leading to pressure on retailers, and with aggregate share price multiples extended locally and at extremes elsewhere in the world, you have to wonder whether the trickle of sophisticated money towards hedge funds, alternative funds and long/ short funds turns into a tidal wave.
---

Follow Roger Montgomery's wires
---
---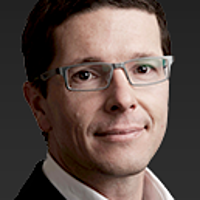 Founder and Chairman
Montgomery Investment Management
Roger Montgomery founded Montgomery Investment Management, www.montinvest.com in 2010. Roger has than three decades of experience in investing, financial markets and analysis. Roger also authored the best-selling investment book, Value.able.
Expertise