Inflation and bond yields: The crystal ball for determining a good vintage year in private market investing?
---
Unlocking the mystery of private market investments: can historical data inform strategic entry and vintage year selection?
The investment horizon for private market opportunities is generally a long-term commitment. Investments in closed-end funds typically require a significant amount of time for deployment of capital and subsequent liquidation, with an estimated total of around ten years from the initial investment to final distribution (with many other cashflows in between).
Given the extended duration of private market investments, it is difficult to predict the optimal vintage year and timing the entry of these investments accordingly.
In this note, we look to the historical private equity data for insights and use them to inform a strategy that investors could consider when investing in private markets.
private equity DATA versus the prevailing inflation and yield environment
In the chart below, we show the median internal rate of return (dark blue bars), as at 30 September 2022, of all private equity (buyout) vintages available in the Preqin database since 1985. We have plotted the investment performance of the PE vintages against the rolling 1-year Australian inflation rate (red line) and the 10-year yield on Australian Government Bonds to give a sense of the prevailing inflationary and economic environments for each vintage. We have also highlighted on the chart the years around a major share market crash (periods shaded in yellow) as another indicator of the prevailing economic environment.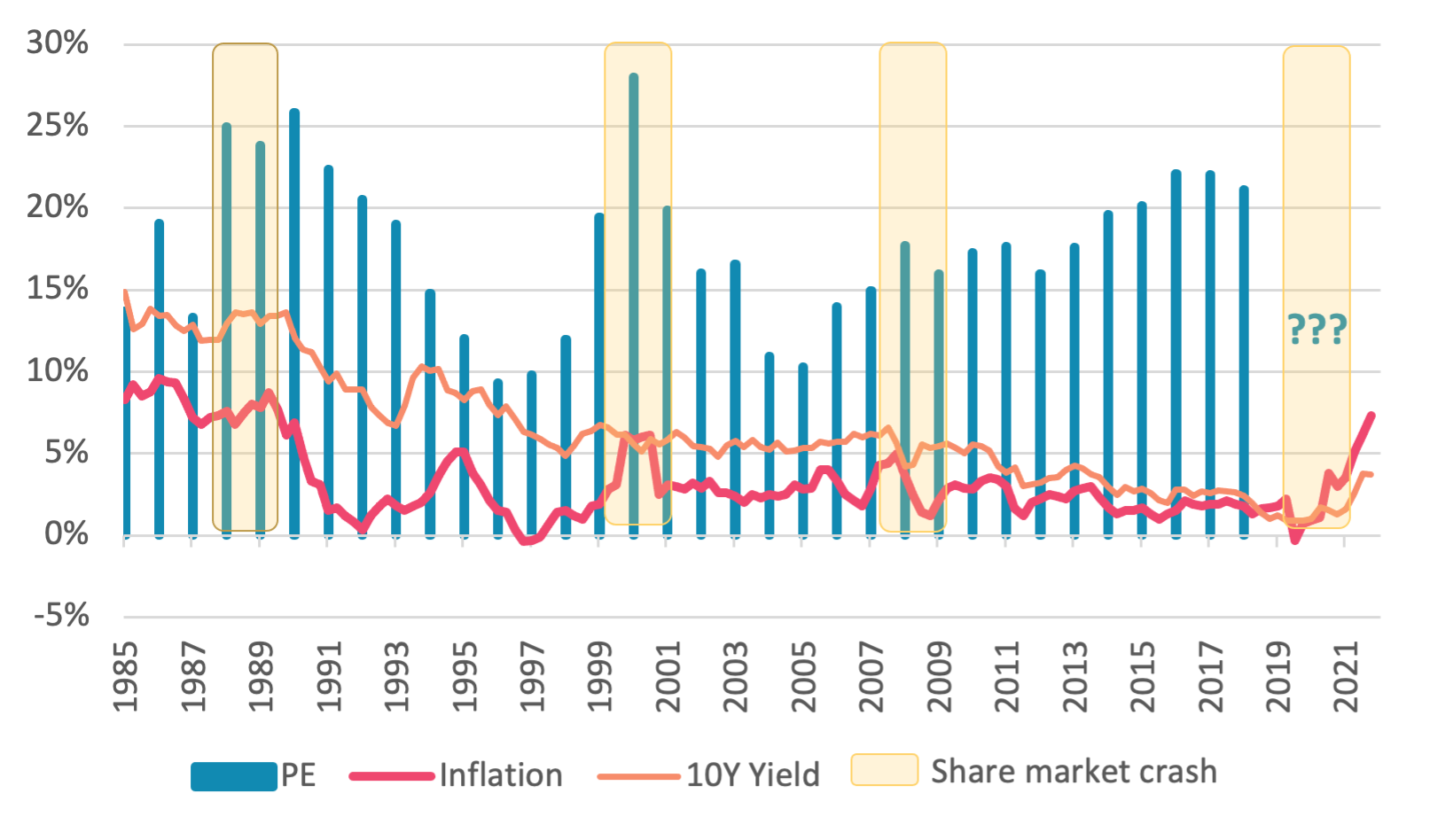 Our key takeaways from the chart include:
There are no vintage years in which the median PE fund in the Preqin database suffered a negative net IRR.
There is a perception that the rising inflation and yield environment will be a headwind for PE. We don't argue against this given the rising input costs and interest expense for businesses. However, this does not necessarily translate to poor performing vintage year for PE. For example, the 1993-94 and 1999-2001 vintage years still produced net IRRs of at least 15% per annum.
Similarly, periods of falling inflation and yields do not necessarily translate to strong performing PE vintages. For example, the 1995-98 vintage years.
PE vintages following a major share market crash have tended to perform quite well (i.e. 1988-89, 2000-01, 2008-09) relative to the vintage years prior to the share market crash. 
What can be gleaned from the historical performance data?
The chart does not present compelling evidence that the prevailing economic conditions are necessarily a good indicator of how a particular PE vintage year may perform.
However, there is some evidence (albeit limited) in the historical data that suggests that vintage years prior to a share market crash do not appear to perform as well as the following vintage years. This is likely to be because the prior vintage years were selling investments during periods affected by the share market crash pessimism. However, in order to take advantage of this phenomenon investors have to ask themselves:
Is it possible to consistently and accurately predict the timing of share market crashes years in advance?
Is it worth trying to predict, given almost all of those "poor" performing vintage years still generated positive double digit net IRRs?
We would dare say "no" to both questions. Instead we think a more practical approach to investing in private markets is to implement a dollar cost averaging strategy. In the private markets context this strategy would involve dividing a fixed amount of money to be committed into equal parts to different private markets opportunities, and commit those parts at roughly fixed intervals over a pre-determined period of time.
The advantage of this approach, which is widely used by financial advisers in other asset classes, is that there is no need to predict and time the optimal vintage year and instead allows an investor to diversify across vintage years as well as other dimensions (e.g. geography, style, asset class etc.).

An investment portfolio that includes private market investments requires some planning (no more than what you would undertake when investing in shares, property or fixed interest securities). Investors should also carefully consider the potential benefits and risks of private market investments in the context of their personal circumstances (e.g. investment horizon, liquidity needs, investment goals etc.) before including them in their portfolio.
We strongly recommend you seek professional financial advice. A financial adviser can assist you in understanding the risks and potential benefits of investing in private market investments. 
Never miss an insight
If you're not an existing Livewire subscriber you can sign up to get free access to investment ideas and strategies from Australia's leading investors.
You can follow my profile to stay up to date with other wires as they're published – don't forget to give them a "like".  
Never miss an update
Enjoy this wire? Hit the 'like' button to let us know. Stay up to date with my current content by
following me
below and you'll be notified every time I post a wire
Welcome to Livewire, Australia's most trusted source of investment insights and analysis.
---
To continue reading this wire and get unlimited access to Livewire, join for free now and become a more informed and confident investor.
Sam has worked for over 20 years in the financial services sector in Australia, Taiwan, and Hong Kong. He has an MBA from the University of Essex and has extensive experience working with reputable investment companies responsible for diversifying revenue. Recently, Sam was the Head of Secondary Private Equities at MCM Partners in Hong Kong. In addition to his plethora of accreditations, Sam is the co-founder and CEO of Reach Alternative Investments, where their aim is to democratise access to private equity markets for sophisticated investors www.reachalts.com.au
........
Reach Alternatives IM Pty Ltd trading as Reach Alternative Investments is a corporate authorised representative (CAR) of Boutique Capital Pty Ltd (BCPL) AFSL 508011, CAR Number 1295777. To the extent to which this article contains advice it is general advice only and has been prepared by Reach Alternative Investments for individuals identified as wholesale investors for the purposes of providing a financial product or financial service, under Section 761G or Section 761GA of the Corporations Act 2001 (Cth). The information herein is presented in summary form and is therefore subject to qualification and further explanation. The information in this article is not intended to be relied upon as advice to investors or potential investors and has been prepared without taking into account personal investment objectives, financial circumstances or particular needs. Recipients of this document are advised to consult their own professional advisers about legal, tax, financial or other matters relevant to the suitability of this information. There are risks involved in investing. To the extent any investment is summarised in this article, it is subject to known and unknown risks. Past performance is not indicative of future performance. All investments carry some level of risk, and there is typically a direct relationship between risk and return. No one can mitigate risk completely. While the information contained in this article is based on information from sources which Reach Alternative Investments considers reliable, its accuracy and completeness cannot be guaranteed. Data is not necessarily audited or independently verified. Any opinions reflect Reach Alternative Investments' judgement at this date and are subject to change. Reach Alternative Investments has no obligation to provide revised assessments in the event of changed circumstances. To the extent permitted by law, BCPL, Reach Alternative Investments and their directors and employees do not accept any liability for the results of any actions taken or not taken on the basis of information in this article, or for any negligent misstatements, errors or omissions. This article is for informational purposes only and is not a solicitation for any financial product or for units in a fund.
---

Never miss an update
Get the latest insights from me in your inbox when they're published.
---
---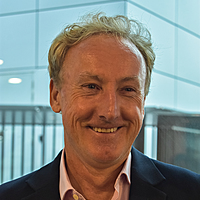 Co-founder & Chief Executive Officer
Reach Alternative Investments
Sam has worked for over 20 years in the financial services sector in Australia, Taiwan, and Hong Kong. He has an MBA from the University of Essex and has extensive experience working with reputable investment companies responsible for diversifying...