About a month ago my colleague Nick said in his Livewire article: "Investing generally should be a boring, time-consuming, and not an exciting endeavour, which generally should be engaged in over a lengthy time horizon."
Heightened throughout the pandemic, and to some degree the past decade, pressure has been placed on 'gamifying' the investing experience, reducing the frictions involved in accessing once out-of-reach markets and introducing 'exciting' asset classes to capture a broader audience. Aggressive marketing campaigns and messaging through some of the means below have drawn in many novice investors and in the process, (in)advertently sold them the dream of quick riches.
Notification-enabled smartphone apps;
Sports betting-style advertising;
Minimal to zero brokerage fees;
Incentives to create an account such as free stock (i.e. Robin Hood) or frequent flyer points; and
Trading platforms that have removed the 'noise' of financial charts and numbers to create visually stimulating user experiences.
As marketing campaigns and the mediums in which to reach prospective audiences have expanded, coincidentally the moves towards gamifying the investing experience have seen interest in cryptocurrencies, NFTs and 'meme' stocks (i.e. GameStop, AMC) grow exponentially. No doubt some of these asset classes have also been aided in their 'normalisation' pursuit by having Hollywood A-Listers spruik their wealth potential (looking at you Matt Damon).
Additionally, whilst perhaps not a by-product of gamifying investing and more from an 'ease of access' perspective, the variety and cost effectiveness of numerous Exchange Traded Funds (ETFs) that allow investors exposure to a particular asset class, thematic or sector may have enabled an individual to engage with markets in what we consider to be an 'unhealthy' manner.
What we are contending is that the combination of the below three factors has, for many, fostered an unhealthy relationship with the financial markets that we fear may have long-term detractive effects. 
Gamifying the investing experience,
The quick introduction and adoption of speculative asset classes and,
The rise in passive money (ETF) products. 
Like many others, we are advocates for more people learning the fundamentals to invest healthily. 
But what does it mean to invest 'healthily' or with healthy habits? 
A 2015 paper published in the Association for Psychological Science sought to bridge the gap between unfulfilled US Government goals for the physical health of its people and activating strategies that encourage action (i.e. visiting the dentist, eating a balanced diet, etc). In a surprise to few, habits that can be integrated into everyday life had a strong chance of reaching the Government's goals, such as integrating a walk after dinner; over time this becomes an automated behaviour and occurs without thinking.
Another successful strategy however, highlighted how adding frictions to existing behaviours can promote healthier ones. This was seen through the introduction of smoking bans in UK pubs where smokers were forced to disrupt the automated behaviour (i.e. the drink) to head outside for a smoke. It is believed this, amongst other strategies, reduced overall smoking rates in the UK. So how can we learn from this research and apply it to healthy investing habits?
The parallel we see is that whilst investing has become more accessible to the masses through the means mentioned above, this ease of access (i.e. a reduction in frictions) may in fact be creating negative and thoughtless behaviour(s). 
 Especially in the free-markets of the US, trading applications have targeted those who have the most to lose (i.e. college students), which with such little effort has resulted in extreme speculative behaviour. Companies and 'assets' that were the targets of speculation in early 2021 have unwound spectacularly this year, and we suspect a lot of once 'rich' retail investors are ruing their losses. Akin to, 'if something is too good to be true, it probably is', the same should apply to if something seems too easy, it possibly is not – especially in something as serious as investing.
Further concerns with the gamified experience were researched and published by academics Chaplovski, Khapko and Zoican in December 2021. They found that the gamified nature of new trading applications had developed through using visual graphics to reward trading behaviour. Of the 600 participants representative of the retail trader population in the study, overall risk tolerance was measurably increased through the gamified simulation and "particularly strong in assets that are risky to begin with". Naturally as the risk tolerances increased, so did the participants' appetite for riskier and higher-volatility assets such as derivatives and cryptocurrencies. 
To test and measure how these risk tolerances grew, the simulated experience leveraged messages and emoji's that exist in the infamous WallStreetBets Reddit forum – see the image inset below: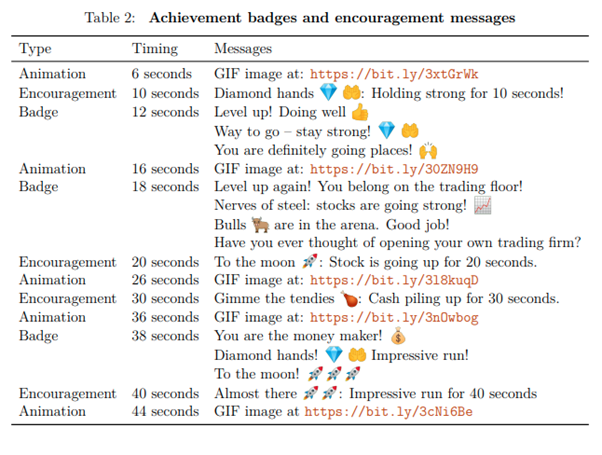 The importance of friction in investing should not be underestimated
 We'd go even further to say that friction in the habit of investing is crucial. 
As a habit, investing should require a level of friction as it encourages a more "deliberate, effortful decision" and not be built around the gamified experience we are all too familiar with in the smartphone-app world. 
After all, the reward in investing is by having your thesis, strategy and portfolio construction be proven sound and replicable so that it can generate future wealth on your hard-earned capital. Where there is an absenteeism of a friction to investing, we will continue to question how much of it is investing and how much of it is a monkey throwing darts (see our Livewire post here).
Never miss an update
Enjoy this wire? Hit the 'like' button to let us know. Stay up to date with my current content by
following me
below and you'll be notified every time I post a wire
Welcome to Livewire, Australia's most trusted source of investment insights and analysis.
---
To continue reading this wire and get unlimited access to Livewire, join for free now and become a more informed and confident investor.
---
---
As co-founder and Director of Spatium Capital, Jesse is fascinated by the mental shortcuts that drive people to solve problems and make decisions, which supported the launch of the Firm. As Director, Jesse's responsibilities are predominantly focused on distribution and market research, whilst supporting Nick on the portfolio construction and R&D-related duties. He has shared responsibility for the investment management decision process with Nick. Jesse holds a Bachelor of Arts from the University of Melbourne and a Master of International Business from the Melbourne Business School.
........
The Spatium Small Companies Fund (Fund) is an unregistered managed investment scheme in the form of an Australian unit trust. The Fund is only available to investors that are wholesale clients as defined in s761G of the Corporations Act 2001 (Cth). M&Q Capital Pty Ltd t/as Spatium Capital ACN 630 916 602 is the investment manager of the Fund (Investment Manager). The Investment Manager is a Corporate Authorised Representative (001279779) of D H Flinders Pty Ltd ACN 141 601 596 AFSL 353001. The Investment Manager's authority under its Corporate Authorised Representative Agreement with D H Flinders Pty Ltd is limited to general advice regarding the Fund only. Vasco Custodians Pty Ltd is the Trustee of the Fund and the issuer of its Information Memorandum. Unless specifically stated, public commentary does not constitute formal advice or commitment by any of the aforementioned parties. Nothing in this contribution is intended as personal financial product advice.
---
As co-founder and Director of Spatium Capital, Jesse is fascinated by the mental shortcuts that drive people to solve problems and make decisions, which supported the launch of the Firm. As Director, Jesse's responsibilities are predominantly...
Expertise
As co-founder and Director of Spatium Capital, Jesse is fascinated by the mental shortcuts that drive people to solve problems and make decisions, which supported the launch of the Firm. As Director, Jesse's responsibilities are predominantly...
Expertise