Yesterday I had a chat with Peter O'Connor, Shaw's Senior Resource Analyst and a good mate of Market Matters. He's a very good analyst and his views often contribute to our way of thinking towards resources, although we always overlay it with our traditional MM approach!  
As we continue to write in our daily notes to subscribers,  "selling strength and buying weakness will add value in 2021" and gold certainly ticks the box of the later. I won't go into the fundamental reasons why we are bullish on gold around the $US1700 area, as it's covered very succinctly by Rocky in the above video and we share those views, but the technical picture is also supportive with silver remaining on track to make fresh multi-year highs above $US30/oz.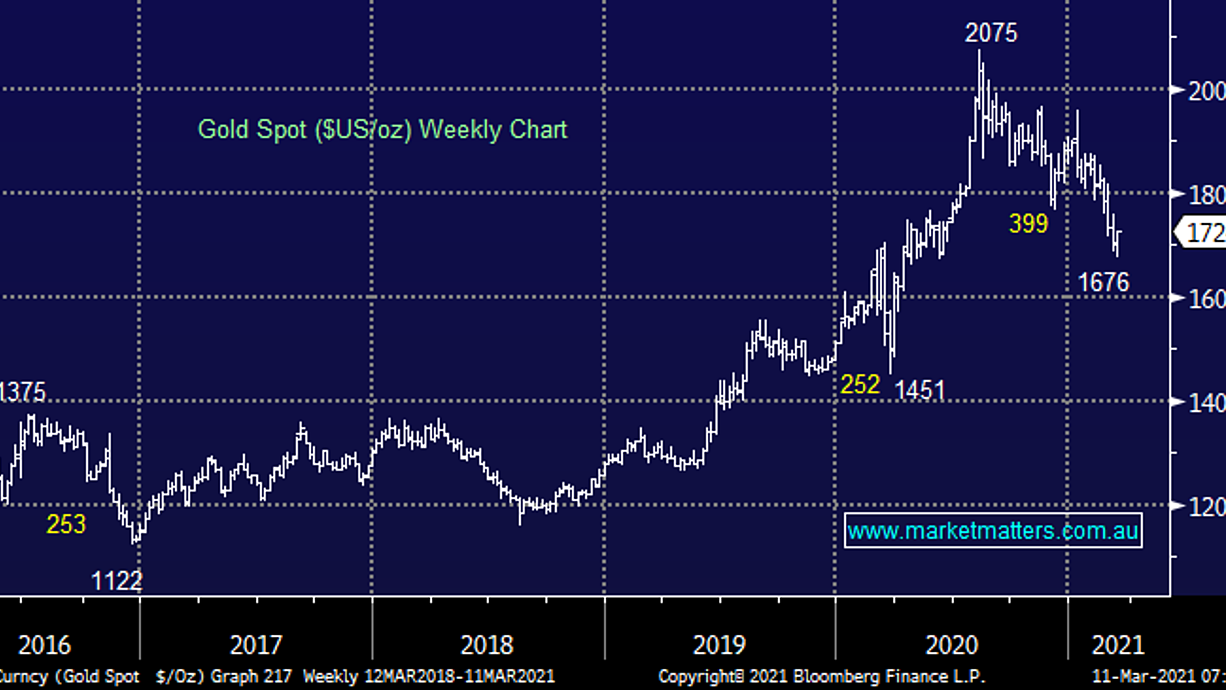 Newcrest Mining (NCM) $23.95.
As a stock, NCM is "in the bin" with investors after disappointing a number of times over recent years. But we believe the ship has turned and the stock is now significantly undervalued, the only question being when will the market see it our way! The chart below actually reminds me of Whitehaven Coal (WHC) which spiralled south for a few years before doubling in less than 12-months. But I don't think NCM will recover as strongly - when fund managers do eventually decide to reweight back into Australia's largest gold miner, they're likely to find a dearth of sellers.
MM is bullish NCM initially targeting the $30 area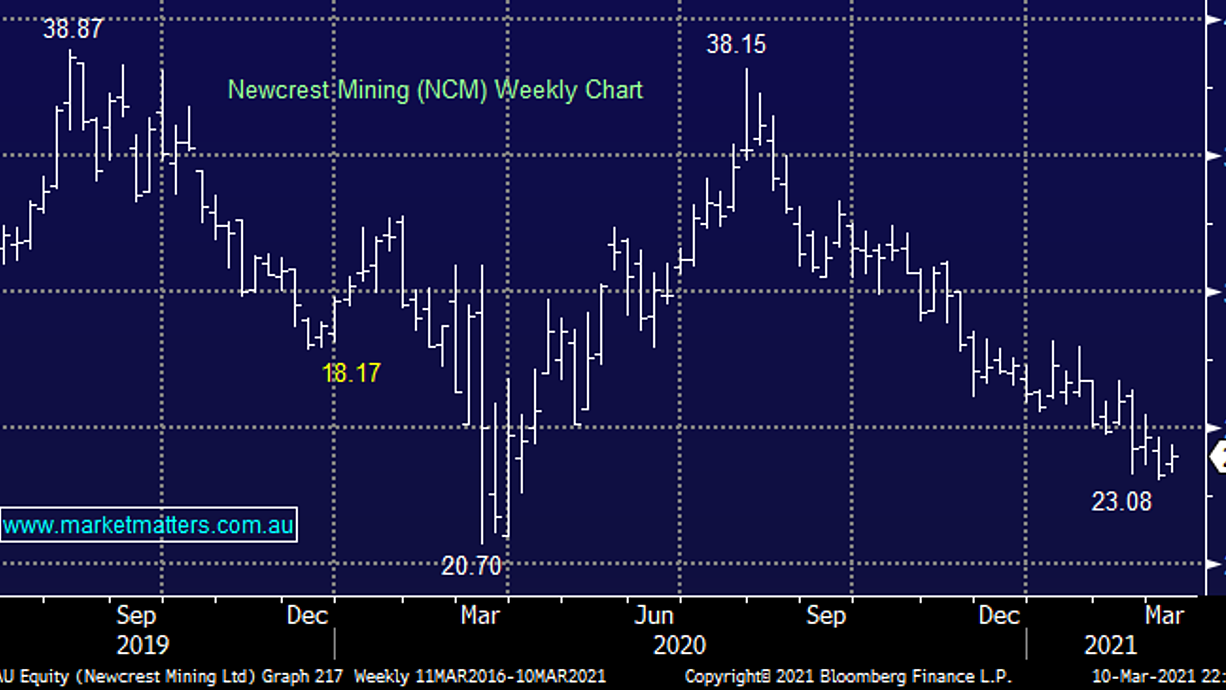 Evolution Mining (EVN) $3.95
EVN has endured its second 40% correction in two years - who says markets don't regularly move in cycles! We believe, similar to the whole gold sector, EVN has gone from being overvalued to undervalued in less than six months. This is a characteristic we should probably all get used to in 2021. The stock is now forecast to yield more than 4% fully-franked over the next year, adding to its attraction when compared to the minuscule return on term deposits.
MM likes EVN below $4.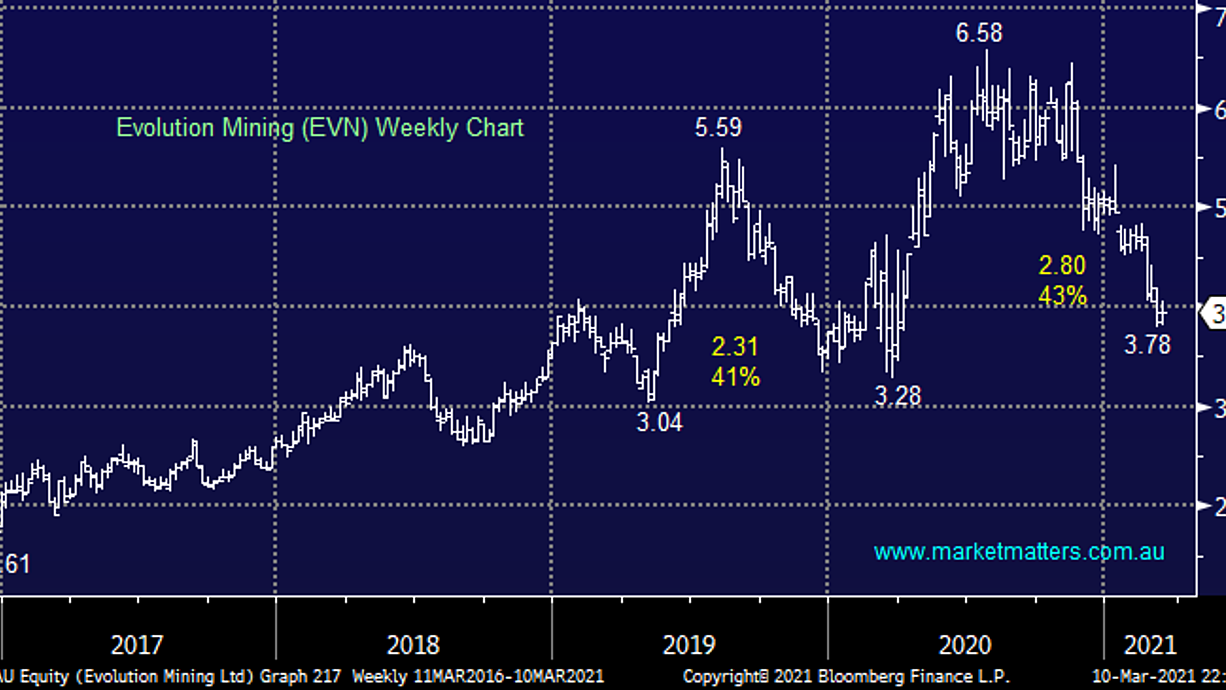 Northern Star Resources (NST) $9.56
And finally, we move to NST, which has corrected almost 50%. As monies have capitulated out of gold ETFs, panic selling adds weight to our confidence in our bullish precious metals call. A panic-style stampede out of positions such as ETFs so often creates meaningful swings, both down and up. NST is another quality gold stock that, in our opinion, has fallen too far out of favour, with its particular move looking exacerbated by its meaningful presence in some ETFs.
MM likes NST under $10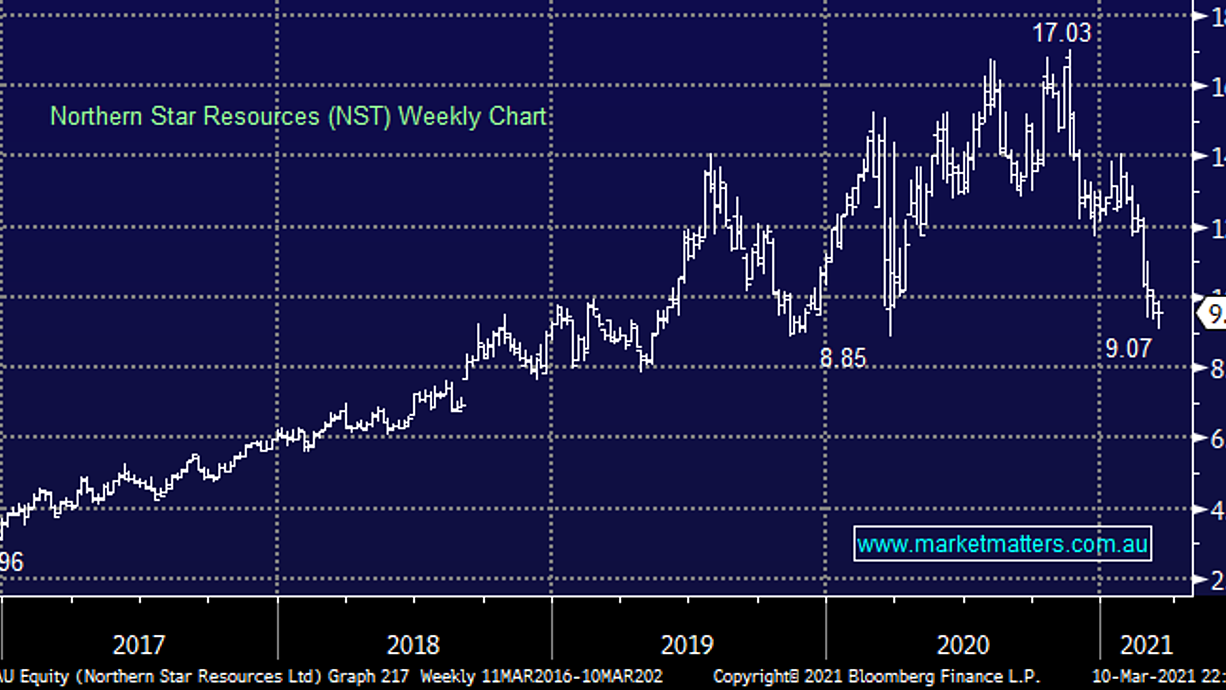 Make informed investment decisions
At Market Matters, we write a straight-talking, concise, twice daily note about our experiences, the stocks we like, the stocks we don't, the themes that you should be across and the risks as we see them. Click here for your free trial.
........
Disclosure Market Matters may hold stocks mentioned in this report. Subscribers can view a full list of holdings on the website by clicking here. Positions are updated each Friday, or after the session when positions are traded. Disclaimer All figures contained from sources believed to be accurate. All prices stated are based on the last close price at the time of writing unless otherwise noted. Market Matters does not make any representation of warranty as to the accuracy of the figures or prices and disclaims any liability resulting from any inaccuracy. Reports and other documents published on this website and email ('Reports') are authored by Market Matters and the reports represent the views of Market Matters. The Market Matters Report is based on technical analysis of companies, commodities and the market in general. Technical analysis focuses on interpreting charts and other data to determine what the market sentiment about a particular financial product is, or will be. Unlike fundamental analysis, it does not involve a detailed review of the company's financial position. The Reports contain general, as opposed to personal, advice. That means they are prepared for multiple distributions without consideration of your investment objectives, financial situation and needs ('Personal Circumstances'). Accordingly, any advice given is not a recommendation that a particular course of action is suitable for you and the advice is therefore not to be acted on as investment advice. You must assess whether or not any advice is appropriate for your Personal Circumstances before making any investment decisions. You can either make this assessment yourself, or if you require a personal recommendation, you can seek the assistance of a financial advisor. Market Matters or its author(s) accepts no responsibility for any losses or damages resulting from decisions made from or because of information within this publication. Investing and trading in financial products are always risky, so you should do your own research before buying or selling a financial product. The Reports are published by Market Matters in good faith based on the facts known to it at the time of their preparation and do not purport to contain all relevant information with respect to the financial products to which they relate. Although the Reports are based on information obtained from sources believed to be reliable, Market Matters does not make any representation or warranty that they are accurate, complete or up to date and Market Matters accepts no obligation to correct or update the information or opinions in the Reports. Market Matters may publish content sourced from external content providers. If you rely on a Report, you do so at your own risk. Past performance is not an indication of future performance. Any projections are estimates only and may not be realised in the future. Except to the extent that liability under any law cannot be excluded, Market Matters disclaims liability for all loss or damage arising as a result of any opinion, advice, recommendation, representation or information expressly or impliedly published in or in relation to this report notwithstanding any error or omission including negligence.