Is it too late to jump aboard the Lithium train?
---
Investing in lithium over recent years has been an extremely volatile ride which has seen heavyweights like Orocobre (ORE) more than double and then half over just a few years, we've witnessed both crowded positioning and panic selling as the growth around EV's masked the impact on the underlying lithium prices which has a supply coefficient, as well as demand. To be specific we saw a battery boom in 2018 which met the almost inevitable bust in 2019, a common tale in financial markets which often throws up opportunities into the panic selling for the patient investor, one of the best illustration of "Fear & Greed" in modern times:
Lithium-ion battery pack prices in 2010 were $1,100 kW/hr, by the start of this year they had fallen almost 90% i.e. extrapolating demand was only half of the equation.
However investors have started pushing the stocks significantly higher over the last 12-months with expanding EV sales a main driving factor, estimates are that Tesla et al will make up ~10% of car sales by just 2025. However it's the additional uses of lithium in the likes of digital devices like smartphones which is getting more air time but as we've seen previously as prices of lithium rise production can be fairly easily increased, especially in Australia hence the optimum time to invest in the sector is a balancing game in our opinion.
The locally listed ACDC $247m ETF provides some global exposure to the sector but no Australian names reside in its top 10 holdings. Hence today I have briefly looked at 5 ASX stocks with lithium exposure, it's been a volatile few years that's for sure making optimum entry levels extremely important.

MM likes the ACDC ETF into a pullback towards $80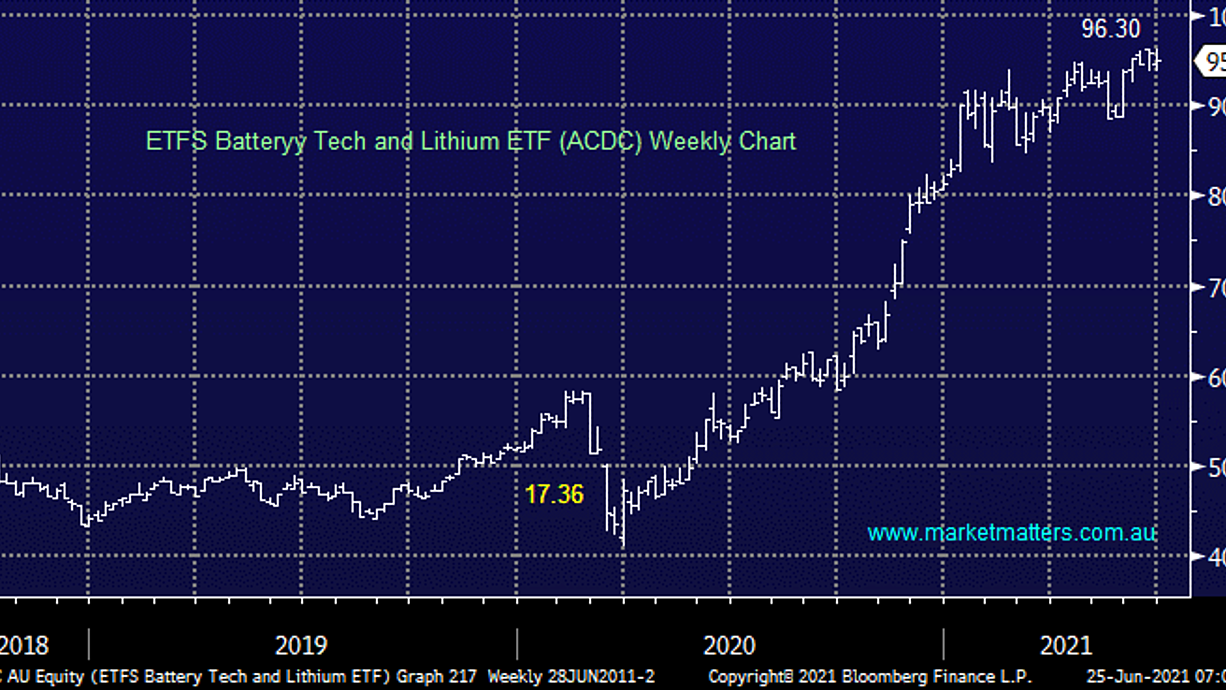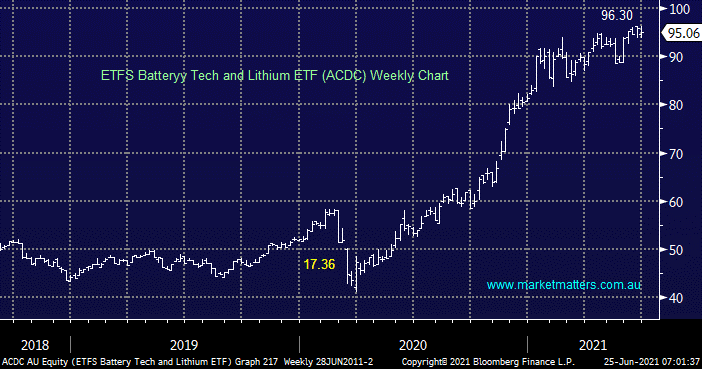 Orocobre (ORE) $6.10
ORE is a $9.5bn goliath whose assets are primarily in northern Argentina and who has Toyota as its largest shareholder with a 10.5% stake, a takeover in the future remains an option. The company has enjoyed improved productivity selling into a strong market, a nice combination.

MM is neutral/positive ORE around $6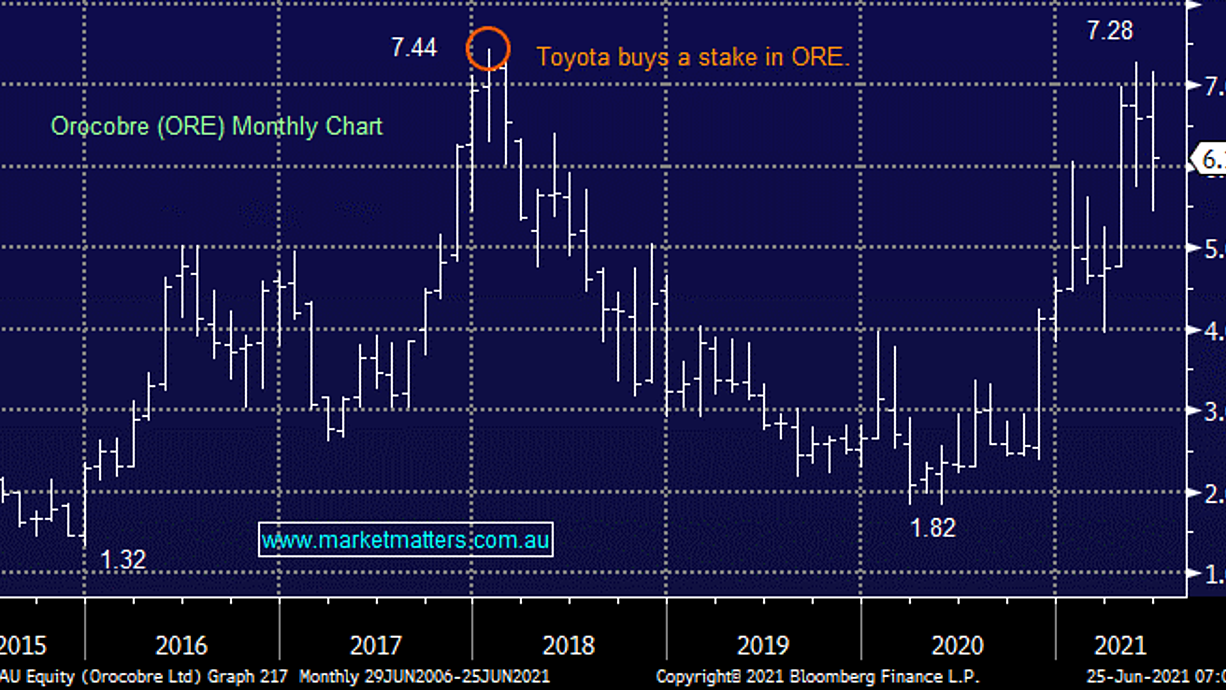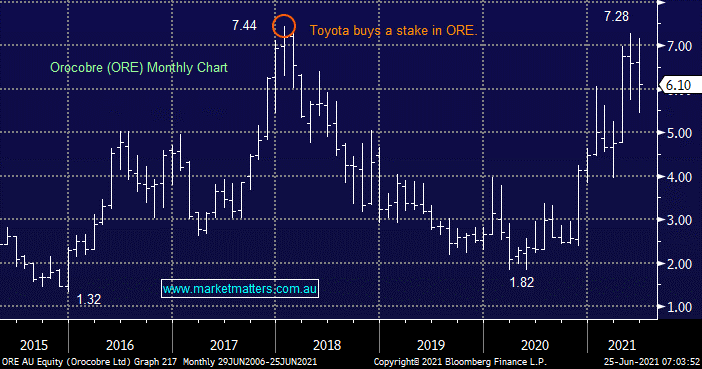 Pilbara Minerals (PLS) $1.545
PLS has been enjoying the kick up in lithium pricing in China with battery-grade lithium carbonate up 35% in H2 of 2020 but this stock does feel stretched from a risk/reward perspective but importantly not a sell.

MM is neutral PLS in the $1.50 area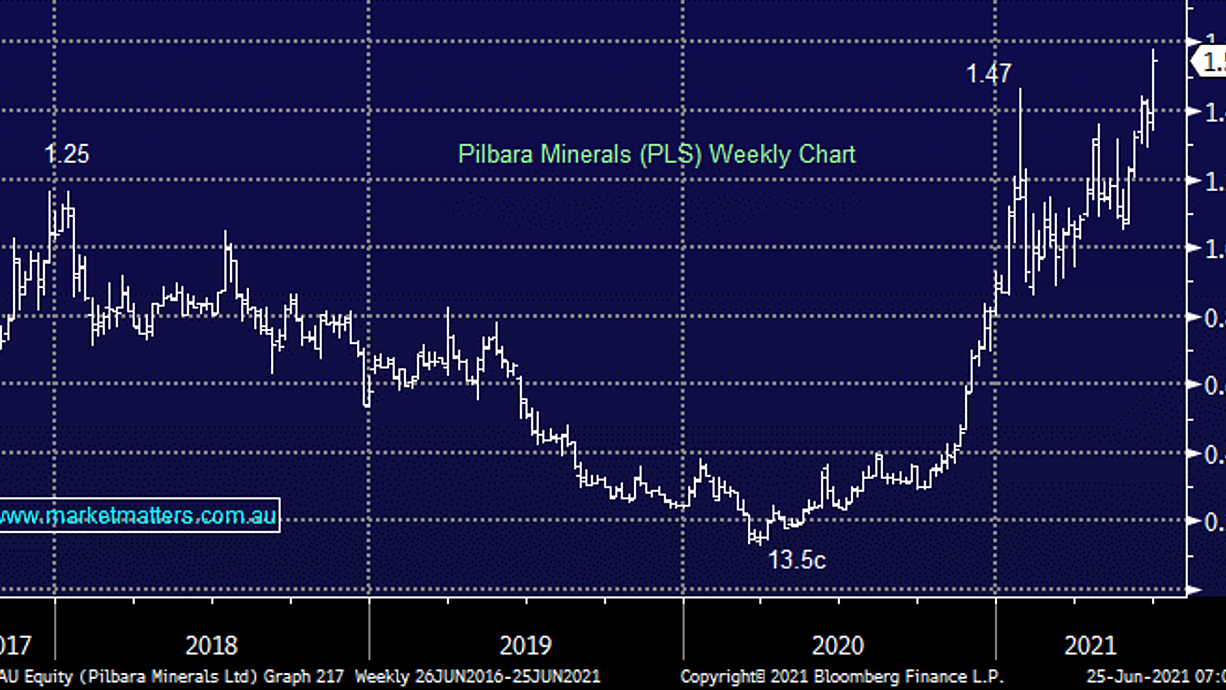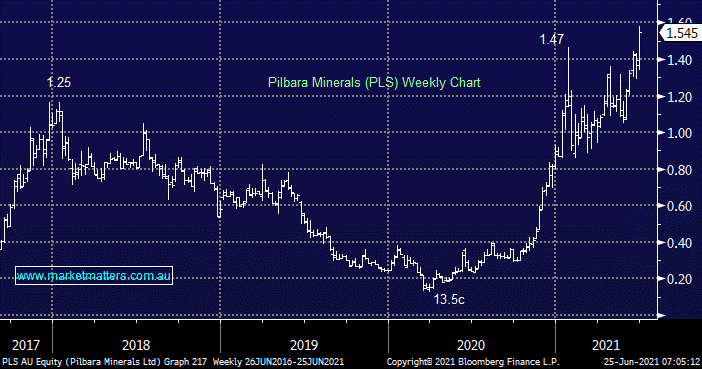 Mineral Resources (MIN) $50.30
MIN is an iron ore and lithium mining giant with a current market cap of $9.5bn. Due to the former component, this stock comes with the added attraction of an almost 5% fully franked yield. The stock does feel "stretched" having rallied fourfold since 2020 hence from a risk/reward perspective we like the stock ~$42 which may coincide with our anticipated kick up in the $US.

MM likes MIN ~$42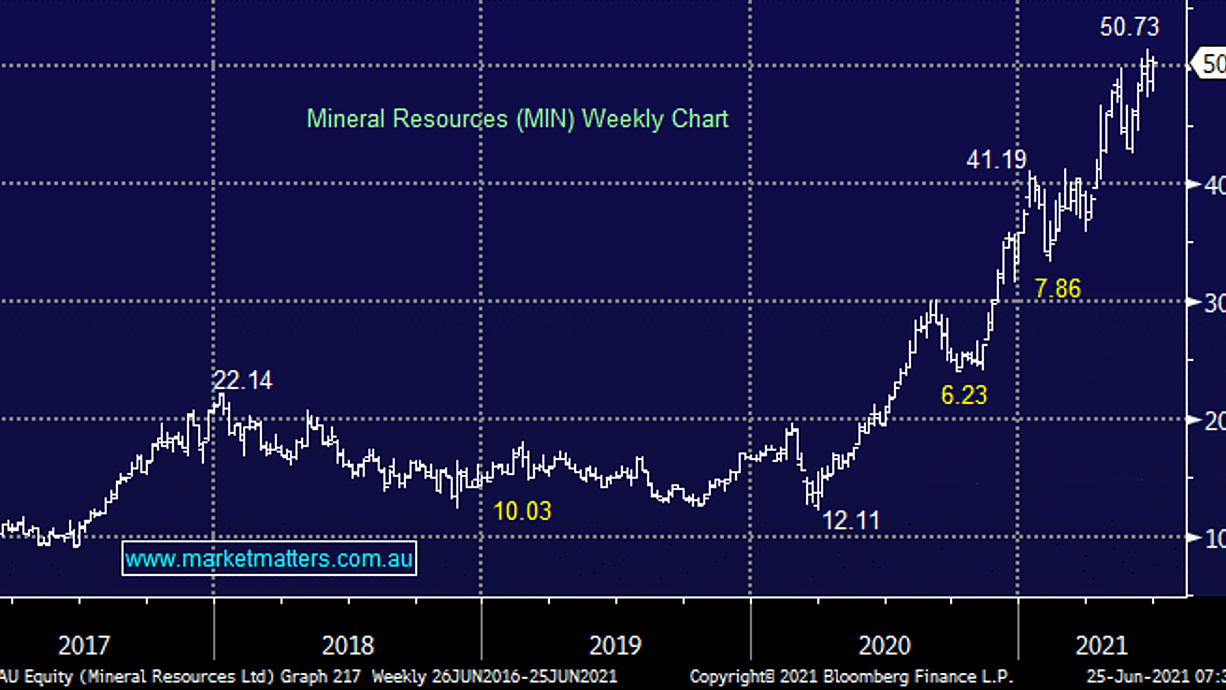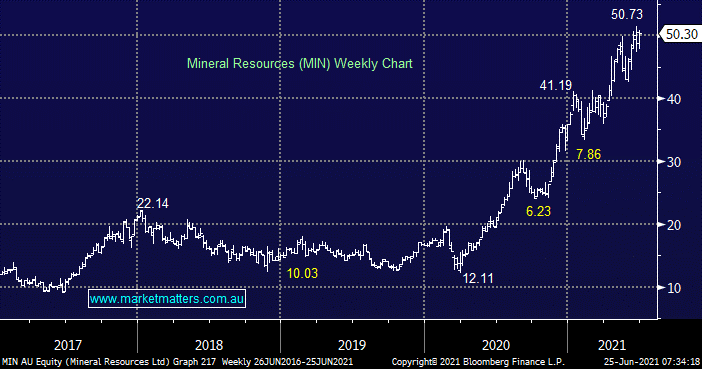 Galaxy Resources (GXY) $3.48
GXY is a $1.8bn mining business which operates in Australia as well as Canada and Argentina with assets including hard rock mines and brine deposits. The company dealt with the pandemic in a satisfactory manner and the stock looks good – our target is close to $4.50, or 25% higher.

MM is bullish GXY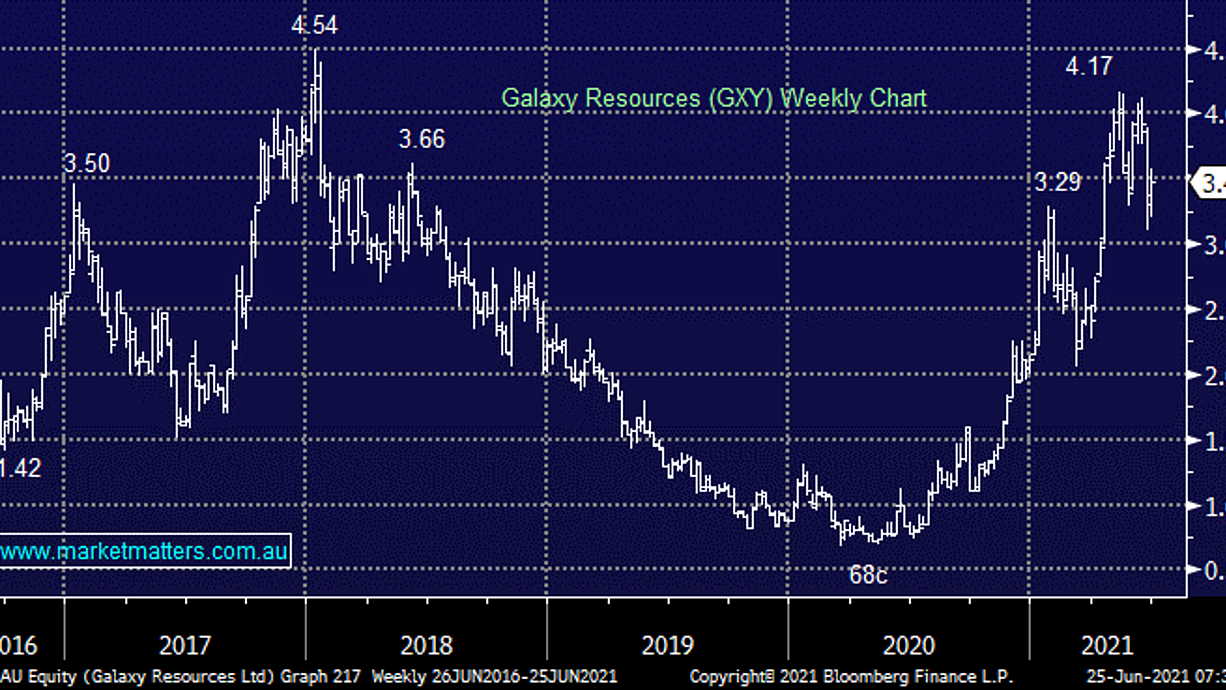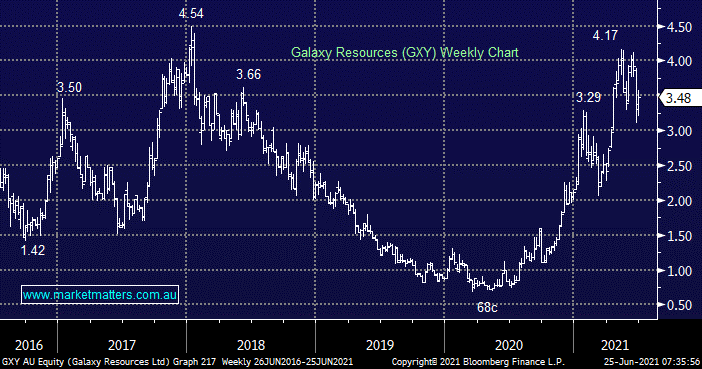 Wesfarmers (WES) $57.70
WES bought into the sector through its $776m acquisition of KDM in 2019, only 6-12 months away from perfect timing. The asset they effectively bought into is the Mt Holland lithium project in WA.

MM is neutral WES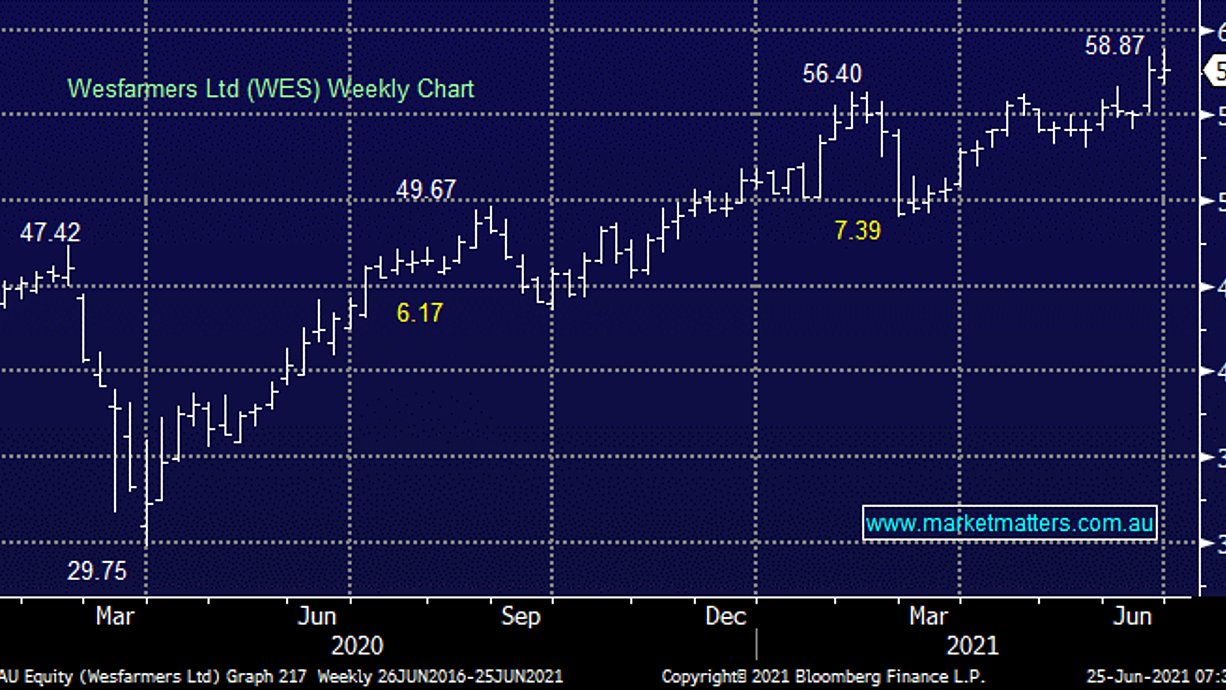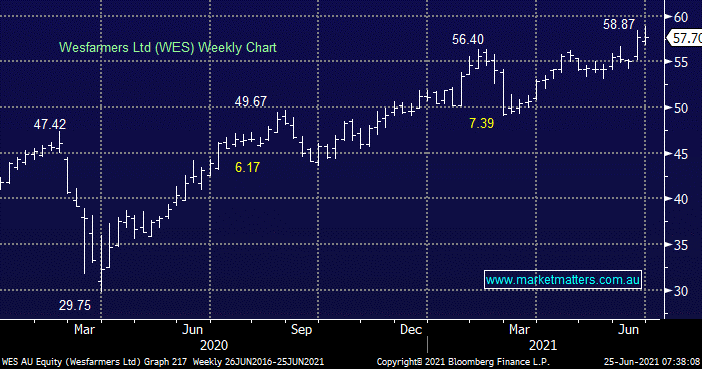 The bottom line
We like the lithium sector but are mindful that this volatile space has run hard, at current levels we particularly like the smaller player Galaxy Resources (GXY).

Webinar: Getting your portfolio into shape
To help with your planning for FY22, Livewire and Market Matters are delighted to be hosting an exclusive webinar where we will be discussing portfolio construction, whether it's time to get back into growth stocks, and providing some defensive stock ideas.
This is a free webinar for all Livewire readers, taking place on Tuesday, June 29 2021 at 12:00pm.

If you have a question you'd like answered you can leave a comment below or send an email to team@livewiremarkets.com