Is the worst behind us for markets? Here's what Livewire readers think
---
It might be surprising to learn that, among Livewire readers at least, positive emotions override the negative right now. A gauge of sentiment conducted as part of our Outlook Series survey saw almost 50% of respondents select either "Optimism" or "Relief" as their current emotional state.
This is just one of several interesting findings of the survey, which we sent to our database at the end of December.
Of course, we also quizzed you on your favourite stocks for the year ahead, your large-cap picks detailed in this piece from my colleague Sara Allen.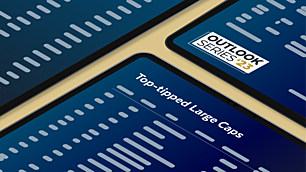 Equities
The 10 most-tipped large cap stocks for 2023
Where are your emotions right now?
Recognising the unavoidable role that psychology plays in investing, we sought to gauge how our readers are feeling about the current market environment. The overwhelming reaction was optimism, which was selected by 31.2% (989) of respondents. In a similar vein, Relief drew 18.4% of responses.
From highest to lowest, the emotions were scored like this:
Optimism - 31.2%
Anxiety – 25%
Relief – 18.4%
Fear – 12%
Hopelessness – 7.4%
Excitement – 2.7%
Panic – 2.7%
Euphoria – 0.5%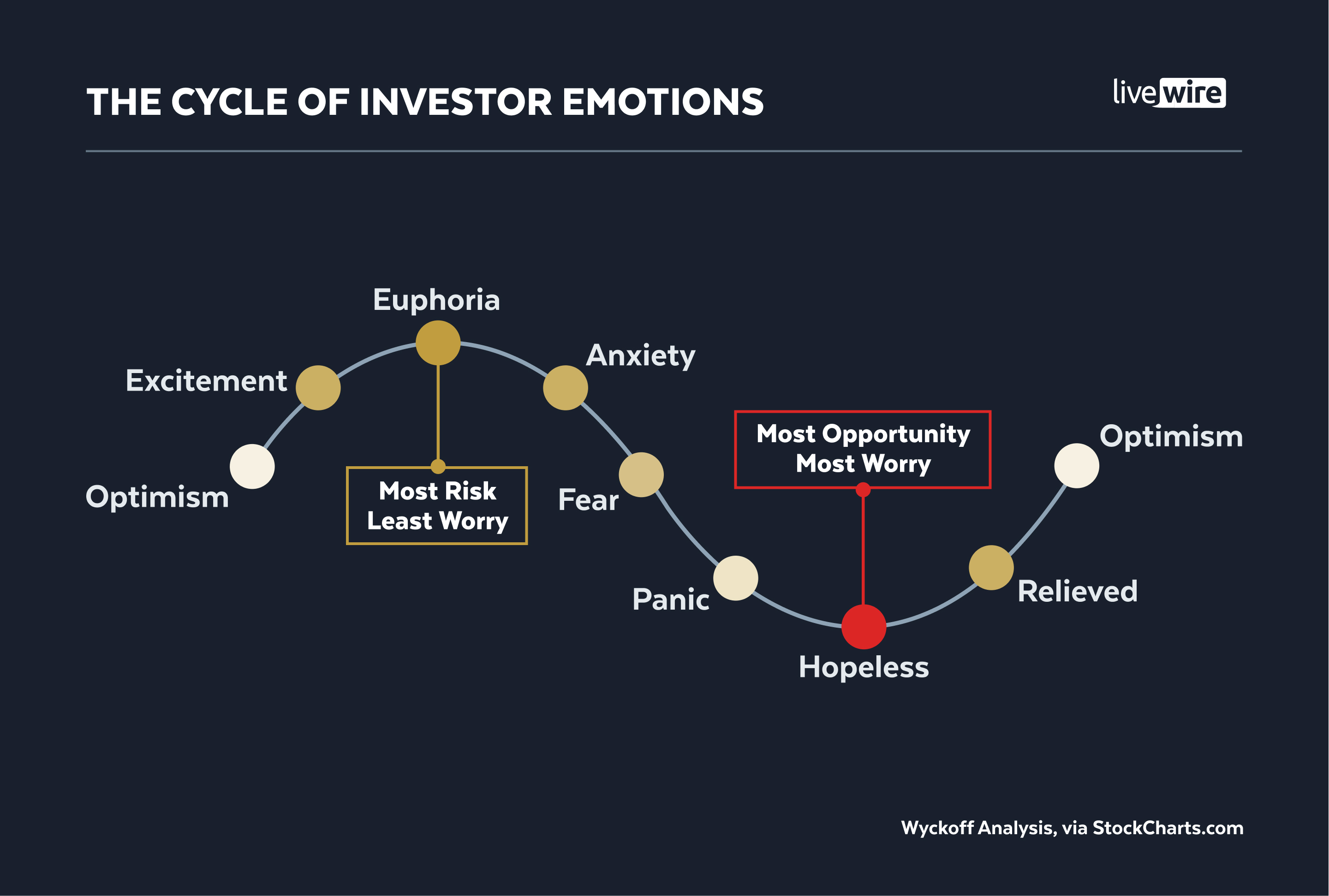 Is the worst behind us?
Inflation was easily the most prolific finance topic of 2022. Before jumping into your responses to our question, let's reflect on some of the inflation milestones we passed last year:

The US Federal Reserve lifted rates no less than seven times last year, a tightening process that kicked off with a 25-basis point hike on 17 March
The RBA followed suit with its own 25bp rate rise on 4 May.
After a series of 75bp lifts, the final 50bp hike on 14 December saw the US end the year at 4.5%.
Australia's central bank rounded out the year with a 25bp hike that lifted our cash rate to a 10-year high of 3.1%, after eight increases in as many months.
Presently, inflation sits at 7.3% in Australia and 7.1% in the US.
True or false: Interest rates in Australia will peak in 2023
A staggering 89.8% of you (2,900 respondents) believe rates will hit their highest point this year. But still, a significant proportion of you – 10%, or 325 people – believe rates have further to run beyond 2023.
True or false: Inflation will peak in the first half of 2023
Again, the majority of our readers answered in the affirmative, with 68.6% (2,200) selecting this response. But in this instance, a higher proportion believes this won't occur until later in the year, with 31.4% (989) of you ticking the "False" box.
Which part of the market cycle are we in now?
Last year saw an inflection point in markets, as Growth stock valuations fell. But there remains debate about whether this means the market is at the start of a new cycle or is in another stage.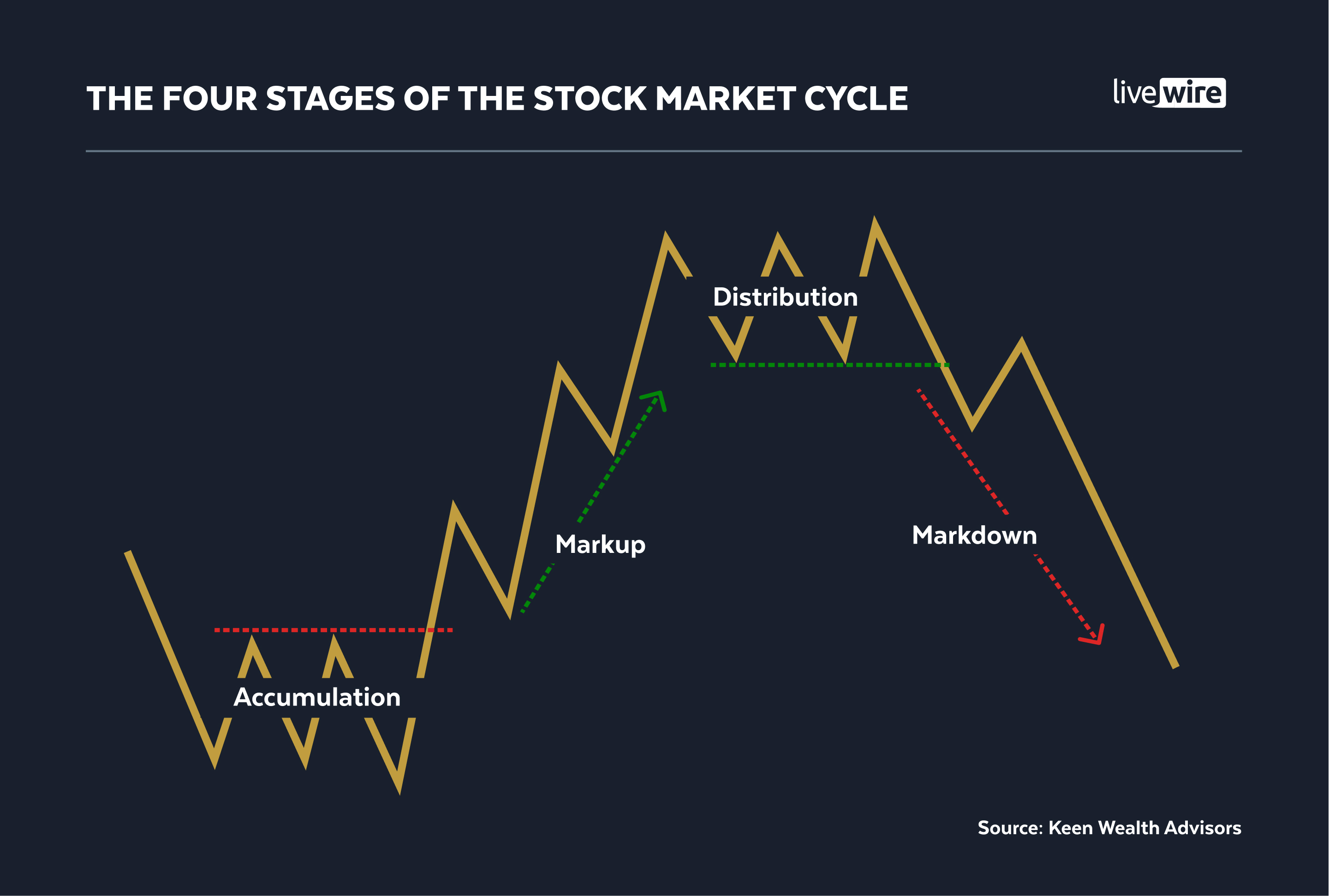 A majority of the 3,112 people who answered this question believe we're in the Markdown phase, with 50.4% (1,600) selecting this option.
But just over one-third believe we're in the Accumulation phase, with 30.5% (950 people) selecting this option.
A smaller proportion of respondents selected the Distribution and Markup options, with 14.4% (448) people selecting the former and 4.7% (147) choosing the latter.
Value will continue to outperform Growth in 2023 – True or false?

The Value versus Growth debate is another favourite topic within financial circles – one that pre-dates the more recent preoccupation with inflation and interest rates. But if your responses are any guide, the answer's quite black and white. An overwhelming majority of Livewire readers, 75.8% (2,400) believe Value will continue to beat Growth this year.
Just under a quarter of respondents – 24.2% - selected the "False" option.
What will be the strongest market headwinds in 2023?
Turning to the macro environment, we took the temperature of our readers in relation to seven specific potential threats. Ranked from the highest number of responses to the lowest, they were:
US-led, global recession – 63.4% (2,000)
Higher interest rates – 54.5% (1,800)
Inflation – 42.6% (1,400)
Energy crisis – 37% (1,200)
European/UK economic turmoil – 31.1% (1,000)
Chinese economy faltering – 29.4% (950)
Quantitative tightening – 17.2% (554).
A small number of respondents believe none of the above will be a dominant negative force in 2023, 2.5% (81) of you selected this option.
Which assets – house prices, Growth stocks, Bitcoin – will rebound in 2023?
These were some of the worst-performing assets last year. And while some of you believe none of the above will rise again in 2023 – 34.8% (1,100) of respondents selected "None" – Growth stocks emerged as your favourite response, with 54.3% (1,700) selecting this option.
The next highest was housing, which attracted 16.4% (526) of the vote, rounded out by Bitcoin with 8.2% (265).
What happens in Materials and Technology next year?
We also asked for your thoughts on a couple of specific sectors in 2023: Materials and Technology.
The ASX Materials sector returned 6.45% in 2022, versus -1.82% from the ASX 200 and a decline of -16.15% from the real estate sector.
But if you're correct, this year won't be a great one for the miners, with 62.6% (2,000) of you tipping the sector will end the year roughly in line with the current level.
Just under one-third of you believe Materials stocks will continue to rally, with 29.4% (947) respondents tipping it to push past the 19,000 mark in 2023.
The survey showed 8%, or 258 respondents, believe the sector will slump below 14,000 (for context, ASX 200 Materials closed at 18,441 points on Tuesday 10 January).
In contrast, the technology sector was hit particularly hard in 2022, the ASX All Technology index down an eye-watering -26% last year.

Global tech firms were swimming in a sea of red last year. But views on what 2023 holds for the sector that's become the poster child of the Growth style were quite evenly spread.
Tech valuations will trade sideways – 39.3% (1,300)
A global recession will drag tech lower – 37.2% (1,200)
The worst is over for tech, a rally will occur – 23.5% (757).
Want to learn more?
To read more detail about the survey responses, you can access the survey responses here.
........
Livewire gives readers access to information and educational content provided by financial services professionals and companies ("Livewire Contributors"). Livewire does not operate under an Australian financial services licence and relies on the exemption available under section 911A(2)(eb) of the Corporations Act 2001 (Cth) in respect of any advice given. Any advice on this site is general in nature and does not take into consideration your objectives, financial situation or needs. Before making a decision please consider these and any relevant Product Disclosure Statement. Livewire has commercial relationships with some Livewire Contributors.