It's beginning to look a lot like a nickel war
---
It's game on in the WA nickel sector as investors wait for Forrest and BHP to declare their hands. Plus, Sprott slaps big buy target on Centaurus, Macquarie says Boss is the way to play uranium theme and Coda prepares to put a resource under the tree.
IGO has plugged its future nickel production hole by securing an endorsement from Western Areas (ASX:WSA) for a $1.1 billion/$3.36 cash takeover, a 35% premium to WSA's undisturbed share price of $2.48 before discussions between the pair were first revealed on August 18.
Or has it? The market immediately carried WSA to $3.42, an 18c or 5.56% hike on the day. Clearly punters are betting that it is not all over just yet, with talk on the potential for the likes of BHP or Andrew Forrest to make a late play for WSA.
WSA is worth having thanks to its minimum 10-year/20,000tpa nickel production profile, and IGO needs it to take the pressure off its nickel credentials as its Nova mine is fast chewing through what remains of its reserves.
But others no doubt covet the 10-year/20,000tpa WSA can deliver. BHP has nominated nickel as a metal in which it wants to grow and is on the losing side of a battle with Forrest in Canada for control of nickel explorer Noront.
Could WSA be a replacement target for BHP? Time will tell on that score.
What is known is that BHP would yet again be up against Forrest as his privately owned Wyloo bobbed up as a 5.3% WSA shareholder just as the cover on IGO's original cash and scrip offer was blown in August. The stake has since grown to 6.3%.
If BHP and/or Forrest do enter the fray for WSA, the long speculated WA nickel war, where the sector undergoes massive consolidation across the main names through a frenzy of merger and acquisition activity, would be underway.
The opening positions in the potential war include WSA's 19.9% of Panoramic (PAN), Mincor (MCR) being owned 8% by Wyloo and 15% by IGO, and the Forrest's family company Tattarang's 11.5% of Poseidon (POS).
Mincor (ASX:MCR):
The share prices of Panoramic, Mincor and Poseidon all shot higher on news of IGO's formal bid for WSA.
The gains were 2c or 8.1% to 26.5c for Panoramic, 6.5c or 5% to $1.35 for Mincor, and 0.6c or 6.9% to 9.3c for Poseidon.
All three are working to re-start operations put on ice during nickel's long downturn which was broken in a big way in the last 12 months.
The current nickel price of $US8.86/lb is up by 42% on last (calendar) year's average on the back of the EV and renewable energy battery storage thematic.
Thursday's share price gains for the re-starters was not all about what might become of the nickel war.
That was certainly the case with Mincor because it encountered a nice surprise while accessing first ore from its Durkin North development drive at Kambalda.
The development ore was intersected 36m before prognosis, and came at higher grades than Durkin North's stated reserves.
It is like making a discovery where one is not expected and raises the prospect of ore reserve upside at the mine, one of Mincor's Northern operations, which along with the new Cassini orebody, underpin Mincor's return as producer next year, with the ore headed off to BHP's concentrator.
Macquarie, which incidentally was one of the advisers to IGO on the WSA takeover, has a $1.55 price target on Mincor.
It said accessing first development ore was a de-risking event. "Importantly, the fact that the ore was intersected higher up than the reserve model was anticipating suggests there could be upside to our mining inventory assumptions for the Northern operations,'' Macquarie said.
It also noted that a spot price scenario generates about 20% higher earnings than its base case for the first two years of production.
Centaurus (ASX:CTM):
Staying for the moment on things nickel, Sprott's equites research desk reckons the Australian market has been asleep at the wheel when it comes to Centaurus (CTM) and its Jaguar nickel project in Brazil.
Centaurus is trading at $1.12 but Sprott has just upped its target price on the stock to $2.50 in response to a 30% resource upgrade to 730,700t of contained nickel at a grade of 0.91%, and the earlier study into a value-adding nickel sulphate processing option.
"We think Australian investors have been blinded by the impressive grades from what can only be called miniscule komatiite shoots in WA (compared to Jaguar)."
Ouch!
Boss (ASX:BOE) and Paladin (ASX:PDN):
They work them hard at Macquarie's mining desk. Not content with its already comprehensive coverage of the sector, Macquarie has clearly taken a shine to the uranium sector by initiating coverage on Boss (BOE) and Paladin (PDN).
Boss popped 19c or 9.1% higher to $2.27 in response to the Macquarie note which came with a 12-month price target of $3 while Paladin climbed 8.5c or 11.2% to 84c, with its 12-month price target set at $1.
By initiating on the pair – both are poised to restart their respective operations – Macquarie is buying in to the thematic that nuclear power has a key role to play in the world's decarbonising efforts, and that utilities will have to start contracting new supplies to cover future requirements.
The thematic has already fuelled a rise in uranium prices from a distressed $US30/lb (spot) a year ago to $US45/lb, with the more representative contract price higher still. Physical buying by a new Sprott fund in response to the thematic has been powering things up.
Macquarie reckons it could all lead to uranium prices taking off to $US72.50/lb in FY23 and $US85/lb in FY24. It is a window of opportunity thing for investors looking to play the thematic as Macquarie tips the price could retreat to $US55/lb in FY25.
"Spot and contract uranium prices have languished over the last decade. However, recent catalysts including global electrification and decarbonisation; supply discipline and fund physical buying in the spot market have resulted in a rally in uranium prices and a market refocus onto uranium,'' Macquarie said.
"Given the low level of utility contracting currently, we believe that a price rally could induce contracting for surety of supply which would result in a frenzy of contracting driving up uranium prices in the near to medium term.''
Coda Minerals (ASX:COD):
Coda was mentioned here back on December 2 on the basis that there would be a strong newsflow from its flagship Elizabeth Creek copper project near BHP's Olympic Dam operation in South Australia's Gawler Craton.
The company was trading at 83c at the time and has since trotted off to 97.5c in response to drilling for an Olympic Dam-style IOCG deposit at the Emmie Bluff Deeps prospect, within the broader Elizabeth Creek project area, returning the thickest (83m from 861m) copper-mineralised intercept to date.
Assays from the hole and others drilled in October are pending. So the newsflow from Coda's hunt for a potentially large IOCG is set to continue.
But wait there is more. As flagged on December 2, Coda is also due to release a maiden resource estimate for the shallower Zambian belt style copper/cobalt mineralisation at Emmie Bluff. It said the release would be before the end of the year, and here we are.
In a recent initiation report on Coda, Shaw & Partners set a 2-month price target of $2.30. It expects Coda's resource base across its collection of Zambian-style deposits could grow from 280,000t of copper at 1.4% copper equivalent to about 800,000t post the update.
Won't be long now before we find out if Shaws was the money.
---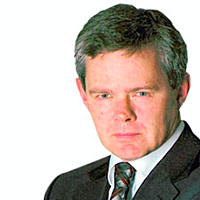 Principal
Independent Journalist
One of Australia's leading business journalists, Barry FitzGerald, highlights the issues, opportunities and challenges for small and mid-cap resources stocks, and most recently penned his column for The Australian newspaper.
Expertise