JB Hi-Fi: The efficient cost operator fit to compete
---
Consumer electronics is an exciting category for consumers to shop. With the pace of change in the category, the lifespans of mobile phones, TV's, headphones and computers is shrinking considerably, making our visits to electronic retailers increase from once every couple of years, to every year, or even several times a year.  Furthermore, when we do need to update our products to the latest technology, we typically need somebody to take us on that journey (we need to get up to speed), and we want to negotiate a deal.  This dynamic plays right into JBH's core strengths – its superior and knowledgeable retail staff, and their ability to negotiate with customers on price to achieve a sale.  
It's true that Amazon will bring an incremental threat to the category, and we expect it will be successful in taking share, particularly in some of the more commoditised product ranges.  However, as the US experience has shown, even in a full-scale Amazon world, there remains scope for a strong bricks and mortar retailer in the space to compete with Amazon.  Best Buy (co-incidentally also a Black and Yellow brand) shares (BBY-US) are currently trading at an all-time high, and are up over 500% from a low point in 2012, having paid dividends all the way.  The reason is as discussed above, for major purchases such as a new TV or computer, consumers still value an in-store experience where they can benefit from experienced and knowledgeable staff, and still feel they are getting a good deal.
The acquisition of The Good Guys (TGG) is proving more challenging than first thought. However JBH, in our view, has the right person in charge of the process, Terry Smart (former CEO of JBH), who we think can get the model right.  While we don't believe TGG is as good a business as JB Hi-Fi, we do think that JBH can run the business better than it had been previously, whilst also benefiting from the additional scale with suppliers, and distribution capabilities that come with having access to substantially higher amounts of floor space.  At 20% of profits, it is significant, but JB Hi-Fi remains the main driver of the overall business.
We believe JB Hi-Fi to be a strong business and have taken advantage of its current situation to invest for these main reasons:
JB Hi-Fi is the leading Consumer Electronics retailer in Australia. It generates consistent organic growth at consistent margins and has been disciplined in the expansion of its store network.  It contributes strongly to group cash flow generation.
JBH is fit to compete. It has proven to be a very efficient cost operator, with an operating cost model far leaner than peers, and far leaner than its US peers were prior to the launch of Amazon in those markets.
The shares currently trade on <11x FY19 earnings, and an after tax cash earnings yield of 8.5%, suggesting to us that much of the competition risk is more than reflected in the share price.  Its dividend yield is 6% for FY19.
You can read other stock stories from our Funds here.
---

Never miss an update
Get the latest insights from me in your inbox when they're published.
---
---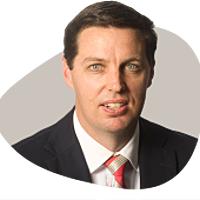 Pengana Australian Equities Income Fund, Co-Fund Manager
Pengana Capital Group
Mark is a Fund Manager for the Australian Equities Income Fund, and Analyst for the Australian Equities Fund, having joined Pengana in 2013. Prior to that, he was a research analyst at Morgan Stanley (UK & Australia), & chartered accountant with PwC.