Masters of War – US Defence contractors
---
When President Trump ordered the launching of 59 Tomahawk cruise missiles against a Syrian airbase on Friday, it sent the share prices of defence contractors higher. The Tomahawk cruise missiles, for example, are manufactured by Raytheon and sell for about US$1 million each.
The US defence stocks have outperformed the S&P 500 index over the past five years (see chart). Their strong position is being entrenched by the Republican's desire to increase defence spending in the budget and their control of both houses of Congress. At the same time, geopolitical tensions have escalated, with tensions rising in the Middle East, North Korea, the South China Sea, Turkey and Russia.
​
Lockheed Martin is the largest of the pure defence contractor plays, with the lead position on the F-35 strike fighter program. Although Boeing is better known for its commercial aircraft, it is also a significant defence contractor. Boeing's Defense, Space & Security Division accounts for about 31% of revenue and 41% of operating income for the group.
However, the best performing large defence contractor stock in recent years has been Northrop Grumman. Although it is only the fifth-largest government contractor, its wins on a number of different programs have secured key revenue and profit drivers for years to come.
In the words of a recent broker report by RBC Capital, "Northrop Grumman has enviable positions on both Air Force mega-programs (B-21 bomber and F-35 strike fighter) plus the Triton Unmanned Aircraft System and E-2D command-and-control programs that position it for high single-digit aerospace growth through 2020. Combined with strong demand in cyber and through its (often classified) Mission Systems, we see growth accelerating in each of the next three years. Our US$268/share target price supports an Outperform rating."
The B-21 Raider is a heavy bomber under development by Northrop Grumman. It is a long-range, stealth strategic bomber designed for the US Air Force. Triton is a high-altitude, long-endurance (HALE) drone that will be used for maritime patrol and other surveillance roles. The E-2D Advanced Hawkeye program is the next generation command-and-control aircraft with advanced "eye in the sky" radar sensors and network capabilities.
Goldman Sachs seems to agree - they have put Northrop Grumman on their Conviction Buy List, their strongest possible recommendation. The valuation metrics for the main defence contractor stocks can be seen in the table below.
With a particularly assertive President in the White House and Republicans in control of Congress, the defence contractors look like being kept busy for years to come.
---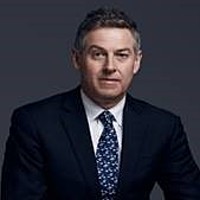 Head of Equities
Mason Stevens
Responsible for identifying domestic and international equity investment opportunities. 25 years of financial markets experience as an equity strategist, economist, analyst, portfolio manager and consultant.
Expertise