India's Prime Minister, Narendra Modi, was sworn in as India's new Prime Minister in 2014 to much hype as no party had won by such a margin in 30 years. This was also monumental given his opposition, Congress party's "Gandhi" domination that has ruled India for 49 of the past 67 years had suffered such a defeat.  What is interesting to also note is that their decline in politics seems to be more structural as Modi's party, BJP, has gradually been rising in power over the last 50 years.
Source: Election Commission of India for 2017, Trivedi Centre for Political Data for period till 2016
It has been nearly 4 years since he was elected into office and with national elections scheduled for May 2019, we are likely to see a lot of noise on the political front from media outlets. He certainly hasn't been popular in the press both locally and globally given his unprecedented and bold policies have "disrupted" India.
So how well has Modi done?  We take look at what he has and hasn't achieved so far.
Reforms
GST has been discussed in Indian politics over the last 10 years, but is only now a reality. The new tax system has resulted in significantly better tax compliance in such a short time with the indirect taxpayer base already increasing 50%
Direct benefit transfers - There has been a need for better execution of Direct Benefit Transfers to the people of India. Under Modi, the number of policies has increased to 400 from 28 policies. Financial inclusion programs, use of Aadhaar (biometric ID system) and mobile phones have revolutionised the Government's ability to reach beneficiaries quickly, without corruption or diversion
Bankruptcy Law Code - The adoption of the code has created a single, one stop law for insolvency and bankruptcy. The code will be able to protect the interests of  investors and make the process of doing business much easier
Some of the reforms that are seeking to transform India over the next generation are listed below:
Housing for All - The Government has identified 305 cities and towns in nine states for construction of affordable houses. Already around 10m houses have been constructed in the last 3 years
Digital India - Government services are made available to citizens electronically by improved online infrastructure and by increasing Internet connectivity
Skill India – This program aims to train and equip over 400m people with different skills by 2022. This will create employment opportunities to drive growth and foster increasing wealth for citizens
Smart Cities – This program's mission is to develop 100 cities all over the country, making them citizen friendly, connected and sustainable
Energy Efficiency- A Government-led scheme to improve energy usage, reduce leakage and cut emissions in some of India's most energy-intensive industrial units
Energy Security – Securing sustainable, affordable and reliable sources of energy
Swachh Bharat Abhiyan - Clean India Mission aiming to clean up the streets, roads and infrastructure of India's cities, smaller towns, and rural areas
Make in India – An initiative launched by the Government of India to encourage companies (both local and foreign) to manufacture their products in India
Source: Government of India, India Avenue Research
Infrastructure Spending
The government has put in measures to reduce the red tape that has often lead to work stagnating. Whilst this will take some time, the rate of electrification, conversion and construction of rail lines and highways has doubled in comparison to the last government. 
Source: Government of India
Macro Developments
Looking at the key macro-economic parameters, the Government, as well as the RBI, have managed the country prudently, bringing many of the aspects that previously made India a "fragile five" economy into line.  
Source: Government of India
Improving India's Perception Globally
Changing India's external perception is a tough job. The rest of the world has historically seen India as a country plagued with red tape, bureaucracy, poverty and corruption and this thought process is deeply ingrained. However, Modi has tackled this issue head on and has successfully marketed India to the rest of the world.
Ease of doing Business - The significant jump into the top 100 in the World Bank's 'Ease of Doing Business' Index is the result of the Government's consistent efforts in pushing multi-sectoral reforms to strengthen India's position as a preferred place to do business
FDI - The UN's Conference on Trade and Development World Investment Report says India is one of the favoured FDI destinations globally. FDI is extremely important for growth, jobs and investment and is a key criterion for Modi's government. FDI was one of the main factors that propelled China's growth over the last two decades
Moody's upgrade - of India's Government Debt was primarily based on the reforms taking place. Moody's believe they are likely to improve the business climate, enhance productivity and stimulate foreign and domestic investment.
What hasn't worked as well?
With such bold and swift reforms in a country as complex as India, inevitably some initiatives haven't gone exactly to plan. We take a look at a couple of them below.
Demonetisation - In 2016, the Modi Government announced that all 500 and 1000 rupee notes were no longer valid and had to be returned to prove their source. This removed 86% of notes in circulation and was intended to remove "black money" from the system and increase digital means of transacting. Whilst digital transactions have increased, the evidence of reducing black money has been less obvious
Pace of reforms – Given the number of reforms initiated in such a short time, some have been rushed. Ironically, the lack of implementation was an issue of the previous government. It has been a juggling act of speed vs. effectiveness but some reforms such as GST has resulted in initial confusion for businesses and individuals
Conclusion
Although the Modi Government has initiated many reforms, expectations are that they reap benefits immediately rather than pave the way for a better India in the long-term. These building blocks are required to transition such a large and heterogeneous economy to the next level. From his most recent speech, we get the sense that his tone in the run up to the next election is his government in 2014 vs. 2019. This is a very encouraging sign for equity investors, as the basis of election would be on growth and development not of caste and religion which has plagued Indian politics in the past.
---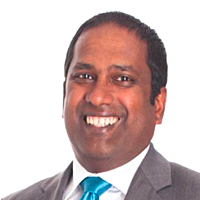 Managing Director
India Avenue
Mugunthan Siva is Managing Director of India Avenue, an Australian based boutique asset management company with offices in Sydney and Mumbai. He has over 25 years experience in Australia and is lead portfolio manager for the India Avenue Equity Fund.
Expertise