Once safe Australian fixed-rate bonds suffer losses
---
Australia's main fixed-income index — against which almost all superannuation funds benchmark — delivered its fourth worst return in modern history over the 12 months to June 30. In particular, the exclusively "fixed-rate" (rather than "floating-rate") AusBond Composite Index returned just 0.25 per cent over the last year before you deduct fees.
After accounting for Australia's 2.1 per cent inflation rate, investors in these fixed-rate bonds actually suffered a "real" return loss of 1.85 per cent from what is supposed to be a bullet-proof asset class dominated by super-safe bonds.
Indeed, the AusBond Treasury Index (which is made up of 20-plus AAA rated Australian government bonds) suffered an outright loss with a terrible return of minus 1 per cent over the year to June 30 (or minus 3.1 per cent after inflation).
As this column has long argued, the only safe haven in fixed income during this time of inevitably increasing interest rates is the vastly superior floating-rate benchmark, known as the AusBond FRN Credit Index, which furnished a handsome 3.5 per cent return over the year to June.
If you want to take a passive or "beta" exposure to bonds, you can only achieve this through a floating-rate as opposed to fixed-rate index. I should make clear that this is a radical view — most institutional investors naively assume exactly the opposite. But they are categorically wrong.

Read the rest of my column at the AFR here (or AFR subs here).
http://https://www.livewiremarkets.com/rails/active_storage/blobs/eyJfcmFpbHMiOnsibWVzc2FnZSI6IkJBaHBBbDFSIiwiZXhwIjpudWxsLCJwdXIiOiJibG9iX2lkIn19--80aa64360e86ba3a549398bc9ea5912348d2272b/1499383555130.jpg
---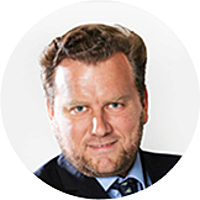 Portfolio Manager & Chief Investment Officer
Coolabah Capital
Chris co-founded Coolabah in 2011, which today runs $7 billion with a team of 33 executives focussed on generating credit alpha from mispricings across fixed-income markets. In 2019, Chris was selected as one of FE fundinfo's Top 10 "Alpha...