One stock to rally hard, and another to watch
---
Three months ago Monash Investors' principals Simon Shields and Shane Fitzgerald converted the fund's Listed Investment Company (LIC) structure into an Exchange-Traded Managed Fund (ETMF) structure. They were one of the first fund managers in Australia to make that transition. It was big news and felt like a bellwether moment. 
They called the fund Monash Absolute Active Trust (ASX: MAAT) and it remains one of the only Australian Equity Long/Short ETMFs.
In the wire below, courtesy of a post-reporting season webinar, you'll find out just how well things have turned out for MAAT and its longer-standing stablemate (Monash Absolute Investment Fund: MAIF). You'll also get a few insights into Monash's shorting strategy and find out who were the big winners (and the one loser) in the Monash portfolio - plus one stock to keep a close eye on in the weeks ahead. 
First, though, let's meet Monash
MONASH INVESTORS: THE BASICS
 Monash Investors Limited run a long-short equity fund but with two different vehicles:
A listed ETMF launched in May 2021 named Monash Absolute Active Trust (Hedge Fund) ASX: MAAT
An unlisted fund launched 2012: Monash Absolute Investment Fund (MAIF)
The performance target is to "achieve double-digit returns per annum after fees, over the market cycle, while preserving capital over the medium term". Monash has delivered 13.2% per annum over a nine-year period.  
What we learnt from the Monash post-reporting season Webinar 

#1 THE NEW ETMF IS OFF TO A GOOD START 
Shields opened the webinar by reviewing Monash Absolute Active Trust ASX MAAT  (which, incidentally, he pronounces "mate")  and explaining why the ETMF structure is so much better for investors. And things are going well.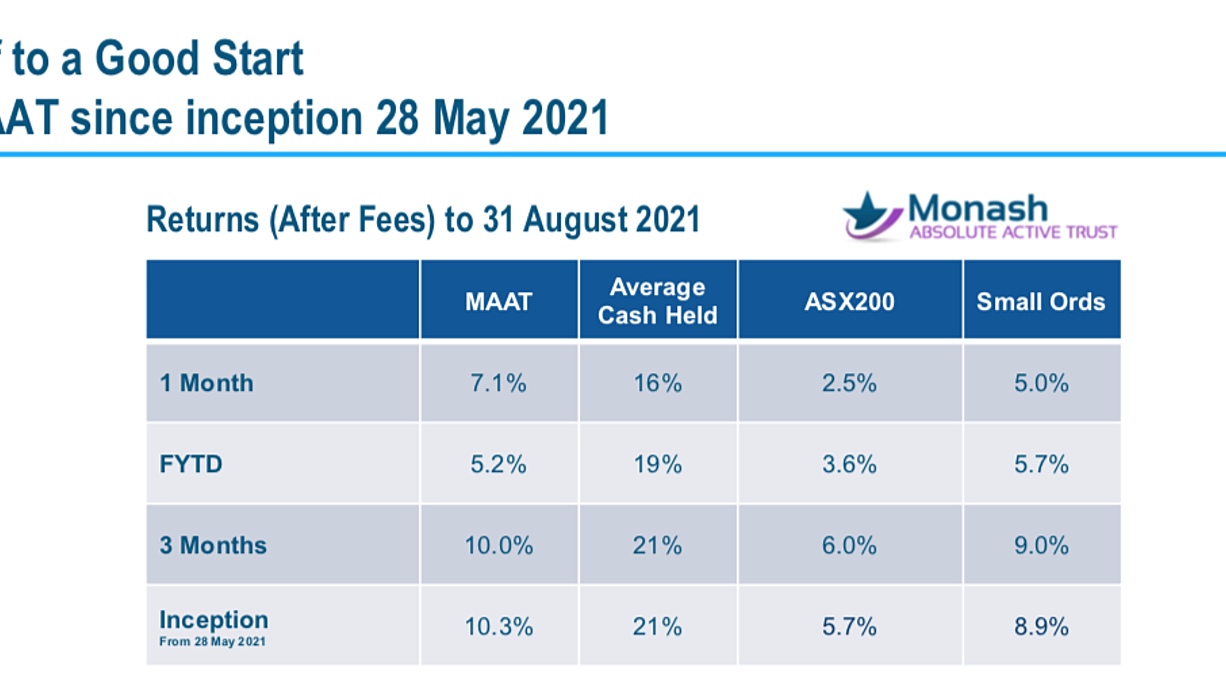 "Maat has only been around three months. It came out of the restructure of the LIC and it was the first conversion of a LIC into an exchange-traded managed fund. Maat is a trust instead of a company and it is a much, much better structure for investors than a listed company.
Three months in, Shields said "The returns since we've converted have been excellent. Up 10% in a little over three months which is better than the market, and despite the fact we've had about 20% in cash in the portfolio."The returns since we've converted have been excellent.
Shields also took time to point to three big issues they had with LIC they do not have with an ETMF.

1. Trading at discount: "The big issues that we had with LICs was trading discount, and it now trades at NAV with a smal discount, and that's been fixed up, it now, trades to MAV with a small spread.
2. Liquidity: "That's been fixed up too. The market provides all the liquidity anybody needs whenever they want to buy and sell.
3: ETMFs are regulated as an investment product: "The other important thing, which is missed a lot by people, looking at LICS and ETMFs which is that ETMFs are regulated as an investment product and you just don't have the whole issue around conflicting shareholdings and people trying to play games."
Shields also pointed out that an ETMF has much better transparency than a LIC, and that the dividend experience is much better: 
"Because we're not making tax payments to the ATO we get to keep that cash earnings returns in the trust, until we distribute it to investors. And if the investor has to eventually make tax payments as a result, then they get to hold onto that cash until they do"
#2 THE OLDER FUND IS DOING ALRIGHT, TOO
The Monash Absolute Investment Fund (MAIF)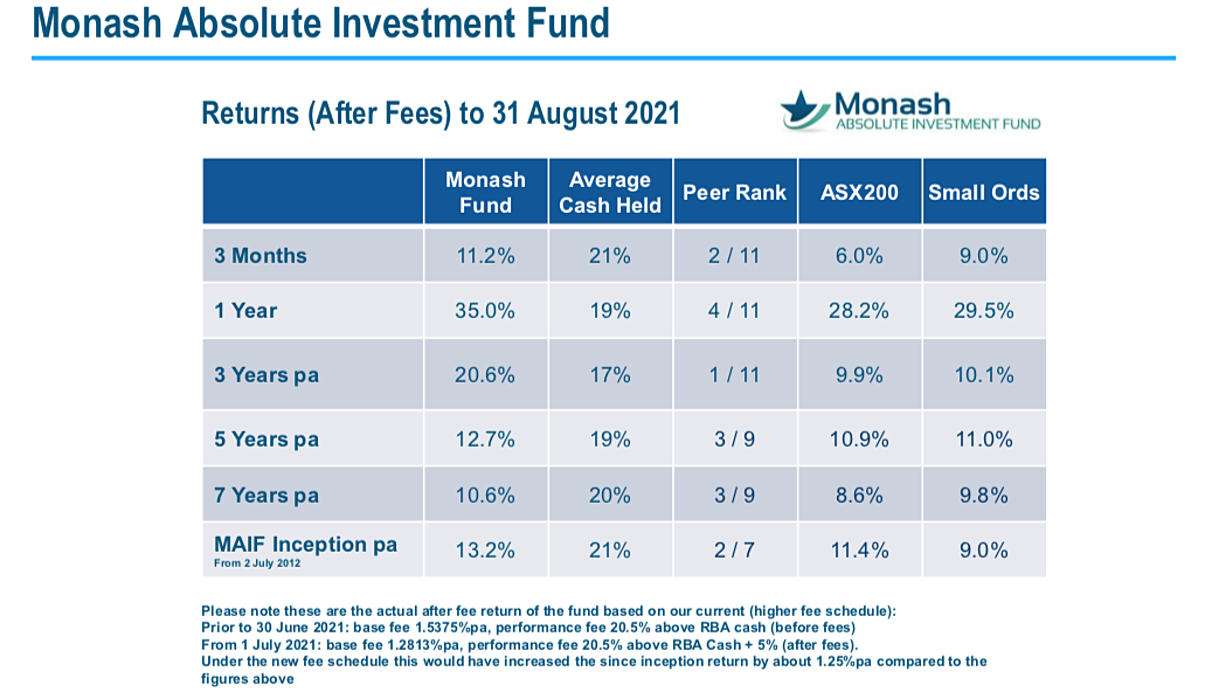 Shields pointed to continued strong performance for the longer-standing MAIF fund: 
"It's been going for nine years and the returns have been just terrific not only beaten the index quite comfortably over those time periods, and, compared to our peers, we're right up at the top there as well. And these are peers that LONSEC has determined are similar to us."
"And again, we've delivered these returns after fees, despite the fact that be holding about 20% cash in the portfolio. 
"Now, it's not that we want to hold 20% cash for the sake of it. It's just what it tends to even out to over time. That means the fund is 80% net invested, and 20% cash."
#3 A PARTICULARLY GOOD REPORTING SEASON 


It was another good reporting for Monash, but then they're used to that.



"We normally have good reporting seasons," Shields said, " the sort of because the companies we're looking for are doing well and the analysts typically underestimate how well they're doing. Also, the companies can be conservative and not make a rod for their backs, and so they tend to have good results seasons
This was a particularly good reporting season," Shields said, "probably the best one I can remember having for a very long time.

The portfolio did seven or eight per cent over the course of the reporting season. 
Five wins against one loss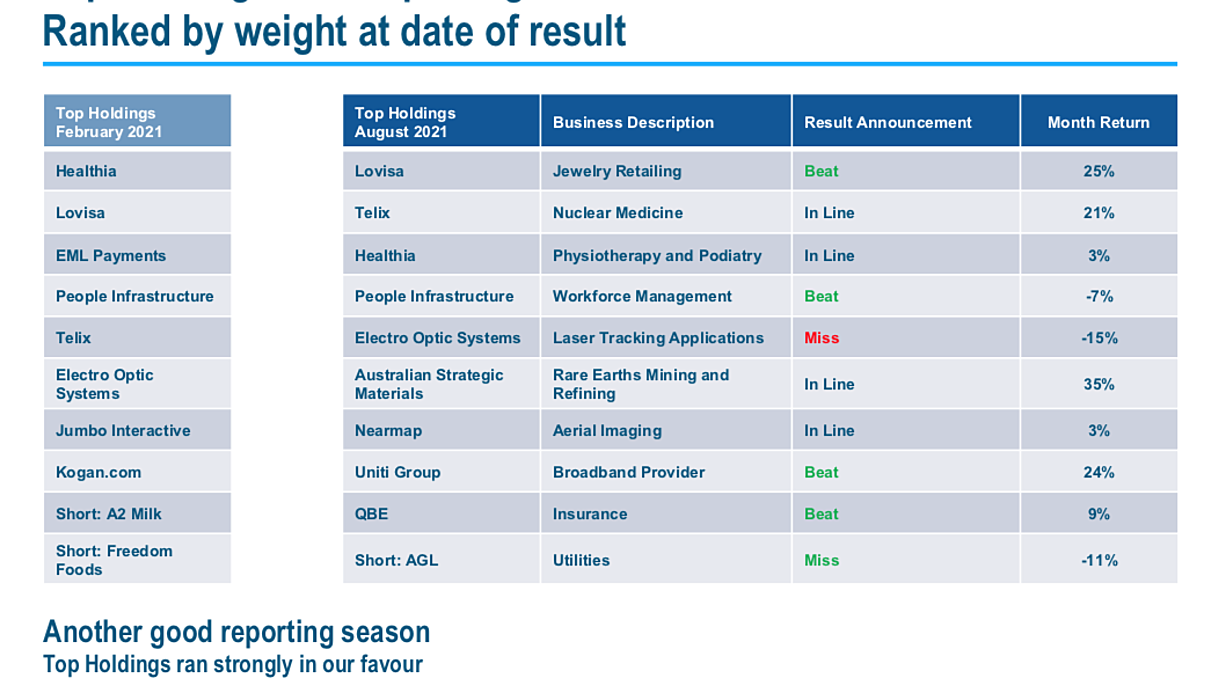 Shields pointed to what he called five "wins"  (including a short position on AGL) against one loss - Electro Optic Systems - and highlighted the effectiveness of diversification and high turnover in the portfolio.

"The other thing to take away is it's actually quite a diverse set of exposures, and in a portfolio that has a high turnover (see below), the composition changes quite a lot. The portfolio has changed quite a bit compared to how it was six months ago."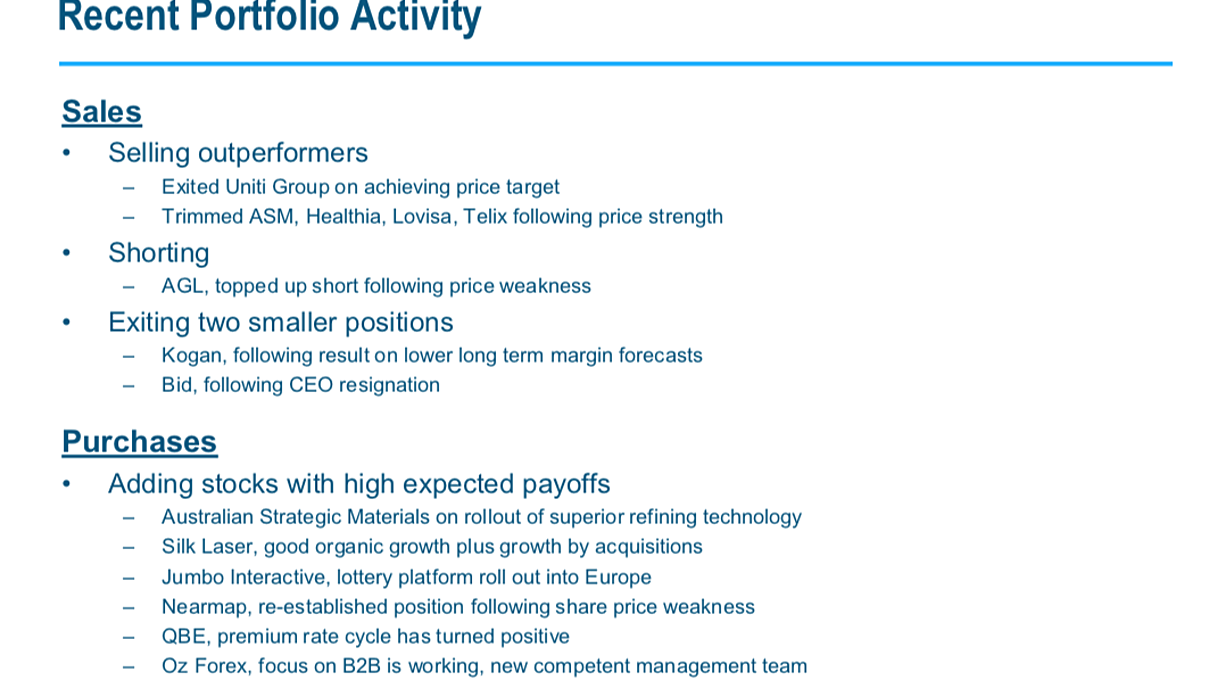 #4 IS SHORTING WORTH IT? ... ERM, YES
Monash is about 80% Net invested, and 20% is cash. Pointing to the chart below Shields explained "the light blue is the net exposure of the portfolio, and the dark blue is the gross exposure and the difference between the net and the gross is the shorting."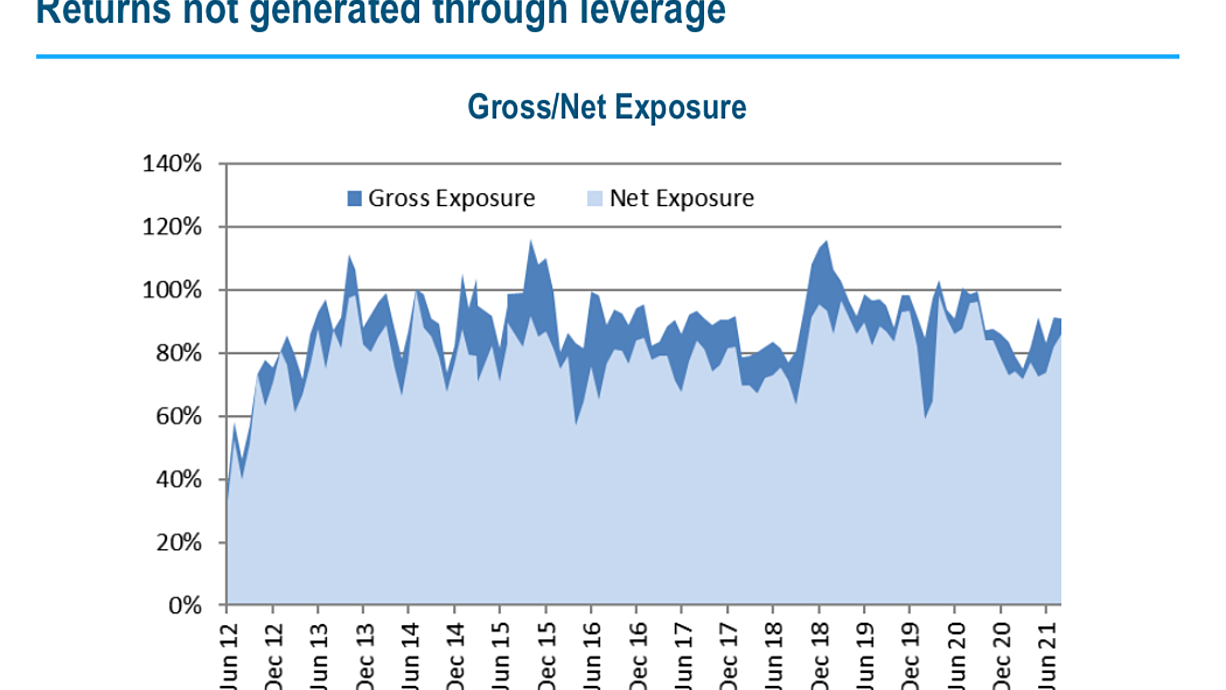 "So you can see our returns are not generated by leverage. It's relatively rare that even our gross has gone through 100%. So you might wonder with that small amount of shorting in the portfolio, is it actually worth doing - and the short answer is that it is worth it."

"Despite the fact that we only have between about 3.8 and 5.3% short in the portfolio over the last five years, it's made a nice absolute contribution to the portfolio."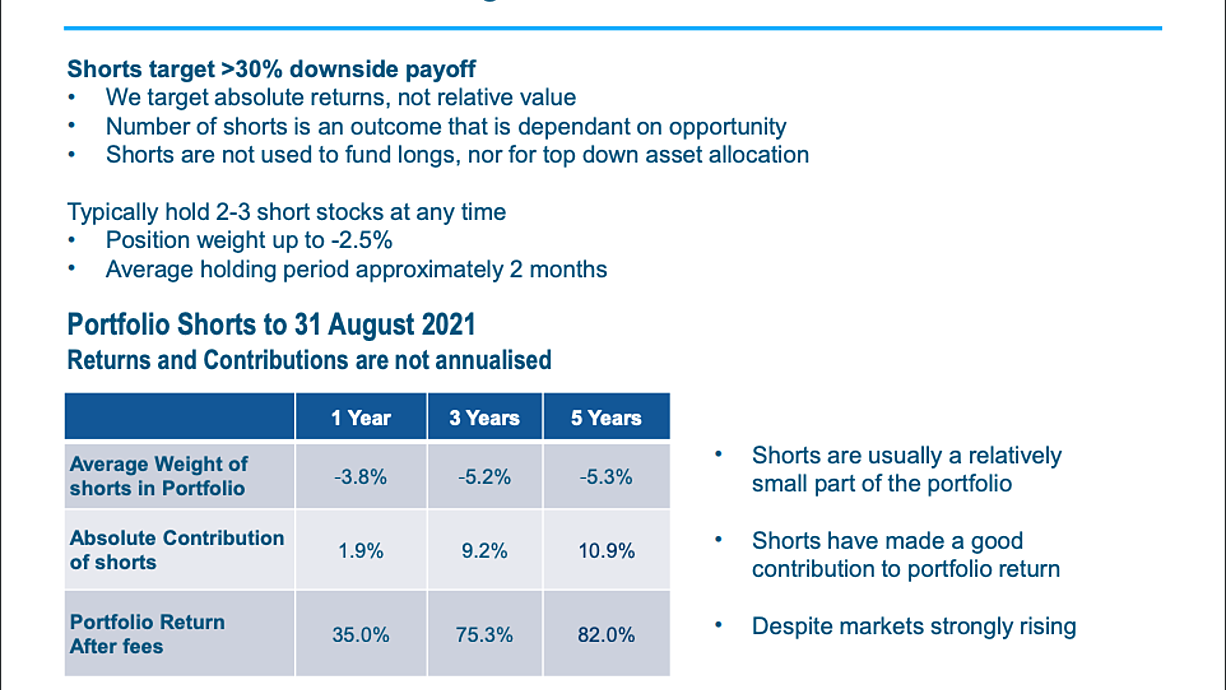 Shields continued: "Despite the fact that we've got a negative weight in those companies because we short them, we've actually made money out of those companies because those companies have fallen in share price. and that's despite the fact that the market's gone up very significantly over that period."
Monash has quite a concentrated shorting portfolio, we tend to short up to 2.5% in any one short but we'll only have two or three shorts on at any one time, and they tend to be held for a brief period, about two months at a time
#5 EXPECT EML TO RALLY HARD 

Shane Fitzgerald then stepped to the microphone and answered a question about small caps payments firm EML and its recent regulatory issues with the Irish Bank (prefacing his remarks by pointing to his recent interview touching on the same subject with Livewire's Patrick Poke).
"Yes," he said, "Monash does still hold the stock, but "fortuitously we sold about 40% of the holding about two or three weeks prior to the regulatory intervention by the Central Bank of Ireland hurt the share price. We did that because we were just taking some profits on the stock."
The share price fell a lot he said "but that's given us an opportunity to buy back in. 
"What was very clear from the result they just had was the regulatory issue they had with the Irish is going to resolve favourably for EML, and given that something like 40 per cent of the value was wiped off we expect the share price to rally quite hard."
#6 ONE STOCK THAT DID WELL - AND A STOCK THAT DID NOT SO WELL
"One stock that did extremely well, and was our best stock, said Shields, "was Lovisa (ASX:  LOV). Lovisa is one of those rollout stories. It's got about 150 stores in Australia and New Zealand. Globally it's got give or take about 600 stores. 
And there's no reason why it can't have the same density of stores in the United States and across Europe, as it's gotten in Australia. We have seen those overseas stores be just as successful as the stores in Australia. 
Lovisa he said is "trying to roll out as quickly as it can in those countries. And every so often it gets the opportunity to buy a whole group of,  stores of a  competitor or a landlord might come along and say Look, I've got like a dozen sites you can take up.
Shields emphasised "the one thing that worked really well for Lovisa during reporting season was that it surprised the market with strong its like-for-like sales growth had been since the end of the financial year- about 30 per cent - and the share price had jumped on that."
"We've still got a lot of upside in it as a reopening position if you like. But that's not why we hold it. We hold it for the runway that should play out over the years. 
The stock that didn't do so well for Monash in reporting season was EOS (Electro-Optic Systems ASX: EOS)

"It wasn't that they didn't meet the expectations for this current half. It was more around their guidance for the full year which they tightened and dropped down a bit. We didn't have any particular issue with that. This is a company that has got some fairly large lumpy contracts in there. So it was really just a bit of a timing difference.
"It's also got some very big milestones coming up," Shields said.

"They've got a space business through their laser communications. In a separate division, they're in a space - very importantly for western democracies - of being able to create a solution to defend against drone swarms. They are one of the leading companies in the world with that sort of capability, so we think they're exceptionally well-placed, and while that was a small disappointment, it wasn't really a big deal."

#7 AND FINALLY ... WHY YOU SHOULD KEEP YOUR EYES ON TELIX (ASX:TLX)
Shane Fitzgerlad fielded the question about why Monash was reducing its position in one of its best and biggest holdings, the pharmaceutical firm, Telix.

"It's one of the biggest stocks in the portfolio and we've been reducing the position," he said
"We're basically taking profits as the share price has continued on the spectacular run."
However their interest in Telix far from over. 
"When we look at Telix, there are some very, very big catalyst events coming up." Fitzgerlad said
"On the 23rd  of this month, the FDA has to finally say whether it's going to approve or not approve the prostate imaging. Given the way this has played out, there is almost no, no doubt whatsoever that the approval will be given."
And at that point, Telix will become a revenue-generating biotech, which is quite a rare beast on the Australian stock market. 
"We think there's a lot of potential for more upside in this stock because we haven't even talked about the therapeutic modality that they have. So we have very high expectations going forward, but we continue to trim the position as it goes up to manage the risk in the portfolio."
---
Want more content like this?
Give this wire a like if you've enjoyed the discussion and hit follow to be notified when new episodes are released.
If you're not an existing Livewire subscriber you can sign up to get free access to investment ideas and strategies from Australia's leading investors.
---
Monash Investors Pty Limited
Monash Investors
---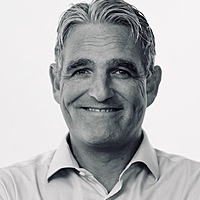 Content Director
Livewire Markets
Matt Buchanan is a former Head of Content at Livewire Markets. Matt is an avid investor and a big fan of the Livewire community, which he first joined in 2017.
Expertise