Expectations for Domain's (ASX:DHG) first-half result were low. Recent share price performance has been poor. Prior to the result, the stock had fallen -28% over the past 12 months. The last big move for the stock was after their disappointing trading update on the 12th of October which saw the stock down -13.5% on the day. Short interest is high, indicating bearish hedge fund sentiment. Recent earnings revisions have been negative as brokers cut their estimates in response to weak listings data. For all these reasons, we were bearish heading into this result.  
In looking at any result we're interested in the earnings versus expectations, the quality of those earnings and the outlook statement. Domain missed on consensus earnings expectations but given analysts had slipped in a few late downgrades the miss was not as material to consensus as some might have feared. Cash flow was fine.
Of more concern was the outlook, and where FY20 consensus earnings sit. The second half outlook was for growth in yield – code for raising prices – but for lower listings volumes.  Domain mentioned that a late Easter reduces current visibility into the important Autumn selling season. NSW and Federal elections in the June half don't help either although these weren't high mentioned by the company. 
Looking forward to next financial year, this result will see material downgrades to FY20 earnings.  The market was shooting for 16% EBITDA growth in FY20 which seems optimistic considering the 7% fall in EBITDA this half and no end in sight to the listings decline. 
Our investment view
Domain has some attractive attributes; they're a credible number two to in a market with a long-term tailwind as property marketing spend follows audience online. Online classifieds businesses have high barriers to entry and the number two property listing player in the UK – Zoopla – received a takeover offer from private equity firm, Silver Lake, in May last year.  Silver Lake were likely attracted by Zoopla's stable and growing free cash flows and potential for margin improvement. Domain shares these attributes but is undergoing a cyclical downturn in its key markets. 
Domain over-indexes in the affluent inner-metro suburbs of Sydney and Melbourne, and it is here that has seen property listing volumes fall the most. We see some scope for cost out at Domain – they have a remarkable 850 employees and palatial Sydney offices – but the market tends not to reward cost out stories in technology stocks; they're meant to be growth juggernauts! 
The headwind for Domain is listing volumes, and as we've only had 6 or so weeks of trading in the second half it's too early to see any pickup here. We've recently seen private equity takeovers for MYOB, TradeMe and Navitas. Like Domain, these are all modest growth, capital-light businesses and sold for 12.5 – 14x EBITDA.
Being generous and applying to 14x our estimate of $100m FY19 EBITDA and backing out $120m of net debt gets you to $2.20. This optimistic price target is not enough of a 'margin of safety' given earnings are at risk and Nine Entertainment has a blocking stake in any case. 
Staying on the sidelines
It's not hard to dream the dream on Domain.  Bulls cite strong cash flows, potential for margin improvement and geographic expansion and high barriers to entry. The bears say earnings estimates are too high, any geographic expansion will require investment and Domain is a long way behind their more geographically diverse major competitor; REA Group.
Domain claims listing parity in many markets but needs to close the gap in audience and leads to get agents to pay up. Nine Entertainment's almost 60% stake in Domain gives them every incentive to help them do this.
On the audience front, Domain has already started to feature more prominently across Nine's TV and Newspaper assets. Closing the revenue gap with REA will be harder. In our experience changing a sales culture is not easy. 
This, the cyclical downturn in listing volumes, and a lack of obvious valuation support keeps us on the sidelines. 
Be the first to receive my future updates
Click the "Follow" button below to be the first to receive my future updates.
---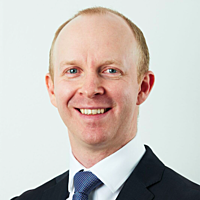 Principal & Portfolio Manager
QVG Capital
Chris Prunty is a co-founder and Portfolio Manager at QVG Capital; a boutique investment management firm specialising in smaller companies. QVG manages money on behalf of high net worth individuals and institutions in a 'best ideas' portfolio of...
Expertise