Fact or Fiction? Rates hurt REITs
---
The global economy continues to show trending improvement in growth, especially in developed countries where we are seeing the strongest, most consistent growth since 2007. Many central banks are promising a slow but steady normalisation of interest rates. How does this impact property? 
Low interest rates globally are contrary to current economic growth, very low unemployment levels and rising inflationary expectations. It has long been clear that interest rates need to normalise.
While we expect rising interest rates to place pressure on direct property valuations, (although we are absolutely not expecting to wake up one morning and find direct property valuations down 20%), the prospect of rising interest rates is not new news for listed property stocks. Half of the FTSE EPRA/NAREIT Developed Index is situated in the US, where the Federal Reserve has long been positive on economic growth.
Fortunately for listed property investors, the risks of high levels of debt have been well learned by corporate management and the sector has reduced its gearing since the heights of the GFC (more so for highly-geared stocks). This suggests less scope for rising rates to hit profits.
Gearing (debt to total assets) for the global listed property index in quartiles (monthly)
Source: Factset. Data is historical debt to total assets for the FTSE EPRA/NAREIT Developed Index. Data as at 30 June 2018.
The level of gearing for high versus low-leveraged stocks may influence returns. The next chart shows that until mid-2015, there was little difference in stock returns based on the degree of leverage. Over the next year lowly-leveraged stocks were sold off in a period of the lowest interest rates. This pattern then reversed as the election of President Trump coincided with the prospect of rising interest rates, assisting stocks with low levels of gearing. Highly-geared stocks have delivered moderate returns over recent years, while lowly-geared stocks did poorly in 2015/16 before partly recovering, but still lagging the highly-geared stocks over five years.
Cumulative returns for top and bottom quartile stocks classified on gearing (calculated quarterly) in the index 
Source: Factset. Data is for the top quartile and bottom quartile leveraged stocks in the FTSE EPRA/NAREIT Developed index, reformulated on a quarterly basis. Data as at 30 June 2018.
We do not believe interest rate normalisation will have a material impact on returns for the lowly-geared stocks. While we expect intermittent patches of increased sector volatility from time to time as inflationary expectations wax and wane, REITs own the best buildings in the world's most bustling cities, barriers to entry are high, occupancies are very high and they have leverage to economic growth. Their assets are well sought after and very valuable and their return prospects are good.
Further insights
We believe bringing together autonomous teams of investment specialists who have expertise across multiple asset classes means better investment decisions. Find out more
---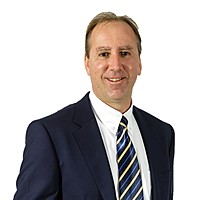 Head of Global Property Securities
First Sentier Investors
Stephen is responsible for First Sentier's domestic, Asian and global property securities portfolios. Prior to joining in 2012, Stephen founded Perennial Real Estate Investments, building the largest real estate securities boutique in Australia.
Expertise