Rio Tinto or BHP: Our preferred exposure
---
The 'confession season' could not have illustrated a bigger contrast than between the two major miners, BHP and Rio Tinto. Here we review and compare their results, and pick the one we find most attractive today. 
Rio Tinto delivered it full-year result on 7 February and cash was the keyword for the day. The cash returns to shareholders, the dividend and the buyback program were all positive. Rio Tinto closed up 3.8% in trading the following day.
BHP reported its half-year result on 20 February. In its case, operating cash flow was down. The operating result fell short of consensus expectations, and modestly of our own. BHP fell 4.8% in ASX trading the following day. 
So why such a divergence between two such similar businesses?
Firstly, the cost performance was considerably better from Rio Tinto. Secondly, balance sheet flexibility is vastly different. 
Valuing the businesses
To understand this, it is important to consider our approach to valuing both stocks. We break both companies down to their major business units, generally by commodity, and forecast our best estimate of earnings, typically using consensus commodity price assumptions for the next two years and fading to our long-run price assumption in Year 5. Consequently, the asset, or enterprise value is largely based around the sustainable earnings or more specifically the free cash flow from each business unit based on our assessment of long-run commodity prices. 
Importantly, we assess the inherent risk of each business unit, in deriving its cost of capital.  We believe, for instance, a dollar of earnings from iron ore, which is high margin, high returns and more stable prices, has greater value than say a dollar or earnings from nickel. 
We then aggregate the values of the collective business units to arrive at the total enterprise value of each company. Then we deduct net debt, other liabilities and minorities to arrive at our stated residual equity value. 
Although Rio Tinto and BHP are similar businesses, they do have different commodity offerings. We take into account historical margins and returns to assist in framing our forecasts of these important elements of financial productivity going forward. Notwithstanding the differences, we believe both BHP and Rio should trade on similar EBIT multiples in the longer-term. 
However, what is more interesting as an equity investors, is that our implied PE multiples are very different for BHP and Rio Tinto. Why is this so? 
Debt.
As at the last result, Rio had $3.8bn of net debt and BHP had $14bn. If you take two 'businesses' (ie: asset or enterprise values) are roughly valued equally, if one is more highly geared than the other, you must value the lower geared equity on a higher implied PE. Otherwise, you are valuing the asset more highly than you should. 
Our preferred exposure today
So where does this leave us?  We believe commodity prices are today elevated above long-term sustainable levels. Our valuations are therefore based on commodity prices lower than they are today. 
In this environment, Rio Tinto's superior performance on costs is important and we still see some reasonable valuation upside in Rio Tinto.
At different valuation levels and at other points in their respective cycles, we could hold either or both companies, but currently, we find Rio Tinto the more attractive of the two.
The Lazard Australian Equity team currently holds Rio Tinto in our unconstrained, high conviction Select Australian Equity Fund. For further insights please click here. 
---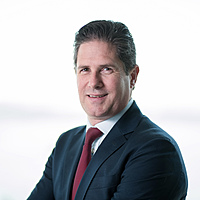 Portfolio Manager/Analyst
Lazard Asset Management
Warryn Robertson is a Portfolio Manager/Analyst on the Global Listed Infrastructure, Global Equity Franchise, and Australian Equity teams. He has been working in the investment field since 1992. Prior to joining Lazard in April 2001, Warryn was an...
Expertise