Should we be scared of Donald Trump?
---
CBA recently published some comprehensive research on the ramifications of a Trump victory, the main points were:
Trump looks positive for US economic growth, and inflation would lift.
The global ramifications look negative; there are no winners from trade wars.
The net impact on the Australian economy is mildly negative; China is now more important to the health of our local economy.
The largest likely impact of a Trump victory would be the Fed accelerating the "normalising" of interest rates i.e. US interest rates lifting faster under a Trump administration, compared to a Clinton one.
This basically tells us that the theme which is currently unwinding aggressively will accelerate if Trump wins as the market focuses on higher rates. Last night US economic data continued to show a strengthening economy, resulting in a 1.5% rally in financial stocks but falls of 1.9% in Real Estate, 1.8% in Telcos and 0.3% in Utilities. US banks rallied 2%, outstripping even energy stocks which were up 1.4%, following crude oil's 2.1% gain.
US S&P500 Banking Sector Monthly Chart
Markets have spent a long time chasing the perceived safety "yield play" and selling banks. Our belief is this strategic change in market opinion which we have pushed for weeks, has only just commenced.
Since the first quarter of 2015, CBA has fallen 23% while Sydney Airport (SYD) has rallied 27%, even after the recent fall in SYD. If the two stocks just go back the differential at the start of this year, CBA looks set to outperform SYD by over 20%.
Commonwealth Bank (CBA) v Sydney Airport (SYD) Weekly Chart
Deutsche Bank put out an interesting chart this morning highlighting the weakness in banks over and above weakness in their earnings. Clearly, banks have been out of favour however as we've been writing of late, if you think interest rates will start to increase globally, banks should be supported.
Let's now take a look at the statistics for both this time of year and around a very close US election:
Over the last 5-years, CBA has rallied on average 6.6% in the month of October.
Over the last 20-years, the ASX200 has gained 0.8% in October, 0.4% in November and 1.8% in December with positive outcomes 70%, 60% and 75% of the times - a good outcome for November with three of our big four banks trading ex-dividend.
In a close US election, not surprisingly the market trades sideways into the vote, but then rallies strongly ~4% in November, whoever wins!
While we acknowledge that Donald Trump is definitely an extreme candidate, if he were to win the above statistics do bode well for equities into Christmas, and more so if we see a Clinton victory. We do not believe the market is currently positioned for a 4-5% rally into Christmas increasing the possibility of this outcome.
Summary
We remain comfortably overweight banks within our portfolio, which is almost fully exposed to stocks.
We have no interest buying stocks/sectors which will be negatively influenced by higher US interest rates.
Livewire readers can receive  14 days' free  access to our  Platinum level  membership by  registering here:  (VIEW LINK)
---

Follow Nicholas Forsyth's wires
---
---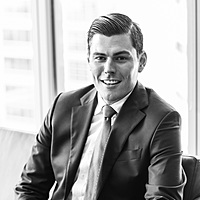 Market Matters is an online investment and share trading advisory service designed for those that want to take their wealth further. We specialise in advice for active share market investors, including those new to the markets or those with a Self...
Expertise
No areas of expertise