Steel brighter than gold: 3 junior miners now multi-baggers
---
The Australian-dollar price is now higher than in its heyday of 2011, delivering big wins for investors in highly-leveraged juniors such as Fenix and Strike. And Liontown's lithium seen as potential prey for the bigger mining houses.
Rio Tinto back through $110, BHP back through $41 and Fortescue into record territory of more than $20.
Anyone would think Christmas has arrived early for the big iron ore producers. And it has, courtesy of the spike in the iron ore price to a spectacular $US136.30/t (CRF North China) on the latest production woes for Brazil's Vale at a time of seemingly insatiable demand from China.
Vale is supposed to be pumping out 400Mtpa, but the oversight fallout from two tailings dam disasters and the ravages of COVID-19 have put paid to that.
This week it said it now expects to produce 300-305mt for 2020, down from previous guidance of 310-330mt. Guidance for 2021 of 310-330mt represents a forecast improvement on 2020 but again, it remains well short of Vale's 400mtpa capability.
That's tough for Vale but wonderous stuff for the big three of the Pilbara mentioned above. Collectively, their annual production is running at about 785mtpa. Last (calendar) year iron
ore averaged what was already a fantastically profitable $US90/t.
Assume that the current price holds and multiply the $46/t increase on last year's average over 785mtpa of production and you end up with a very big number – $US36 billion.
Investors will need to buy up discounted raincoats in the summer months because if iron ore prices hold at these levels, they are going to be showered like no tomorrow with dividend rewards in the new year because the steel-making material really is in windfall territory.
JUNIORS:
As impressive as the recent iron ore-inspired surge in the share prices of the Pilbara big three has been, it has been the junior space where there has been a true leveraged response to just what $US136.30/t means.
There aren't that many out there like there was back in 2011 when iron ore averaged $US169/t (the dollar averaged $1.03 in 2011, making for $A164/t iron ore compared with $A184/t currently at the lower exchange rate).
But those that remain are now reaping the rewards of sticking to iron ore when most of their peers raced off to focus on gold.
Fenix (FEX), mentioned here in October 2019 when it was a 4.2c, and again in August this year when it was 15c, is now a 21c stock ($117m fully diluted).
The five-bagger performance since October 2019 reflects the (very) near-term production state at its dig-and-truck Iron Ridge project in WA's Mid-West.
As previously mentioned, a feasibility study showed that a 1.25mtpa operation at an iron ore price of $A111/t would generate annual average EBITDA of $16.4m. The EBITDA multiple was interesting enough at $A111/t iron but adjust it for $A180-plus iron ore and it gets real interesting.
Fenix plans to send off its first direct shipping iron ore early in 2021. It involves trucking the ore some 500km to Geraldton for export, with Fenix announcing this week a port access agreement at Geraldton had been secured.
Access to the port and the road haulage strategy means capital intensity is as low as it comes in the business.
Strike Resources (SRK) is another junior with near-term low capex iron ore production ambitions from its Paulsens East project in the Pilbara.
The 1.5mtpa project has been through the feasibility study stage. It pointed to the potential for the project to generate $270m in pre-tax free net cashflow over an initial four year mine life should iron ore average $US115/t or more than $US20/t below where the price is now.
The stock has risen from 4.5c at the end of June to 12.5c for a market cap of $31m. That's not a lot given the earnings potential of the project, and the absence of anything in the share price for Strike's longer-dated magnetite and lithium possibilities in South America.
Liontown (LTR): A diary entry suggests that Liontown must be close to kicking off its maiden drilling program at its Moora gold-PGE-nickel-copper prospect in WA.
It's bound to generate interest given Moora is in the same geological terrane as the Julimar PGE-nickel-copper-cobalt-gold discovery made some 95km to the south by another company from the Tim Goyder stable, Chalice.
Chalice was a 20c stock for a $60m market cap before the Julimar discovery in March. It is now $3.97 a share for a market cap of $1.4 billion as excitement about the world-class potential of Julimar builds.
Chalice has just pulled in $100m from a placement to accelerate exploration along the 26km Julimar intrusive complex.
Up at Moora, preliminary work by Liontown has identified the right sort of anomalism from auger drilling, with the anomalism coincident with near-surface intrusions identified in geophysical work.
Good luck to Liontown in the Moora drilling campaign. And it can be said that there is nothing in its share price (26.5c for a $470m market cap) for the possibility of some excitement there.
That's because its market cap reflects its 100% ownership of the world scale Kathleen Valley lithium project in WA, which on the basis of a scoping study into a downstream refinery released month, saw Bell Potter (October 22) upgrade its Liontown valuation to 54c.
More recently, Chris Baker at Bridge Street Capital (a corporate advisor to the company) arrived at a 69c a share valuation (unrisked) for a fully-funded integrated project and 43c a share for a simple spodumene operation at Kathleen Valley.
By scoping out the integrated project option (it would produce lithium hydroxide or lithium carbonate which currently sell for a depressed $US9,000/t and $US6,750/t respectively compared with $US380/t for spodumene), Kathleen Valley is starting to look very much like the Kidman/SQM Mount Holland project in WA.
Kidman owned 50% of the Mount Holland project and was acquired by Wesfarmers for $770m a while back.
Wesfarmers wouldn't pay that now, but the point is made that with Kathleen Valley starting to look like the also undeveloped Mount Holland in most respects, Liontown has a real shot at the big time in the lithium space.
(Dr) Baker pondered whether an integrated Kathleen Valley would also become a target for the big mining and chemical companies.
Assuming an EBITDA of $A350m for an integrated project, Baker said it would not move the needle for the likes of BHP, Rio, Glencore and Anglo American. But as a percentage of EBITDA, it could move the dial of Fortescue (4.2%), South32 (29.2%), IGO (76%) and Iluka (98%).wes
Not already a Livewire member? Sign up today to get free access to investment ideas and strategies from Australia's leading investors.

Enjoy this wire? Hit the like button to let us know.
---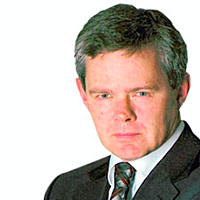 Principal
Independent Journalist
One of Australia's leading business journalists, Barry FitzGerald, highlights the issues, opportunities and challenges for small and mid-cap resources stocks, and most recently penned his column for The Australian newspaper.
Expertise