Sydney house prices have fallen 11.1%, declining at a 17% annual rate, while Brisbane prices fall at 20% annual rate
---
So there is good news and bad news. The bad news is that national house prices are falling at a record 14% annual rate based on the last three months of data from CoreLogic, with a total draw-down of 7.4% since the 5 capital city index's May 2022 high watermark. And this is before a veritable tsunami of $500 billion worth of fixed-rate home loans see their interest rates more than double from 2.0% to 2.25% to 5-6% as they switch back to variable-rate next year. Our forecast for a record Aussie house price correction of 15-25%, which we published in October last year, remains unchanged.
The epicentre of what will likely become the biggest housing crash in modern Aussie history has shifted from Sydney to Brisbane, where prices are currently falling at an incredible 20.3% annual rate (Brisbane values have already shrunk 7.7% peak-to-trough thus far). Sydney dwelling values have fallen furthest, plunging a massive 11.1% since their peak in absolute terms (okay, it is nothing like Bitcoin's savage free-fall from US$69,000 to US$15,600). Sadly for homeowners, Sydney dwelling values continue to decline at a 17% annual rate based on the past three months of price moves. 
The good news is that the pace of declines has generally slowed, although this could just reflect seasonality. The Melbourne market is faring a lot better than Sydney and Brisbane, with total losses of only 6.9% to date and a more orderly (albeit still chunky) 10.6% annualised rate of decline over the last three months. Adelaide and Perth are stronger again, experiencing very mild adjustments of just 1.1% and 0.9%, respectively, since their recent peak. 
The second chart below highlights the positive news. It shows the change in the pace of three-month annualised house price declines, which have slowed, though they still remain sharply negative (observe how most lines are rising or stabilising).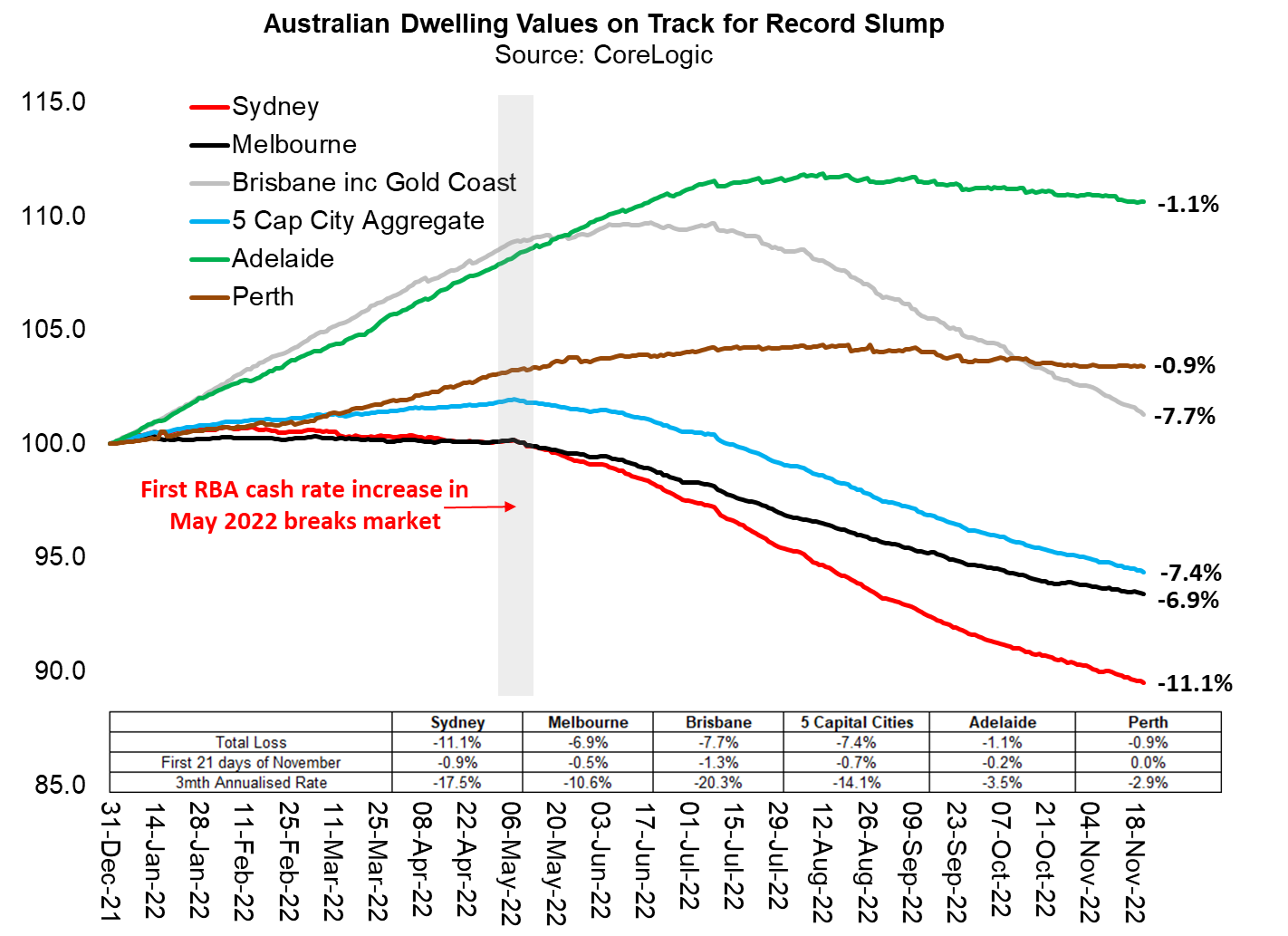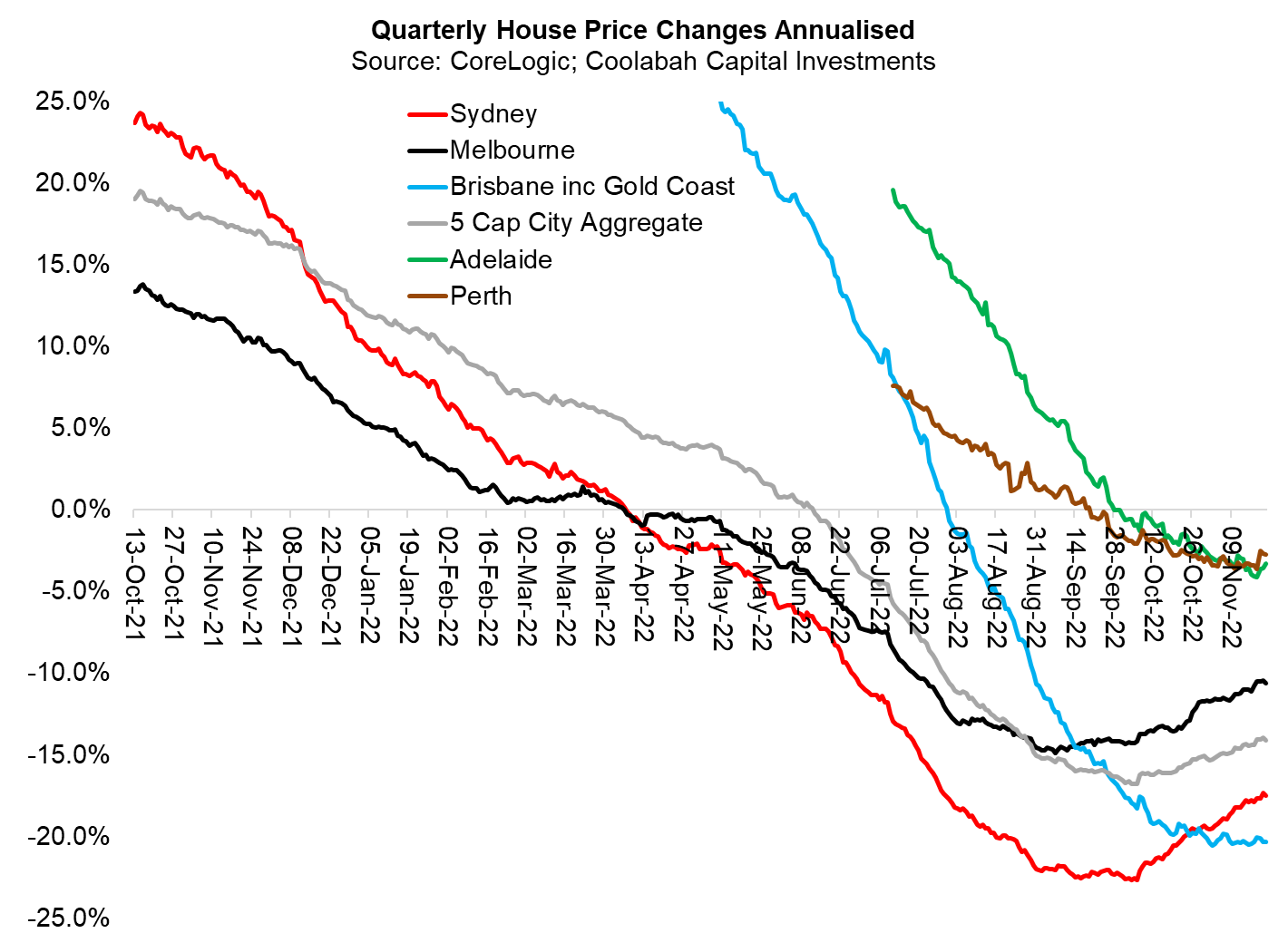 ---
Access Coolabah's intellectual edge
With the biggest team in investment-grade Australian fixed-income and over $7 billion in FUM, Coolabah Capital Investments publishes unique insights and research on markets and macroeconomics from around the world overlaid leveraging its 14 analysts and 5 portfolio managers.
........
Investment Disclaimer Past performance does not assure future returns. All investments carry risks, including that the value of investments may vary, future returns may differ from past returns, and that your capital is not guaranteed. This information has been prepared by Coolabah Capital Investments Pty Ltd (ACN 153 327 872). It is general information only and is not intended to provide you with financial advice. You should not rely on any information herein in making any investment decisions. To the extent permitted by law, no liability is accepted for any loss or damage as a result of any reliance on this information. The Product Disclosure Statement (PDS) for the funds should be considered before deciding whether to acquire or hold units in it. A PDS for these products can be obtained by visiting www.coolabahcapital.com. Neither Coolabah Capital Investments Pty Ltd, EQT Responsible Entity Services Ltd (ACN 101 103 011), Equity Trustees Ltd (ACN 004 031 298) nor their respective shareholders, directors and associated businesses assume any liability to investors in connection with any investment in the funds, or guarantees the performance of any obligations to investors, the performance of the funds or any particular rate of return. The repayment of capital is not guaranteed. Investments in the funds are not deposits or liabilities of any of the above-mentioned parties, nor of any Authorised Deposit-taking Institution. The funds are subject to investment risks, which could include delays in repayment and/or loss of income and capital invested. Past performance is not an indicator of nor assures any future returns or risks. Coolabah Capital Institutional Investments Pty Ltd holds Australian Financial Services Licence No. 482238 and is an authorised representative #001277030 of EQT Responsible Entity Services Ltd that holds Australian Financial Services Licence No. 223271. Equity Trustees Ltd that holds Australian Financial Services Licence No. 240975. Forward-Looking Disclaimer This presentation contains some forward-looking information. These statements are not guarantees of future performance and undue reliance should not be placed on them. Such forward-looking statements necessarily involve known and unknown risks and uncertainties, which may cause actual performance and financial results in future periods to differ materially from any projections of future performance or result expressed or implied by such forward-looking statements. Although forward-looking statements contained in this presentation are based upon what Coolabah Capital Investments Pty Ltd believes are reasonable assumptions, there can be no assurance that forward-looking statements will prove to be accurate, as actual results and future events could differ materially from those anticipated in such statements. Coolabah Capital Investments Pty Ltd undertakes no obligation to update forward-looking statements if circumstances or management's estimates or opinions should change except as required by applicable securities laws. The reader is cautioned not to place undue reliance on forward-looking statements.
---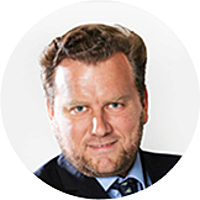 Portfolio Manager & Chief Investment Officer
Coolabah Capital
Chris co-founded Coolabah in 2011, which today runs $7 billion with a team of 33 executives focussed on generating credit alpha from mispricings across fixed-income markets. In 2019, Chris was selected as one of FE fundinfo's Top 10 "Alpha...