Sydney house prices now crashing at more than 20% annualised rate
---
As a result of the RBA's extraordinary decision to hammer unsuspecting households with a staggering 125 basis points of mortgage rate hikes in the space of just two months (ie, from early May to early July), which will likely be upsized to an unprecedented 175 basis points of hikes at their next meeting, Sydney house prices are now falling at an equally unprecedented 20% plus annualised pace.
Using the daily hedonic index data published by CoreLogic, which is the RBA's preferred housing benchmark, we find that the rolling 30 day change in Sydney home values has dropped precipitously from +2.83% in August 2021 to -2.21% as at 11 July. That means that residential real estate in Sydney is now declining at an annualised rate north of 20%. 
While this housing crash appears to have shocked many analysts and economists, and of course the millions of unwitting families who were relentlessly advised by the RBA in 2020 and 2021 to borrow and spend as much as possible because they would not lift interest rates until 2024 at the earliest, it is, regrettably, smack-bang in line with the central case that we outlined late last year.
In the month of June, Sydney home values plunged 1.6%. They have fallen at an even more rapid rate over the first 11 days of July, slumping by another 0.7%. Melbourne dwelling values are closely tracking Sydney prices, albeit with a lag. In June, Melbourne home values fell 1.1% and they have lost another 0.4% in the first 1-2 weeks of July. 
The first chart below shows the rolling 30 day change in Sydney and Melbourne dwelling values. The second chart illustrates the change in the Sydney and Melbourne dwelling price indices published by CoreLogic.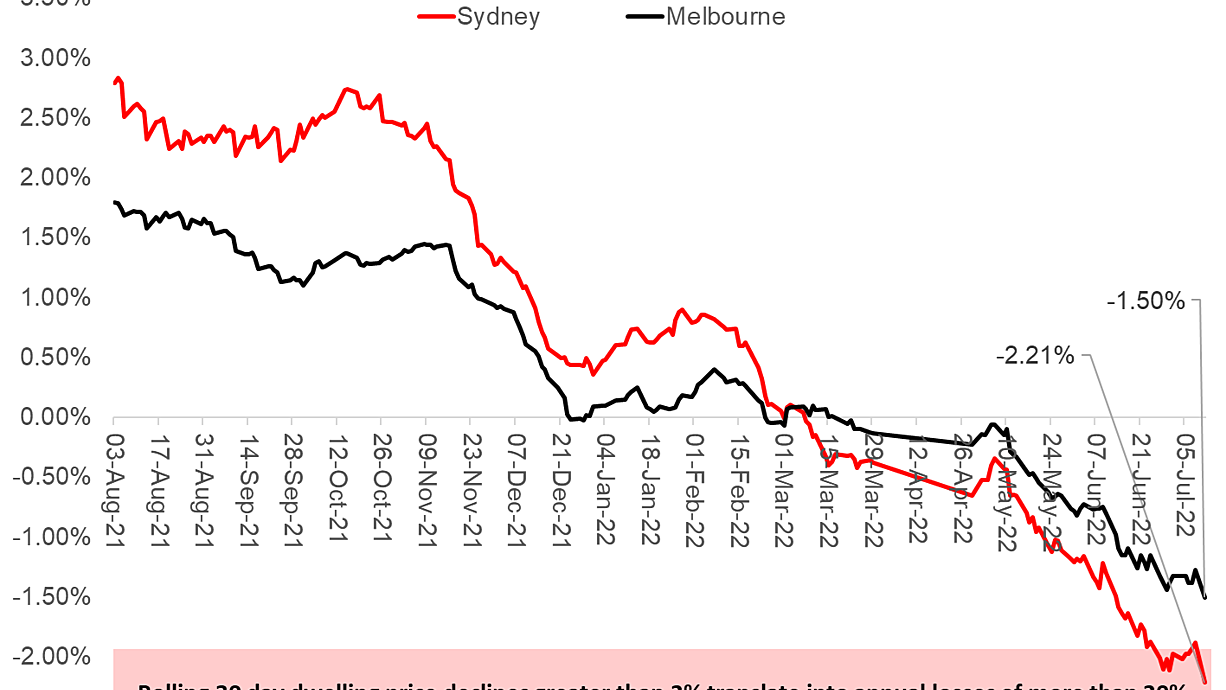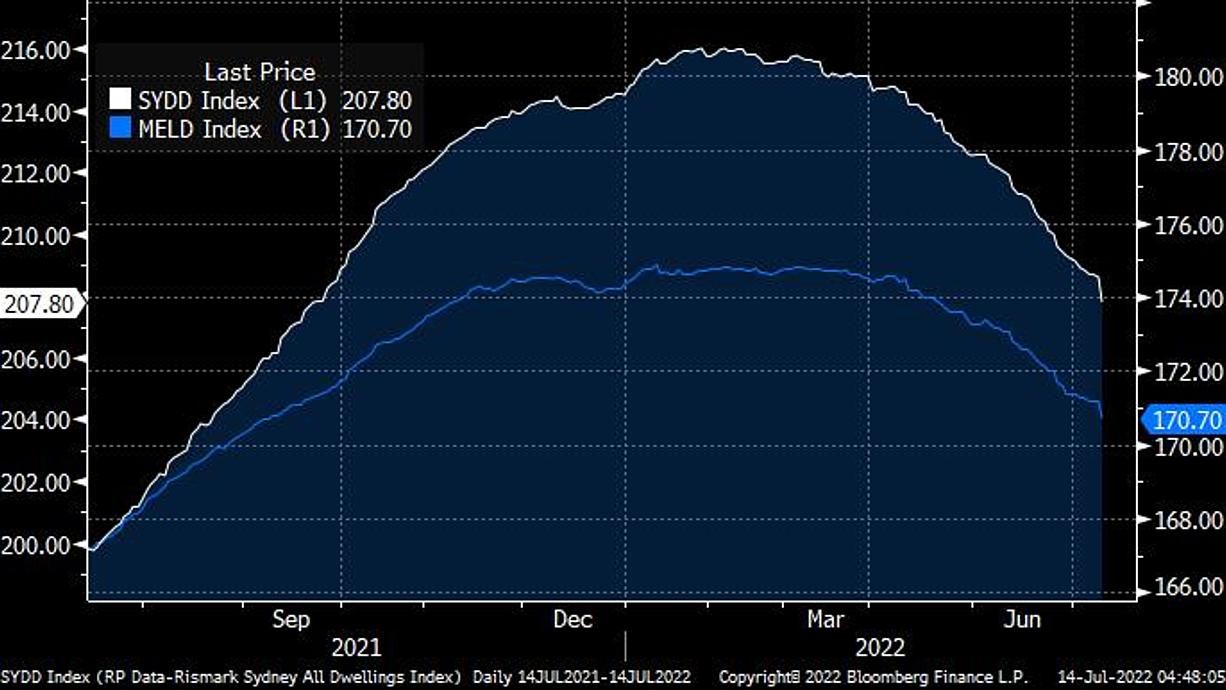 Sadly, this only reaffirms our dour October 2021 forecast that Australian house prices will correct 15% to 25% after the first 100 basis points of the RBA hikes, crushing consumer and business confidence, and adversely impacting consumption across the economy. 
This has slowly become a consensus economist view, although there are some property spruikers who claim that house prices will continue climbing inexorably because higher interest rates will have no impact on them. 
It's also worth noting that we are not preternatural perma-bears when it comes to Aussie housing. Quite the contrary: we were far and away the most bullish (and accurate) forecasters on Aussie housing in early 2020 when everyone else was expecting prices to drop 10-20%.
While the RBA is setting itself up to hike rates by another 50 basis points in August in response to lagged inflation data heavily influenced by temporary supply-side shocks, we project that the record collapse in the value of Aussie households' most important asset will ultimately act as a constraint on the extent to which the RBA can continue to lift interest rates. After over-egging policy, there is indeed every chance the RBA is forced to cut rates at some point in 2023.
Aussie households face a multiplicity of headwinds, including:
The fastest interest rate increases in a quarter of a century, which will crush disposable incomes;
A massive, albeit hopefully temporary, reduction in real wage growth as a result of a huge, one-off increase in inflation attributable to a conga-line of supply-side shocks;
A record decline in the value of their largest asset, the owner-occupied home; 
The largest decline in the value of their superannuation savings since the GFC; and
Finally, the spectre of fiscal policy dragging on growth as both the Commonwealth and States turn their focus to budget repair and the prospect of higher taxes.
The heinous policy mistakes the RBA made both before and after the pandemic were attributed to dodgy forecasts. As the RBA once again embarks on ultra-aggressive policy changes predicated on completely unreliable forecasts of the future, history sadly appears to be repeating itself...
Access Coolabah's intellectual edge
With the biggest team in investment-grade Australian fixed-income and over $7 billion in FUM, Coolabah Capital Investments publishes unique insights and research on markets and macroeconomics from around the world overlaid leveraging its 14 analysts and 5 portfolio managers.
........
Investment Disclaimer Past performance does not assure future returns. All investments carry risks, including that the value of investments may vary, future returns may differ from past returns, and that your capital is not guaranteed. This information has been prepared by Coolabah Capital Investments Pty Ltd (ACN 153 327 872). It is general information only and is not intended to provide you with financial advice. You should not rely on any information herein in making any investment decisions. To the extent permitted by law, no liability is accepted for any loss or damage as a result of any reliance on this information. The Product Disclosure Statement (PDS) for the funds should be considered before deciding whether to acquire or hold units in it. A PDS for these products can be obtained by visiting www.coolabahcapital.com. Neither Coolabah Capital Investments Pty Ltd, EQT Responsible Entity Services Ltd (ACN 101 103 011), Equity Trustees Ltd (ACN 004 031 298) nor their respective shareholders, directors and associated businesses assume any liability to investors in connection with any investment in the funds, or guarantees the performance of any obligations to investors, the performance of the funds or any particular rate of return. The repayment of capital is not guaranteed. Investments in the funds are not deposits or liabilities of any of the above-mentioned parties, nor of any Authorised Deposit-taking Institution. The funds are subject to investment risks, which could include delays in repayment and/or loss of income and capital invested. Past performance is not an indicator of nor assures any future returns or risks. Coolabah Capital Institutional Investments Pty Ltd holds Australian Financial Services Licence No. 482238 and is an authorised representative #001277030 of EQT Responsible Entity Services Ltd that holds Australian Financial Services Licence No. 223271. Equity Trustees Ltd that holds Australian Financial Services Licence No. 240975. Forward-Looking Disclaimer This presentation contains some forward-looking information. These statements are not guarantees of future performance and undue reliance should not be placed on them. Such forward-looking statements necessarily involve known and unknown risks and uncertainties, which may cause actual performance and financial results in future periods to differ materially from any projections of future performance or result expressed or implied by such forward-looking statements. Although forward-looking statements contained in this presentation are based upon what Coolabah Capital Investments Pty Ltd believes are reasonable assumptions, there can be no assurance that forward-looking statements will prove to be accurate, as actual results and future events could differ materially from those anticipated in such statements. Coolabah Capital Investments Pty Ltd undertakes no obligation to update forward-looking statements if circumstances or management's estimates or opinions should change except as required by applicable securities laws. The reader is cautioned not to place undue reliance on forward-looking statements.
---

Follow Christopher Joye's wires
---
---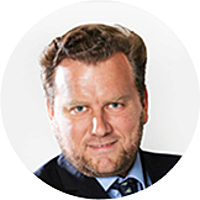 Portfolio Manager & Chief Investment Officer
Coolabah Capital
Chris co-founded Coolabah in 2011, which today runs $7 billion with a team of 33 executives focussed on generating credit alpha from mispricings across fixed-income markets. In 2019, Chris was selected as one of FE fundinfo's Top 10 "Alpha...