The 7 stocks forum users are most excited about
---
In late 2020, as COVID took hold, crypto took off, and markets everywhere seemed to decide, as one, that the only way was up, a new generation of retail investors joined the market.
As reported by AFR and many others, this cohort was predominantly comprised of male, millennial investors, who had both the time and money to invest during lockdowns. 
Many of these investors are still in the market and are perhaps most evident in the (formerly) shadowy online forums of Reddit and HotCopper, which host a constant stream of conflicting opinions and ideologies. These investing forums, and others, have also begun finding the limelight of financial markets more recently.
For example, in 2021 American-based forum r/wallstreetbets gained notoriety for a short-squeeze on GameStop stock. Just a week ago a user on the Australian forum 'HotCopper' was found guilty of using the site to manipulate markets. This prompted me to dig deeper into these forums, of which I (and no doubt many other investors) am only loosely aware.
The following first-hand investigation seeks to understand what goes on in these forums. So you don't have to, I've dived into these busy, squabbling and increasingly influential subcultures. 
Read on to find out what I uncovered.

Hot Copper is busy, and I mean BUSY ...
HotCopper has built a reputation as Australia's largest stock market forum. With more than 700,000 unique users every month, and a history that dates back, in at least some form, nearly 30 years. 
In other words, it's a site - a community - that has endured, a site that attracts some super smart people and ideas, and I was certain I'd extract some real value here. The challenge, for me at any rate, would be in finding it, and determining what can and cannot be trusted.
On first opening the HotCopper home page I was struck by the sheer "busy-ness" of the site.

At all times something, somewhere on the page is in motion. When peering between ads, one can see 50 postage-stamp-size charts rotating dizzyingly in sets of 10.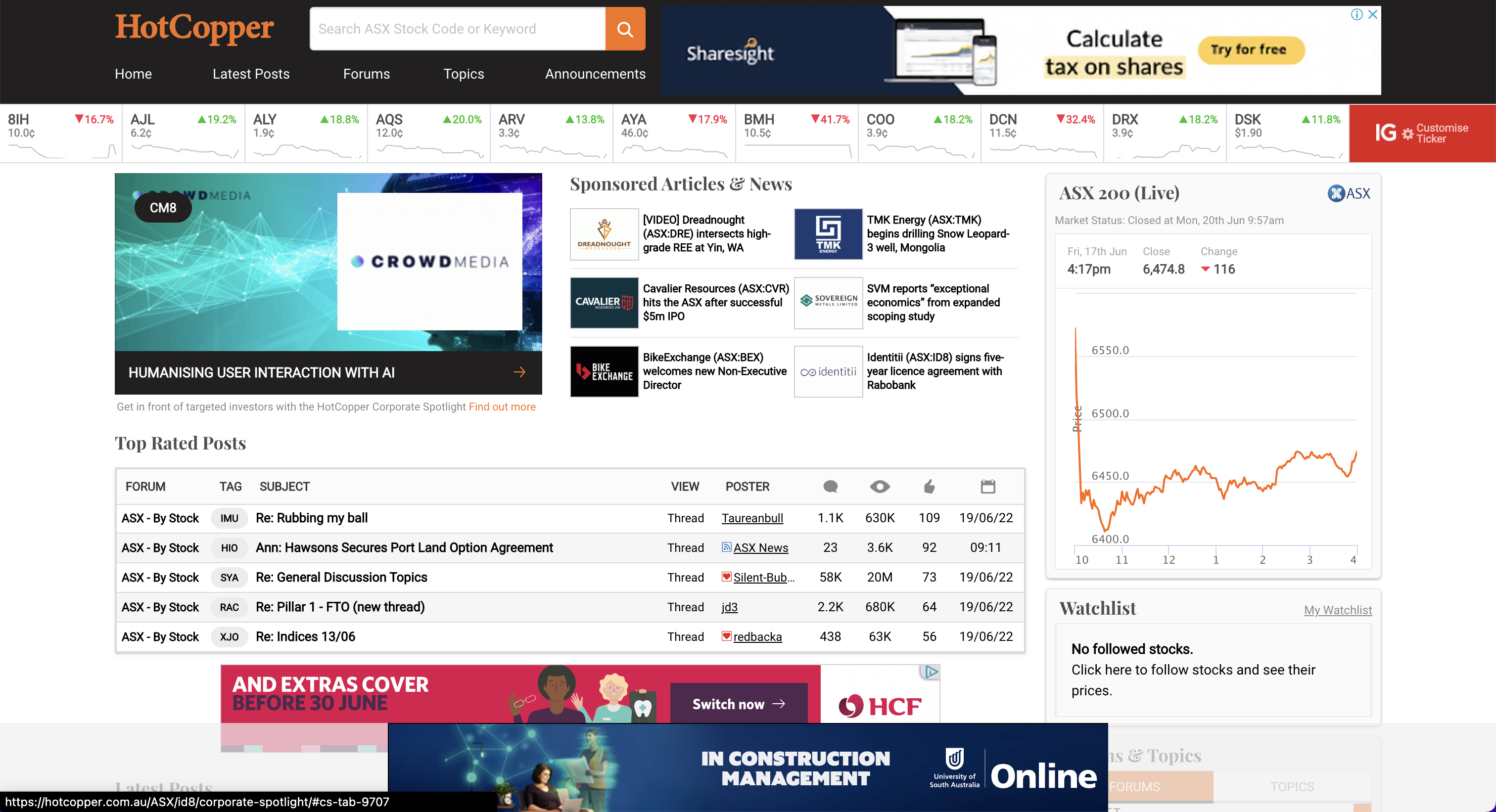 ... But the posts are where the action is
Scrolling further down the page reveals a number of tables of threads arranged by popular and latest. Clicking on a thread from the 'most popular' will reliably take you to a piece of news announced by the ASX, or (generally) well-researched analysis.

Clicking an item found in "latest posts," on the other hand, is as likely to send you to a flat-earth conspiracy as an afternoon stock pick. 

Once I navigated beyond that (and the political debates and discussions about the safety of vaccines) I found what I expected: Completely anonymous investment advice from strangers on the internet. With no analysis.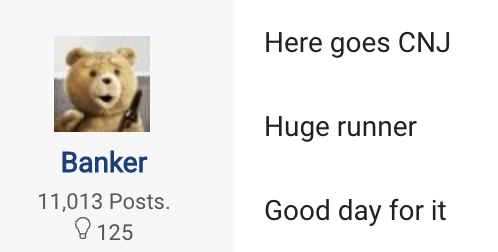 Some patterns were immediately clear. HotCopper is heavily focused on smaller stocks within particular sectors (patience - we'll get to the stocks themselves a bit further down):
Mining

Buy Now Pay Later
Energy
Biotech/pharmaceuticals. 
As you can probably guess at this point, risk mitigation is not a major topic of discussion here.

HotCopper is not the only place for anonymous investment advice; there are also bustling communities on Subreddits.

Wait. What are subreddits again?
Well you've all heard of Reddit, right? The website is split into sub-communities focused on the specific interests of members. Many of these 'subreddits' are dedicated to cats, music, or sports, but there are also several large groups dedicated to various financial markets, both within Australia and internationally.
Some of the subreddits I looked to include:
Investing subreddits tend to have cleaner designs and a far more light-hearted community atmosphere. That's not to say that there are no arguments about the geometry of the planet we live on, just markedly less. 

While HotCopper is the go-to place for high-frequency news, day trading, and technical analysis, Reddit is the home of two categories of investors.

One of these groups appears to be predominantly made up of professionals from largely non-finance backgrounds who focus on personal finance but take an interest in macroeconomics. 
The other group, however, has an investment strategy that is very hard to describe without using the words 'abject gambling.'
Ultimately, anonymity makes it impossible to ever completely trust someone in these environments, but there are genuinely unique pieces of information available here, for example, one user reported on their experience touring a lithium mine in Quebec.

We have seen that users on these forums are a passionate bunch, but which stocks currently have them most riled up? I took to the 'Most Discussed Stocks' section on HotCopper to find out.
The seven most discussed stocks on HotCopper:
Buy now pay later:
Zip (ASX: ZIP)
Z1P is an embattled Buy Now Pay Later firm. Although some forum users hold out hope, the vast majority agree that tightening monetary policy, as well as newfound competition from Commonwealth Bank and Apple, will overrun the franchise.
HotCopper stats: 437 Comments, 155,000 views
Overall sentiment: Extremely negative

Representative comment:

Healthcare:
Mesoblast Ltd (ASX: MSB)
Mesoblast is an Australian regenerative medicine company, which is facing several lawsuits for alleged breaches of its continuous disclosure obligations as well as misleading and deceptive conduct. Users believe that patents and assets are strong despite this, and that the company is now undervalued.
HotCopper stats: 3,600 comments, 1 million views
Overall sentiment: controversial - positive
Representative comment :

PolyNovo (ASX: PNV)
PolyNovo, a Biotech specialising in synthetic skin, has shown some positive signs, including several announcements of director share purchases in early June. It appears that users believe that short sellers are attempting to abandon their positions
HotCopper stats: 13,000 comments, 9 million views
Overall sentiment: very positive
Representative comment:

Miners:
Sayona Mining ltd (ASX: SYA)
Recent market outlooks predicting lower prices for lithium in 2023 have somewhat dampened excitement for lithium miner Sayona. But opinions are still generally positive, with one user even travelling to a site in Quebec for a tour.

HotCopper stats: 597 comments, 269,000 views
Overall sentiment: Positive
Representative comment:

Arizona Lithium Limited (ASX: AZL)

AZL is a small mining company that has users concerned with the cash burn. There are some bright spots such as an Arizona-based mine that has been found to have battery-grade Lithium Carbonate, but a bearish American market and anticipations of a Lithium price decrease appear to be dominant fears on forums.
HotCopper stats: 250 comments, 119,000 views
Overall sentiment: Negative
Representative comment:

Technology:

FBR ltd (ASX: FBR)
FBR is a robotics company based in Perth, focused on brick-laying robots. Forum users appear to be highly concerned with the competence of management. This has been exacerbated by a trading halt, as well as a perceived lack of progress towards a truly market-ready version of FBR's main product the Hadrian.

HotCopper stats: 744 comments, 186,000 views
Overall sentiment: Extremely negative
Representative comment:
Imugene Limited (ASX: IMU)
Imugene is a biotech company predominantly working on cancer immunotherapy. Users believe that Imugene is trading at a large discount relative to the technology it has developed. Users also quote an 'Australian discount' on domestic biotechnology companies. 

HotCopper stats: 15000 comments, 7.2 million views
Overall sentiment: Extremely positive
Representative comment:
Some actual analysis
If we consider an equally-weighted portfolio of these stocks over the past year, the mean return has surprisingly been just 0.5%. The standard deviation of returns, on the other hand, has been a massive 120.26%. 
The average market capitalisation for this portfolio would be $551.7 million. Z1P was the only company that exceeded $1 billion, which also happened to be one of the most bearish stocks discussed. 
The implication of these stats is that forum users are not necessarily focused on stocks that have historically performed extremely well. Instead, they're focused primarily on the most volatile opportunities. This is likely a result of larger numbers (whether positive or negative) creating more exciting headlines, and fueling more heated discussions. 

Fundamental analysis also appears to be the key driver of forum engagement. Day trading makes up a substantial portion of the community, however, users tend to gravitate to discussions about the opportunities or controversies of a company in higher numbers.
Danger ahead
The low bar of entry and anonymity of users causes these communities to thrive with volatility and controversy. This anonymity allows discussion of investments to rapidly devolve into arguments about entirely unrelated topics. 
The ability to reach such a large audience of investors also makes forums prone to market manipulation and false information. Recently, a trader using one of these platforms pled guilty to illegally disseminating information on the platform in an attempt to scam other users.
Lessons from the forums
Trading forums have gained a reputation from some of their more extreme participants, but they present unique opportunities. These communities are frequently made up of tens of thousands of users, presenting a distinct chance to observe the thoughts and opinions of a large portion of the market participants. 
Casting such a wide net into a global community can occasionally turn up distinctive experiences and insights (although you will need to decide how much to trust this). There is scarcely a better place to be looking for over-excitement; a key indicator of mispricing. 
While often regarded as the "wild west" of the investing world, there are certainly unique insights available. If you choose to venture into the forums yourself, the following short glossary will give you a head start on the key terms and the subculture you're likely to encounter.
Glossary 

De-Ramper: An individual or organisation attempting to manipulate market price downwards. Frequently used to describe forum users detracting from a company's performance, or disagreeing with another user's stock push.
DYOR: Do your own research
GLTAH: Good luck to all holders

HotCopper: 'Australia's largest stock trading and investment forum'

(To the) moon: Often used as a verb, this indicates an asset likely to grow rapidly.

Ramper: An individual or organisation attempting to manipulate market price upwards. Frequently used to describe forum users pushing a stock idea.
Reddit: A website built to host subcommunities, each dedicated to particular topics. Communities exist on Reddit focused on investing in a wide range of international and domestic markets. (including r/wallstreetbets, and its Australian variant r/asxbets)
Never miss an insight
If you're not an existing Livewire subscriber you can sign up to get free access to investment ideas and strategies from Australia's leading investors.
And you can follow my profile to stay up to date with other wires as they're published – don't forget to give them a "like". 
Never miss an update
Enjoy this wire? Hit the 'like' button to let us know. Stay up to date with my current content by
following me
below and you'll be notified every time I post a wire
Welcome to Livewire, Australia's most trusted source of investment insights and analysis.
---
To continue reading this wire and get unlimited access to Livewire, join for free now and become a more informed and confident investor.
Will is a Content Editor at Livewire Markets and studies Actuarial Studies & Mathematics (Honours) at UNSW. Previously he worked in the analytics team at Fitch Ratings covering residential mortgage and asset-backed securities.
---

Never miss an update
Get the latest insights from me in your inbox when they're published.
---
---
Will is a Content Editor at Livewire Markets and studies Actuarial Studies & Mathematics (Honours) at UNSW. Previously he worked in the analytics team at Fitch Ratings covering residential mortgage and asset-backed securities.
Expertise
Will is a Content Editor at Livewire Markets and studies Actuarial Studies & Mathematics (Honours) at UNSW. Previously he worked in the analytics team at Fitch Ratings covering residential mortgage and asset-backed securities.
Expertise