The ASX company with a $420 million outlook
---
Healthcare is a tough space in which to win. With high barriers to entry and many problems to solve, finding and dominating your niche can be one of the many challenges these companies face. But one Australian company has been enjoying the fruits of its labour... And then some. 
This year alone, earnings margins are up by more than two-thirds and shareholders are getting a significantly fatter dividend. All this, and management have happily told stakeholders that the future pipeline is looking bright.
It's so solid that they have predicted $420 million in forward revenues coming over the next five years.
Pro Medicus (ASX: PME) has overcome years of growing pains and now has a slew of multi-year contracts on the go. In the last year, three new contracts worth $100 million were signed. The figure doesn't even count the contract renewals yet to come, nor the existing revenues from deals not up for renegotiation.
So what is the secret to this homegrown success story? And can shares really go higher after peaking at all-time highs only last year? In this wire, we'll examine those questions and many more with Lakehouse Capital's Donny Buchanan.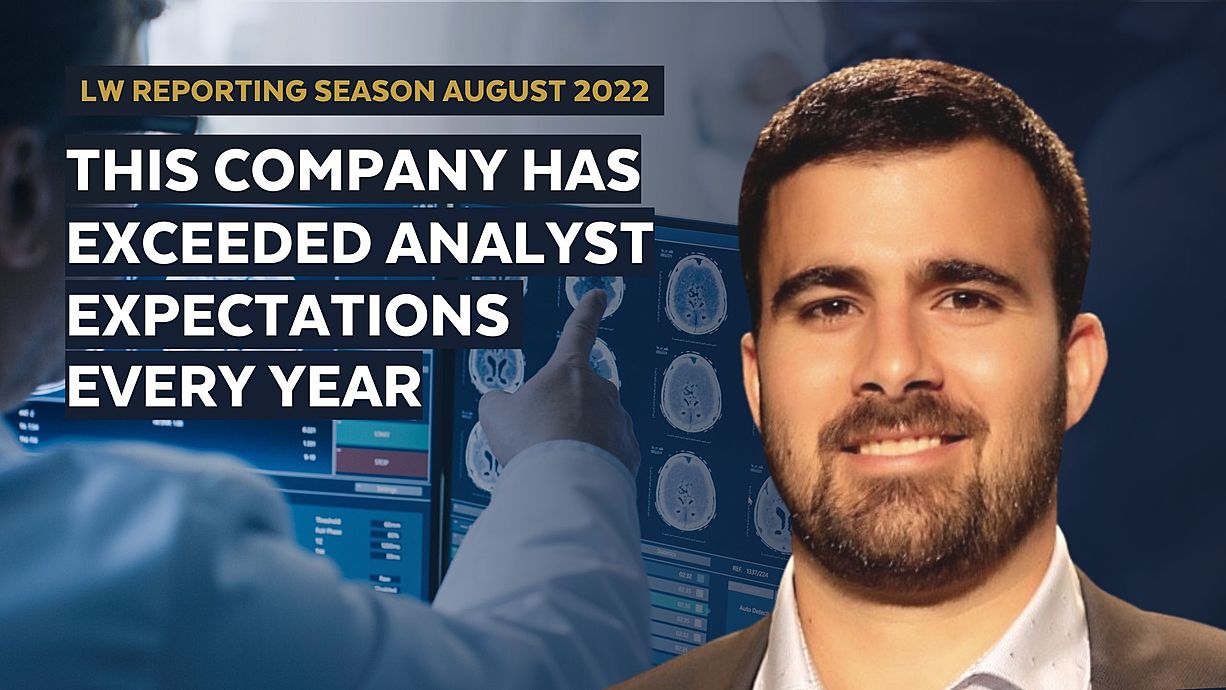 Pro Medicus (ASX: PME) FY22 KEY RESULTS
Revenues up 37.7% to $$93.5 million
Net profit up 44% to $44.4 million
Cash on the balance sheet of $90.6 million
Final dividend of 12 cents a share
Note: This interview took place on Thursday, August 18th 2022. This stock is a top holding in the Lakehouse Capital Small Companies Fund. Buchanan has analysed the stock for more than six years, and Pro Medicus has been a part of the portfolio since 2016. However, it is not currently a major holding.

Managed Fund
Lakehouse Small Companies Fund
Australian Shares
What were the key takeaways from this result? What surprised you the most?
The business is executing very well - and cloud adoption has been accelerated as a result of COVID for the healthcare industry. It's all really playing into Pro Medicus' hands. They're gaining traction in their other products outside of the core Visage platform and they're still very early in their journey and doing a great job. 
CEO Dr Sam Hupert was asked on the analyst call today how penetrated the business is in North America. He reckons it's about 5%, and that's based on five million radiology exams a year. But he was quick to note the market continues to grow, and it could be as big as 650 million now. It's certainly got a long way to go. They only had 9 of the top 20 hospitals, so there are another 11 to go and they have the market-leading product. They can still also go for the regional hospitals, which they've had some good traction recently.
What surprised me the most is the continued widening of the earnings margin. Almost 67 cents of every dollar is falling into the pre-tax profit line, and that's up from 47 cents five years ago. 
The operating leverage in this business is quite incredible, and I'm surprised it's still playing out at this level. It continues to exceed my expectations every year, especially at the bottom line. 
What was the market's reaction to this result? Was this an overreaction, an under-reaction or appropriate?

For some context, the Small Ordinaries index was down 1.2% today, but Pro Medicus was up 0.8% today. You could categorise that it was a positive reaction. It feels about right to me, marginally ahead of expectations. I liked everything about the result, but the price remains the challenge. It's long been the case.
Would you buy, hold or sell Pro Medicus on the back of these results?
Rating: HOLD
I would hold - the competitive position has strengthened and the optionality has grown across the business. The management team are executing well.
Sam was buying back shares in the high-30s to mid-40s. We're 20-25% above that now. We really like the outlook for the business and there's upside potential still. Sam's got a good track record and is proven in capital allocation. Investors would do well to pay attention to the guy who has known the business the longest.
What's your outlook on Pro Medicus and its sector over FY23?
As a general rule, it's less susceptible to inflationary and macroeconomic factors than some of the other sectors. That's a big focus for the market at the moment. For Pro Medicus, the core value prop here is that there's been an absolute explosion in data and file size. There's just a proliferation of data as camera technology has improved significantly. Handling those files is a challenge. 
Do I think radiologists will take more and if there is a place for AI in assisting their work and do I think there is a use case for cardiologists in the platform? The answer's yes, and I think there will be the big structural tailwinds that will drive Pro Medicus from here.
Are there any risks to this company and its sector that investors should be aware of given the current market environment?
There are fewer external risks here than the average company on the ASX. The risk here is around sentiment toward long-duration companies, which Pro Medicus is. It's got a very long growth runway and holders and buyers at these prices need to be comfortable in its long-term competitive position.
From 1-5, where 1 is cheap and 5 is expensive, how much value are you seeing in the market right now? Are you excited or are you cautious on the market in general?
Rating: 2.5
I'd say a 2-3. We're not in the depths of doom and gloom. We've had a pretty heavy selloff over the last nine to ten months for long-duration companies. But we're still seeing plenty of good opportunities. It's a good environment for stock picking. Periods of gloom and uncertainty always look like good opportunities in hindsight. We're not in the depths of that, but I think we'll look back on this period as a good time for investors to be putting capital to work.

---
Catch all of our August 2022 Reporting Season coverage
The Livewire Team is working with our contributors to provide coverage of a selection of stocks this reporting season. You can access all of our reporting season content by clicking here.
........
Donny Buchanan holds shares in ProMedicus and is also the Portfolio Manager and holder of units in the Lakehouse Small Companies Fund, which owns shares in ProMedicus. Livewire gives readers access to information and educational content provided by financial services professionals and companies ("Livewire Contributors"). Livewire does not operate under an Australian financial services licence and relies on the exemption available under section 911A(2)(eb) of the Corporations Act 2001 (Cth) in respect of any advice given. Any advice on this site is general in nature and does not take into consideration your objectives, financial situation or needs. Before making a decision please consider these and any relevant Product Disclosure Statement. Livewire has commercial relationships with some Livewire Contributors.
---
Content Editor
Livewire Markets
Hans is a content editor at Livewire. He is the presenter of Signal or Noise, and chief writer of Charts and Caffeine. Although economics is his first love, he has been known to write the odd stocks or global markets feature.
Expertise