The 'Big Four' versus 'Big Tech'...
---
Small and medium-sized fintechs could struggle to compete with Australia's large banks. However, the global tech giants could cause major problems for the banks - if they targeted wide spread general commercial banking.
Whether they will is another question. We doubt shareholders of the large tech companies would support their rapid growth business shifting into slow growth, mature industries. So, while we see it as unlikely, it remains a potential risk to consider. 
The table below outline key financial metrics for large tech companies. What is clear is they have the financial resources and credit ratings to fund an attack on the Australian banking landscape. It also compares the valuation metrics of the two groups, that is, the price to book and price earnings ratios. Here the market clearly believes that the tech companies have better profit growth prospects than the banks. Therefore, why would shareholders want them to chase mass market banking and risk their share prices falling?
Would they want to distract management away from areas where they have an edge and into a market where they bring no clear advantage? Do they want to enter the regulatory hell that banks now endure? We suspect these issues should keep the tech giants away from having a serious crack at the Australian banking market
Competition – same but different
Australian banks have long been under the threat of disruption. Over 30 years ago, the Australian banking system was opened to foreigners. Since then, the major Australian Banks have managed to fend off the world's largest and strongest banks – and remain among the most profitable in world. Today, over 30 years after deregulation, foreign banks in total have around a combined market share of just 10%.
Likewise, the mortgage business too has long withstood disruption. Mortgage originators have disintermediated the banks and raised funding via the mortgage backed security market for years in Australia. Yet the banks managed to still carve out super-sized profits.
Sure, the Big 4 will lose customers due to disruption. New entrants will undercut banks on some loans. Margins will narrow as both lending and deposit platforms inevitably grow.
The major banks, however, will react. The latest annual profits combined totaled was $31.5b. The average return on equity of just under 14%. They have the resources and motivation to protect their market share.
For example, three of the Big 4 have joined forces for a new payment app for phones known as "Beem". The plan is to allow retail and business customers to make payments and transfer money to each instantly. This digital wallet will be open to customers of any bank and users of any smartphone. If successful, it will be another small step for banks to protect their turf from tech companies.
Also expect more non-traditional financial services owned by banks to be shed. Either these generate lower returns on equity than core banking or the businesses do not have similar competitive resilience against technology driven disruption
Credit same, view same
Australian bank margins may come under pressure in the coming years. Banks could also lose market share. This could impact on bank equity valuations. Overall, though, we see disruption as a modest threat to the credit risk of major Australia banks.
---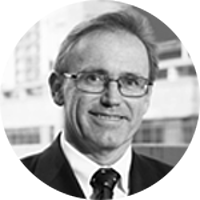 Spectrum Asset Management
Damien has around 25 years of experience in global credit markets. He has worked in Sydney, London, Hong Kong and Singapore. Much of Damien's experience was gained from working with Credit Suisse both in Singapore and Sydney where he was Head of ...
Expertise