The companies to power through 2022's headwinds
---
Labour shortages, supply chain chaos, headline-grabbing inflation, tightening monetary policy, potential war in Ukraine... Where to invest safely? Which companies will best deal with the daunting list of challenges that lie ahead in 2022? The answer may be those that powered through the headwinds of the last two years.
To many, the 2020-2021 period was defined by working from home, online shopping, holidays not taken or perhaps Zoom fatigue. To me, a defining feature of the last two years was the way in which the best businesses pulled away from their peers. 
Tough conditions act as a separator: they amplify the differences between the best and the rest. 
When I am road cycling, which I do a few mornings a week, the difference in speed between the better riders and the average ones on a downhill stretch might be 25%. But on a testing uphill stretch, the strong riders will outpace the pack by 100% or more.
The best businesses didn't navigate through one challenge over 2020 and 2021 only to get floored by the next. They powered through all of them. This tells us that their foundations of competitive success are deep rooted. 
We can see this phenomenon exhibited in three companies held in the Aoris portfolio – L'Oréal, Costco and LVMH - each of which accelerated their market share gains over the last two years.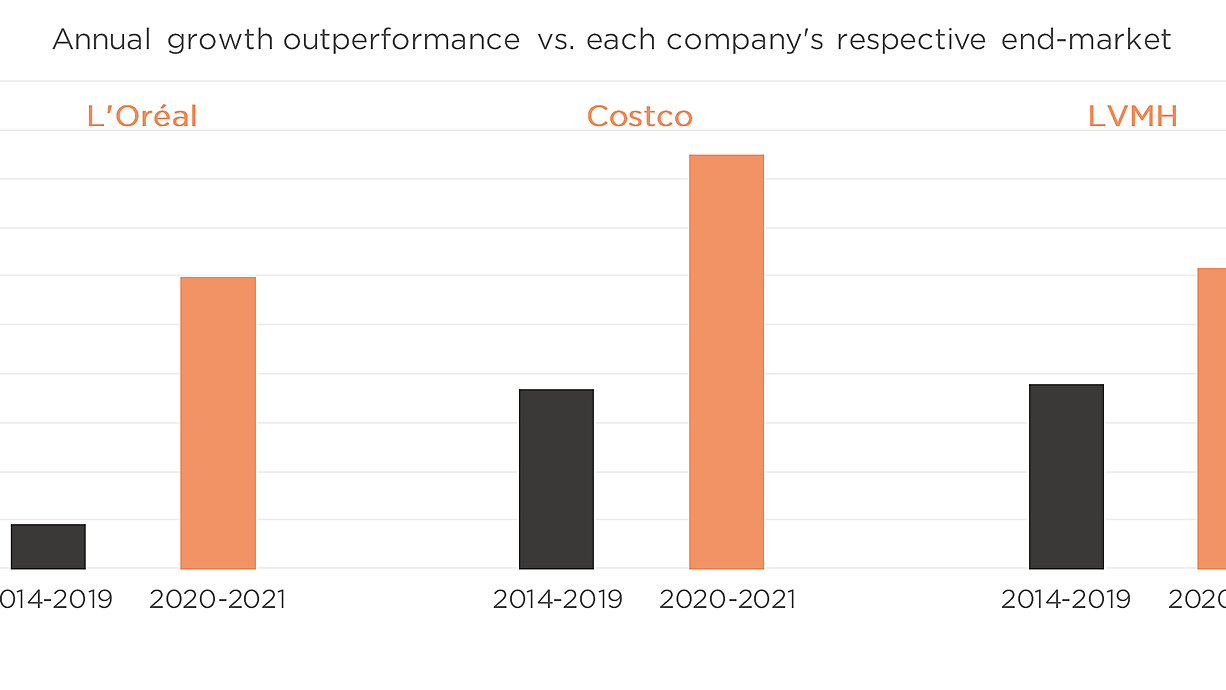 What are the defining attributes that enabled these exceptional companies to power through the challenges of 2020 and 2021?
1. Growth
A competitively winning, growing company is enormously advantaged in a tight labour market. Such a business offers employees the prospect of promotions and career advancement that its peers can't match.
2. Size and scale
Competitively winning businesses are often the largest in their respective markets. With this comes size and scale advantages that can be very powerful during a period of supply chain disruption and inflation. They are in an enviable position relative to their peers in procuring scarce products and in negotiating better terms when prices are rising.
3. Trusted brand
In a highly uncertain environment, where many people feel their health and livelihood is at risk, trust becomes even more important. Leading companies, who are in that position because their customers and employees trust them, have an outsized competitive advantage during periods of stress.
4. Culture and management mindset
Companies with the number one position in their market, who have outlasted and outgrown their competitors over many years, have often achieved that position through long-term thinking. In a fearful environment, when many companies pull back on their investments to protect near-term profits, a longer-term mindset can be a trump card. A willingness to stay the course and continue to recruit, invest in people and training, pay employees well, invest in their brand and product innovation, and go out of their way to help clients, can pay off enormously in the ensuing years.
So, where should investors look for businesses that will power through 2022's challenges? Will they be energy or big tech? Banks or consumer staples? China or the US? Maybe stocks trading on low price-to-earnings ratios are the place to be. Rather than think through the lens of the sector, geography, or even valuation, I believe that competitively winning companies that pulled away from their peers at a faster-than-normal rate during the challenges of 2020 and 2021 are a great place to be in 2022. 
Never miss an insight
Enjoy this wire? Hit the 'like' button to let us know. Stay up to date with my content by hitting the 'follow' button below and you'll be notified every time I post a wire.
Not already a Livewire member? Sign up today to get free access to investment ideas and strategies from Australia's leading investors.
........
This report has been prepared by Aoris Investment Management Pty Ltd ABN 11 621 586 552, AFSL No 507281 (Aoris), the investment manager of Aoris International Fund (Fund). The issuer of units in Aoris International Fund is the Fund's responsible entity The Trust Company (RE Services) Limited (ABN 45 003 278 831, AFSL License No 235150). The Product Disclosure Statement (PDS) contains all of the details of the offer. Copies of the PDS are available at aoris.com.au or can be obtained by contacting Aoris directly. Before making any decision to make or hold any investment in the Fund you should consider the PDS in full. The information provided does not take into account your investment objectives, financial situation or particular needs. You should consider your own investment objectives, financial situation and particular needs before acting upon any information provided and consider seeking advice from a financial advisor if necessary. You should not base an investment decision simply on past performance. Past performance is not an indicator of future performance. Returns are not guaranteed and so the value of an investment may rise or fall.
---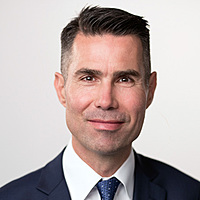 Managing Director & Chief Investment Officer
Aoris Investment Management
Stephen founded Aoris Investment Management in 2017 and has been investing internationally for around 25 years. Prior to Aoris, Stephen was Head of International Equities at Evans & Partners where he directly managed $1bn of client assets.
Expertise