The global economy is fragile
---
Looking ahead to 2020, the one thing investors cannot ignore is just how fragile the world economy actually is. While we are not forecasting an imminent global recession, our ongoing analysis suggests a rising probability of the inevitable.
Consider the notable challenges currently in train – with little sign of resolution:
A fatigued consumer complex that is experiencing the fading of one-off US tax cuts.
An extended US/China trade war that has crimped confidence and capital investment − global macro data worsening is likely.
South-east Asian export nations – the world's 'factory' that takes in nations like South Korea, Taiwan, Indonesia, Singapore – continue to materially deteriorate.
Some ten plus years on from the global financial crisis, financial markets are still discussing Quantitative Easing (QE).
An Australian economy that is highly linked to Chinese fortunes, a story structurally under sufferance. The RBA may apply QE. Should the RBA follow much of the developed world into a program of QE, the currency impacts will likely be profoundly negative.
Adjust the mindset
Investors need to adjust their mindset in this late-cycle environment for 2020 and beyond – what got you 'here' previously won't necessarily get you 'there' moving forward.
A greater emphasis on defence in a lower-return environment (alongside with higher volatility) will provide much-needed balance against a wide dispersion of possibilities ahead. In this 'defensive' conversation, high-grade sovereign bonds may provide liquidity, stable income and capital preservation against market volatility.
In this late-cycle stage, high-quality assets such as AAA-rated sovereign bonds can play a role in mitigating risk by diversifying portfolios. Additionally, the returns over time and compounding income (see figure 1) mean high grade bonds, whilst offsetting higher risk exposures have performed well for investors.
Figure 1: AAA-rated countries' 10-year yields and calendar year total returns in local currency. 
Source: JCB team analysis using data from Bloomberg.

Investors should consider their portfolio asset allocation in these times of heightened uncertainty.
Finding quality and safety, and predictable yield in a world of negative interest rates will be paramount in helping investors through some potentially bumpy times ahead.  
Learn more
Stay up to date with our latest insights throughout 2020 by hitting the follow button below and you'll be notified every time we post a wire. 
This wire is part of the 'One thing investors can't ignore in 2020' series. To download the full ebook please click here.
---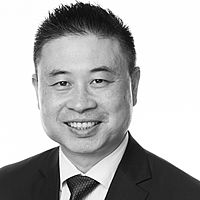 Head of Investment Strategy & Research
Jamieson Coote Bonds
Paul provides macro analysis and input as well as investment insight and research to benefit the security section process. Paul is a career investment researcher and portfolio manager across the US and Australasia.
Expertise