The importance of geographically dispersed portfolios
---
The old adage, never put all your eggs in one basket, couldn't be more true for real estate fund managers in today's COVID-impacted investment market. So, let's have a look into a few baskets.
In the first basket, there is the consideration for asset class diversification – industrial, healthcare, retail, hotel, alternative assets, and yes, offices. Some asset classes have performed better than others throughout this calendar year with industrial and healthcare really excelling. Having a mixture across different asset types helps mitigate risks in both the short and long-term.
In another basket, there's the often overlooked metric that is geographical diversification – this is the devil in the detail that can have a significant impact on investment returns, especially in today's environment.
The National Cabinet has helped guide the nation through this current pandemic but it's each state's own jurisdiction that can dictate interstate border controls and business operational restrictions, which subsequently can have a significant economic impact.
Take Victoria. In the year 2018-2019 it had growth in Gross State Product (GSP) of 3% [1], significantly outperforming Australia's Gross Domestic Product (GDP) growth rate of 1.9% [1]. However, due to the impact of the second COVID-inflicted lockdown, its economic contribution to the nation is likely to be severely hampered when the 2019-2020 GSP results are published next month. It can easily be argued all asset classes within Victoria have been more impacted than other states and territories.
So, if your property investment portfolio was diversified by different asset classes but those assets are weighted in Victoria, this could have a detrimental impact on your returns.
Getting back to that devil – geographically dispersed assets.
JLL recently examined the national office market – a sector many have turned their nose-up to since March when we were sent home to work. The results of the research are intriguing as they show substantial variation in the performance of different geographic office markets, with the poorest performers being the Sydney and Melbourne CBD's, while markets like Canberra and the Sydney Fringe performed comparatively well.
Net absorption is the best proxy for tenant demand within the office markets. Year-on-year between Q3 2019 and Q3 2020 net absorption was the lowest in Sydney's CBD (-267,195sqm) [2] and Melbourne's CBD (-108,906sqm) [2]. Conversely, the Sydney Fringe showed the highest net absorption (+48,572sqm) [2] followed by Canberra (+29,408sqm) [2].
Sydney and Melbourne CBD office markets represent only c.37% of office stock across Australia by square metres [3], and many peers' office portfolios seek a heavy weighting to these markets. While this stock garners the most attention, there is a wider investable market outside these CBDs. The wider market also lends itself to more affordable rents, which is a rising key consideration for businesses as overheads are closely examined in this current recession.
What we find attractive about the Canberra market is that it's dominated by government and government-related tenants, which are resilient against economic impacts. Not only this, but this tenant profile generally expands in times of fiscal stimulus. So, in times like these, exposure to Canberra provides counter-cyclical upside to a diversified portfolio.
Australia's largest ASX-listed pure-play office REIT, Centuria Office REIT (ASX: COF) has no single market concentration and is evenly geographically dispersed throughout Australia. Moreover, more than 25% of its income is derived from government tenants (as at 30 June 2020).
So, when considering a fund or fund managers' performance, closer examination of the level of asset diversification would be wise.
---
[1]Australian Bureau of Statistics. Australian National Accounts: State Accounts. Key National Accounts Aggregates by state and territory.
........
Issued on 26/10/2020 by Centuria Property Funds Limited (CPFL) (ABN 11 086 553 639, AFSL 231 149), a wholly owned subsidiary of the Centuria Capital Group (CNI), responsible entity for the Centuria Office REIT (ARSN 124 364 718) (COF). The information in this article is general information only and does not take into account the financial circumstances, needs or objectives of any person. CPFL is the responsible entity of a number of unlisted property funds, each of which are issued under a product disclosure statement (PDS) that is available on CNI's website for all funds open for investment. An investment in any of CPFL's property funds carries risks associated with an investment in direct property including the loss of income and capital invested. The risks relating to an investment are detailed in each Fund's PDS and CPFL strongly recommends that the PDS be downloaded and read before any investment decision is made. CCPFL receives fees from investments in its property funds CA-CNI-23/10/20-001203.
---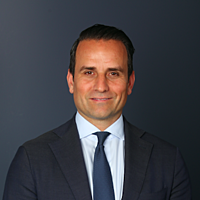 Joint CEO
Centuria Capital Limited
Jason Huljich's 24-year real estate career spans the Australian commercial and industrial real estate sectors. He co-founded Centuria Capital, with Joint CEO, John McBain. Jason collectively oversees $16.8 billion of AUM (as at 23 June 2021) and...
Expertise