The Inflation Reduction Act will drive the United States' efforts towards net-zero
---
What is the Inflation Reduction Act?
On 16 August 2022, President Biden signed the Inflation Reduction Act (IRA) into law having passed through Congress based on the Democrats holding a majority in both houses. The IRA includes US$369 billion in climate and energy spending, the largest energy transition-focused spending package ever in the US. It's expected to put the US on track to achieve a 40% greenhouse gas (GHG) reduction against 2005 levels by 2030[1] – which is still a little off Biden's communicated target of a 50-52% reduction[2].
In this article, we outline some of the benefits included in the IRA spending package, and how they support infrastructure investment names in 4D's universe.
Background to the legislation
The components within the IRA were derived from the larger legislative package proposed by the Democrats, the Build Back Better Act (BBB), which was abandoned due to its perceived impact on the budget deficit. Moderate Democrat senator, Rep Manchin, was a key objector to BBB, but was convinced of the merits of the IRA and had the deciding vote in pushing the legislation through the Senate and signed into law.
What is included in the package?
The IRA spending package incorporates a number of high-level targets, with spending allocated to each. These goals include[3]:
Lower consumer energy costs through energy rebates and energy efficiency grants
Ensure American energy security and support domestic manufacturing on clean/renewable energy technology components
Decarbonise the economy through supporting private investment
Invest in communities and support environmental justice in lower socio-economic communities
Support sustainability measures for farmers, forestland owners and resilient rural communities.
The spending package is primarily financed through the establishment of a new minimum corporate tax rate of 15%, and increased powers of the Internal Revenues Service (IRS) to enforce tax payment.
Specific support mechanisms to assist in facilitating the energy transition process are included in the table below. These are intended to improve the economics of clean/renewable energy production to incentivise their adoption. This is not an exhaustive list of mechanisms included in the IRA.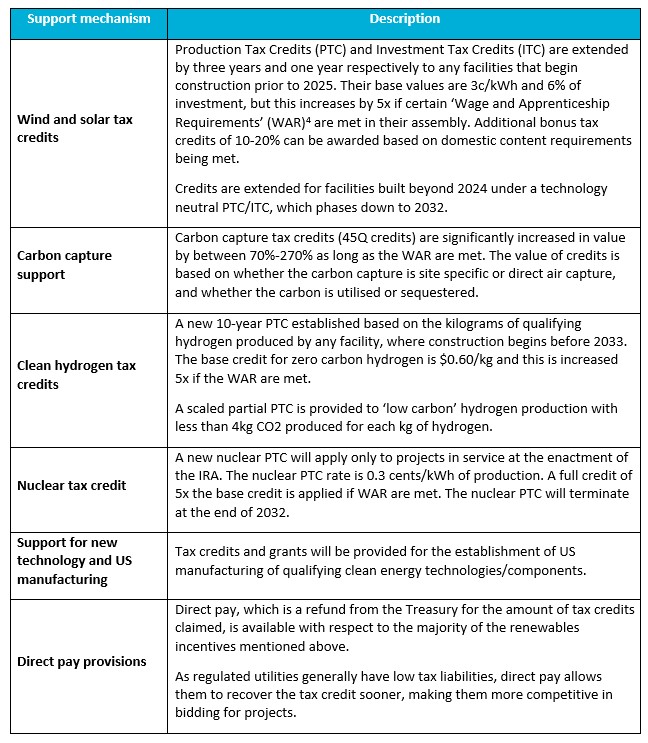 Benefits for US infrastructure-focused companies
The IRA improves the economics of clean/renewable energy production for utilities and contracted generation companies in 4D's investment universe. This in turn improves their competitiveness, fast tracks investment and theoretically boosts earnings growth. It should also reduce the cost of energy for the end customer through the application of regulation or competitive dynamics.
Regulated energy production
Regulation sets the level of returns that utilities can earn on renewable and clean energy investments. Therefore, the improved economics of renewables and clean energy production facilitated through the IRA is passed onto customers through lower energy bills. This improved customer affordability and bill headroom allows utilities to increase the level of investment in the energy transition and grid support, while maintaining affordability. This increased investment is expected to improve earnings growth.
Specific regulated utility companies that are likely to benefit from mechanisms included in the IRA include American Electric Power (AEP-US), CMS Corp (CMS-US) and Portland General Electric (POR-US).
Contracted energy production
For contracted generation companies or companies that produce clean energy fuels (clean hydrogen, carbon capture) under long-term contractual arrangements, the IRA should result in improved returns. Although, depending on the intensity of competition, these improved returns could be diminished in exchange for lower energy costs for customers. All scenarios should incentivise increased investment and growth for companies.
A number of large European-based renewable/clean energy developers have indicated optimism associated with the IRA including Enel SpA (ENEL-MI), Energias de Portugal SA (EDP-LS) and Iberdrola SA (IBE-ES). A standout US contracted generation developer which is likely to benefit from the IRA is NextEra Energy (NEE-US).
Midstream oil/gas
Midstream companies which are attempting to extend the longevity of their business model by diversifying away from fossil-based commodities to clean fuels such as biofuels, renewable diesel, renewable natural gas, low/no carbon hydrogen and facilitating carbon capture, are likely to have more investment opportunities due to the IRA. The tax credits, rebates, and grants supporting these newer clean fuels improve their economics, making them a more attractive (and realistic) investment proposition.
Midstream names such as Kinder Morgan Inc (KMI-US) are going to benefit from the improved carbon capture tax credits, while Enbridge Inc (ENB-CN) investment opportunities will improve through a number of clean energy credits.
Unknown impacts of the legislation
As outlined, the spending package is expected to be partially financed through the implementation of a minimum corporate tax rate. The impact on infrastructure companies' cash flow will depend on individual company factors but could have detrimental ramifications for some.
Conclusion
The IRA's passage into law is a major piece of legislation in supporting the US efforts to decarbonise its economy while supporting efforts to develop vertical supply chains for clean/renewable energy in the US. The many support mechanisms included in the legislation primarily improve the economics of clean/renewable energy, and reduce the end cost for customers. Specific infrastructure companies in 4D's investment portfolio that are likely to benefit from the legislation include NextEra, American Electric Power, Enel, CMS Corp, Iberdrola and Kinder Morgan.
---
[1] Environmental and Energy Study Institute: Historic US$369 Billion Investment in Climate Solutions Preserves a Pathway to Keep Global Warming Below 1.5°C – 16 August 2022
[2] President Biden Sets 2030 Greenhouse Gas Pollution Reduction Target Aimed at Creating Good-Paying Union Jobs and Securing U.S. Leadership on Clean Energy Technologies – 22 April 2022
[3] Summary of the Energy Security and Climate Change Investments in the Inflation Reduction Act of 2022 
[4] The Wage and Apprenticeship Requirements are measures which aim to ensure that 1) contractors and subcontractors are paid in line with commensurate job wage requirements; and 2) a proportion of the workforce are filled by qualified apprentices.
........
The content contained in this wire represents the opinions of the authors. The authors may hold either long or short positions in securities of various companies discussed in the article. This commentary in no way constitutes a solicitation of business or investment advice. It is intended solely as an avenue for the authors to express their personal views on investing and for the entertainment of the reader. This information is issued by Bennelong Funds Management Ltd (ABN 39 111 214 085, AFSL 296806) (BFML) in relation to the 4D Global Infrastructure Fund (AUD Hedged), the 4D Global Infrastructure Fund (Unhedged) and the 4D Emerging Markets Infrastructure Fund. The Funds are managed by 4D Infrastructure, a Bennelong boutique. This is general information only, and does not constitute financial, tax or legal advice or an offer or solicitation to subscribe for units in any fund of which BFML is the Trustee or Responsible Entity (Bennelong Fund). This information has been prepared without taking account of your objectives, financial situation or needs. Before acting on the information or deciding whether to acquire or hold a product, you should consider the appropriateness of the information based on your own objectives, financial situation or needs or consult a professional adviser. You should also consider the relevant Information Memorandum (IM) and or Product Disclosure Statement (PDS) which is available on the BFML website, bennelongfunds.com, or by phoning 1800 895 388 (AU) or 0800 442 304 (NZ). Information about the Target Market Determinations (TMDs) for the Bennelong Funds is available on the BFML website. BFML may receive management and or performance fees from the Bennelong Funds, details of which are also set out in the current IM and or PDS. BFML and the Bennelong Funds, their affiliates and associates accept no liability for any inaccurate, incomplete or omitted information of any kind or any losses caused by using this information. All investments carry risks. There can be no assurance that any Bennelong Fund will achieve its targeted rate of return and no guarantee against loss resulting from an investment in any Bennelong Fund. Past fund performance is not indicative of future performance. Information is current as at the date of this article. 4D Infrastructure Pty Ltd (ABN 26 604 979 259) is a Corporate Authorised Representative of BFML
---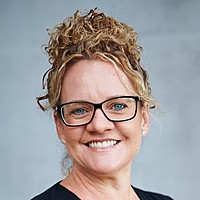 Global Portfolio Manager and Chief Investment Officer
4D Infrastructure
Sarah has almost 30 years of experience across financial services, including 20 years focused on global listed infrastructure. She is an experienced portfolio manager, having successfully launched and managed several listed infrastructure funds...
Expertise