The Match Out: ASX consolidates recent gains, US interest rate decision tonight, Goodman (ASX:GMG) slides on quarterly update
---
The ASX consolidated recent gains today, chopping around in a tight trading range having pushed above 7000 early on - ultimately a solid session given the 113pts we added yesterday taking the bounce back from the October low to more than 9%. Banks have been the big driver in recent times, and while we remain bullish on the space as detailed this morning, it seems like the easy money is now behind us as we run into dividends for three of the majors.
The ASX 200 finished up +9pts/ +0.14% at 6986
The Material sector was best on ground (+1.13%) while Energy (+1.12%) & Utilities (+0.34%) were also strong.
Real Estate (-1.64%) and IT (-1.34%) the weakest links.
Lead Portfolio Manager James Gerrish was on Ausbiz this morning talking about 3 dividend stocks (outside the banks) that MM likes (and owns) – Watch Here
The 2-day US FOMC meeting is underway with the interest rate decision out tomorrow morning. The market is fully pricing a 75bps increase in November, and another 60bps in December.
Locally, housing finance approvals fell 8.2% in September and stripping out investors, owner-occupier loans were even weaker down 9.3%.
Goodman Group (ASX: GMG) -3.06%fell as they reconfirmed FY23 guidance while talking to challenging conditions – bond yields were up so property stocks were down.
Strandline (ASX: STA) +2.47% that processing of ore at their Coburn mineral sands project in WA has commenced.
Amcor (ASX: AMC) -4.3% fell on a trading update and re-confirmation of FY23 guidance, the largest manufacturer of consumer packaging in the world pushed through $640mn worth of price rises in 3 months and talked to solid demand.
AGL Energy (ASX: AGL) +1.54% edged higher as Grok continued to apply pressure on the board ahead of their AGM on 15th November.
Iron Ore was ~2% higher in Asia today supporting Iron Ore stocks.
Coal Futures in Singapore are trading $US361/tonne, up around 1.4%.
Gold was up overnight and edged higher today in Asia, currently trading ~US$1651
Asian stocks were mostly higher Hong Kong up +1.74, Japan flat while China added +0.88%
US Futures are all higher, up ~0.30%.
ASX200 chart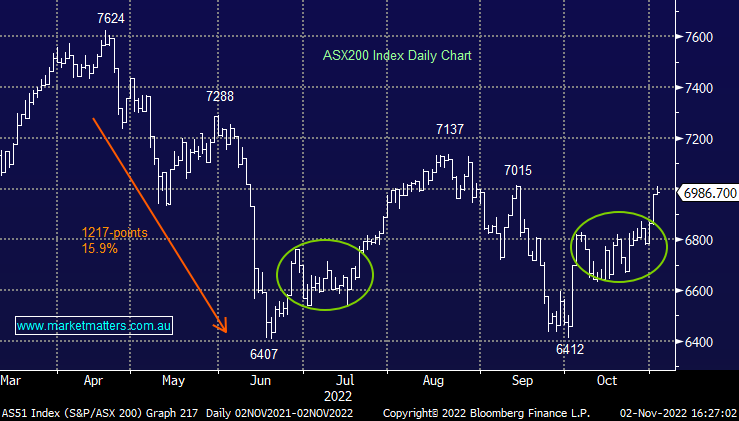 Goodman Group (ASX: GMG) $17.11
GMG -3.06%: The integrated industrial property group gave a 1Q trading update this morning reconfirming prior guidance as is customary so early on in the year for EPS growth of 11% and a distribution per security of 30c. They did highlight the challenging environment which is likely why the stock was down, although bond yields also ticked higher today which hit the property sector more broadly. Key comments made in today's update were…
Customer demand for space continues to be supported by structural drivers such as e-commerce, productivity improvement through supply chain optimisation and investment in automation and technology
Ongoing growth in data storage requirements globally
Sees work in progress (WIP) to remain strong in FY23
Actively considering strategic opportunities around the world that are aligned with its strategy, while remaining patient and cautious, looking to only implement opportunities that provide deep value.
Goodman Group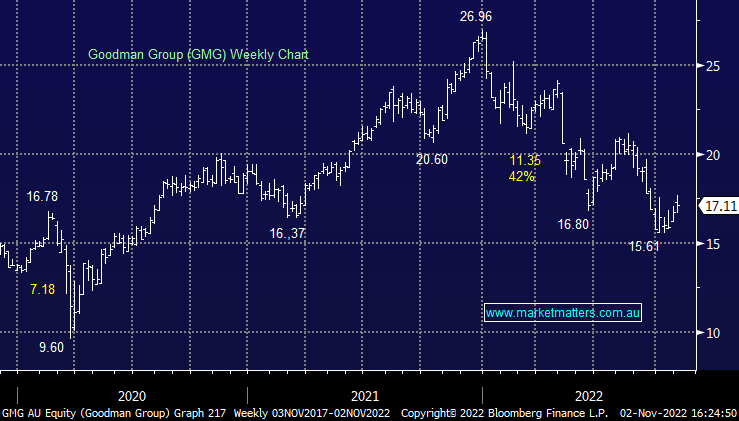 Strandline (ASX: STA) 41.5c
STA +2.47%: the company's Coburn project in WA is up and running, announcing that the first ore has been put through the wet concentrator. The minerals sands operation looks set to deliver its first shipment early next calendar year as the company works to finalize the mineral separation plant to further process ore. While Coburn continues to hit targets, the company is also working on developing two projects in Tanzania which could add further value.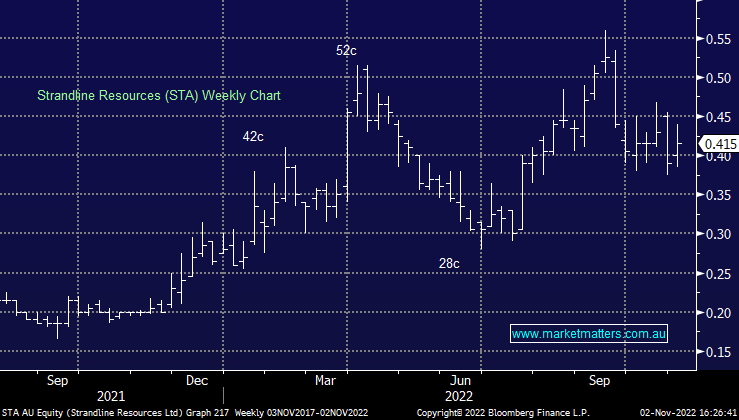 Broker moves
OM Holdings Rated New Buy at Foster Stockbroking; PT A$1.60
Bionomics ADRs Rated New Buy at Loop Capital; PT $23
Macquarie Telecom Rated New Neutral at Goldman; PT A$64.60
Dicker Data Rated New Neutral at Goldman; PT A$12.25
Major movers today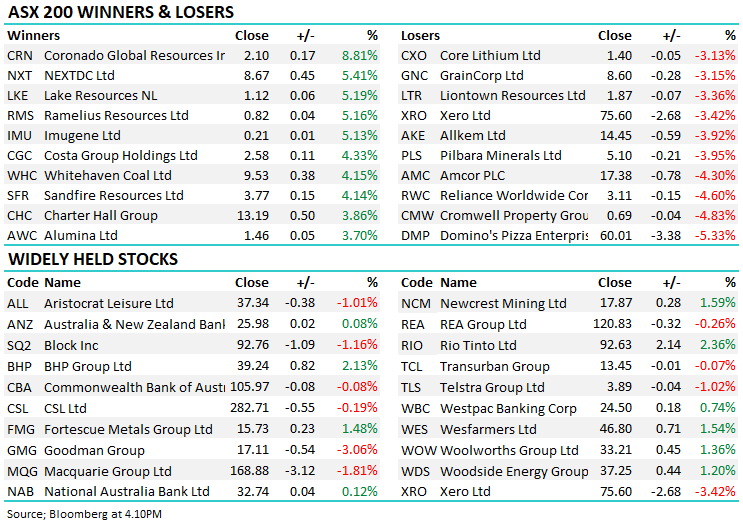 Make informed investment decisions
At Market Matters, we write a straight-talking, concise, twice daily note about our experiences, the stocks we like, the stocks we don't, the themes that you should be across and the risks as we see them. Click here for your free trial.
The Match Out will be available each day after the market close. Follow my profile to be notified when the latest report is live.