The Match Out: ASX down smalls, Magellan (MFG) hit again, ANZ trading update a touch soft
---
A very volatile Monday for the ASX with the market down sharply (-74pts) early on only to claw back the bulk of the decline by the close to finish only a few points into the red. The financials were soft following ANZ's update while the travel stocks enjoyed clarity around border openings with Australia set to open up to fully vaccinated travellers on 21st February.
The ASX 200 finished down -9pts/-0.13% at 7110.
The Energy sector (+1.59%) again the standout supported by the Materials (+0.78%).
Healthcare (-1.28%) and Property (-1.26%) the biggest drags.
China was back online today after a week long holiday – rallied +2%.
Travel stocks rallied on international boarder re-opening, Corporate Travel (ASX:CTD) +7% and Webjet (ASX:WEB) +6.17% the best of them, Qantas (ASX:QAN) +4.62%.
Magellan (ASX:MFG) -11.24%% was in the firing line again after Hamish Douglas took indefinite medical leave while a significant restructure was announced.
Bapcor (ASX:BAP) +2.16% rallied on takeover speculation although the company stayed tight lipped – should have rallied more.
ANZ -1.92% weaker on a soft quarterly trading update that showed margins under pressure – a messy result probably the key takeaway.
Appen (ASX:APX) -5.81% down on negative readthrough from Meta's (FB US) result in the US.
James Hardie (ASX:JHX) +2.02% beat on revenue but earnings inline with expectations and they increased FY23 NPAT guidance to be US$740-820m (vs consensus $754m).
More positive news in the agricultural space with GrainCorp (ASX:GNC) +12.34% ripping higher on guidance upgrade – a positive read through for the likes of Elders (ASX:ELD).
Iron Ore was higher today, up +3.5% defying the markets general pessimism towards Iron Ore prices.
Gold was flat at $US1809 at our close.
The majority of Asian markets were higher with China back online.
US Futures are largely flat.
ASX 200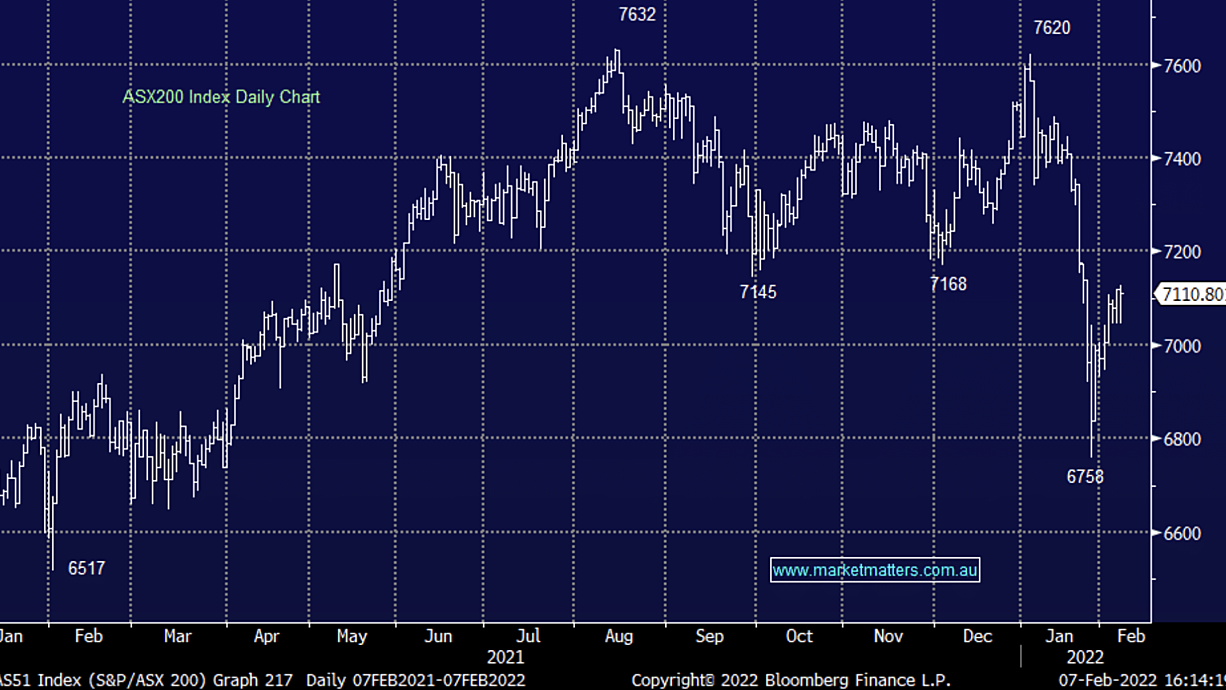 Magellan Financial Group $16.43

MFG -11.24%: The hits keep coming for MFG and today it was Hamish Douglas himself who is stepping aside for medical reasons and it's safe to say, he is unlikely to be back in the same form as Chairman and CIO of MFG in the future. Having said that, this could be exactly what MFG need to reduce the focus on one person and promote the wider Magellan team under new CIO Chris Mackay, who is very well respected. Chris co-founded MFG with Hamish back in 2006 however left amid rumours of a falling out. They have also got back Portfolio Manager Nikki Taylor and it seems pretty clear that MFG will now promote the depth of its team rather than the intellect of its front man. While the stock has been hit on the back of this, our view is a more positive one based on today's update. We own a small position in our income portfolio that we're down on – but we're holding.
MM is neutral MFG, continuing to hold in our Income Portfolio.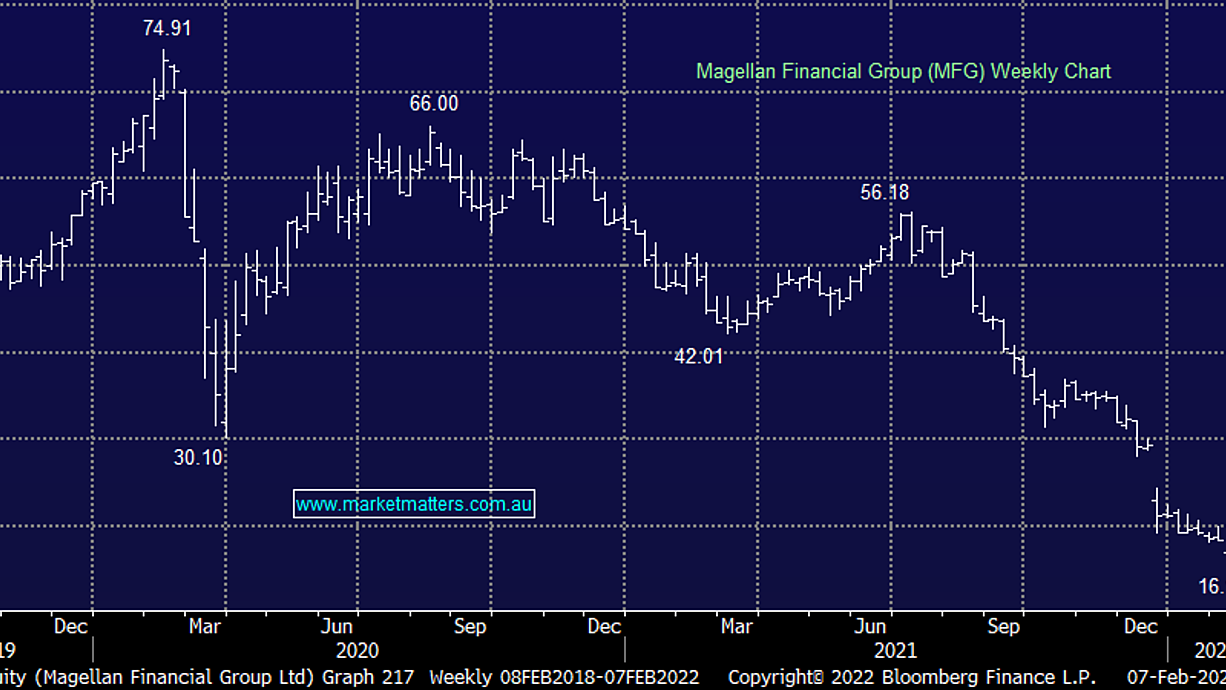 ANZ Bank $26.57
ANZ -1.92%: the second bank out with a trading update, ANZ disappointed on most fronts, weighing on the financials sector. Net Interest Margin (NIM) continued its slide, down 8bps vs the 2H21 average to just 1.57% in the quarter. They blamed a soft run rate heading into the quarter and noted NIM pressures were subsiding. A similar story in the markets business, having a soft start to the quarter but income improving in November and December. Costs were another key drag on the update. ANZ said operational costs were flat and investment costs rose whereas Westpac saw both fall substantially in the period. There were some small wins – provision release of $44m helped and the mortgage book growing marginally were the highlights. ANZ is two thirds of the way through a $1.5b buyback, and with a strong CET1 position of 11.65% they hinted to increasing the size if economic conditions continue to improve.
MM owns CBA, BOQ and VUK amongst the banks.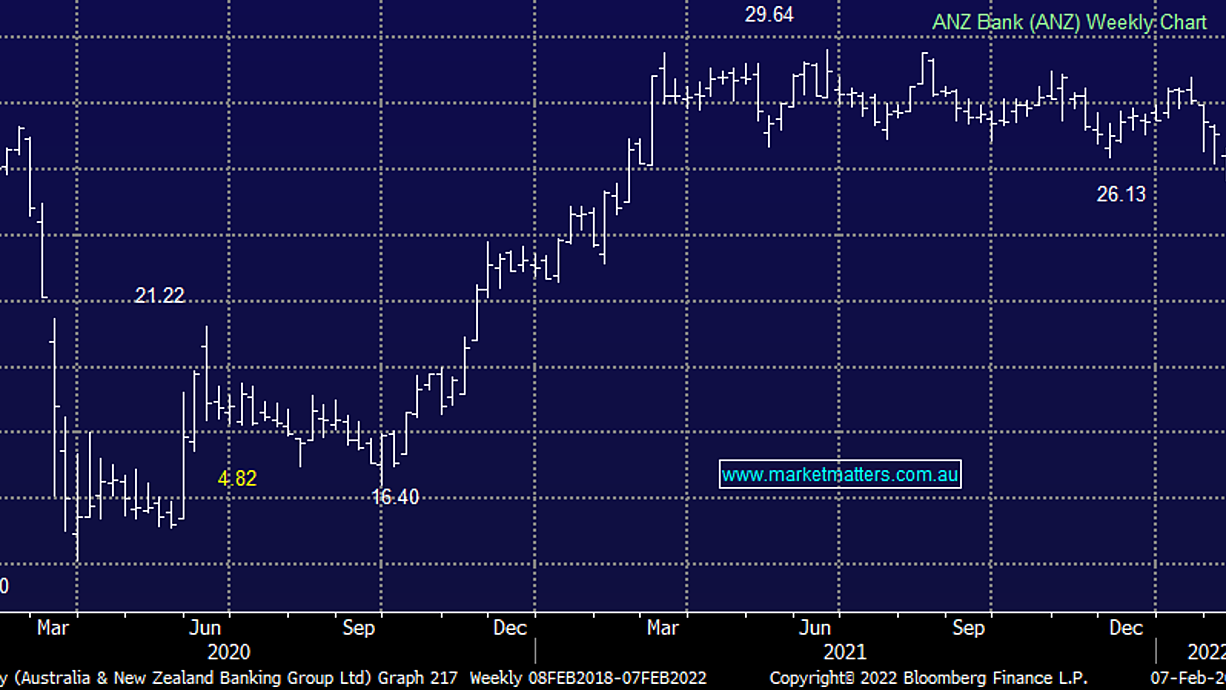 Broker Moves
Pro Medicus Raised to Buy at Bell Potter; PT A$55
Lendlease Raised to Overweight at JPMorgan; PT A$12.50
Antipa Rated New Buy at Shaw and Partners; PT 8 Australian cents
Major Movers Today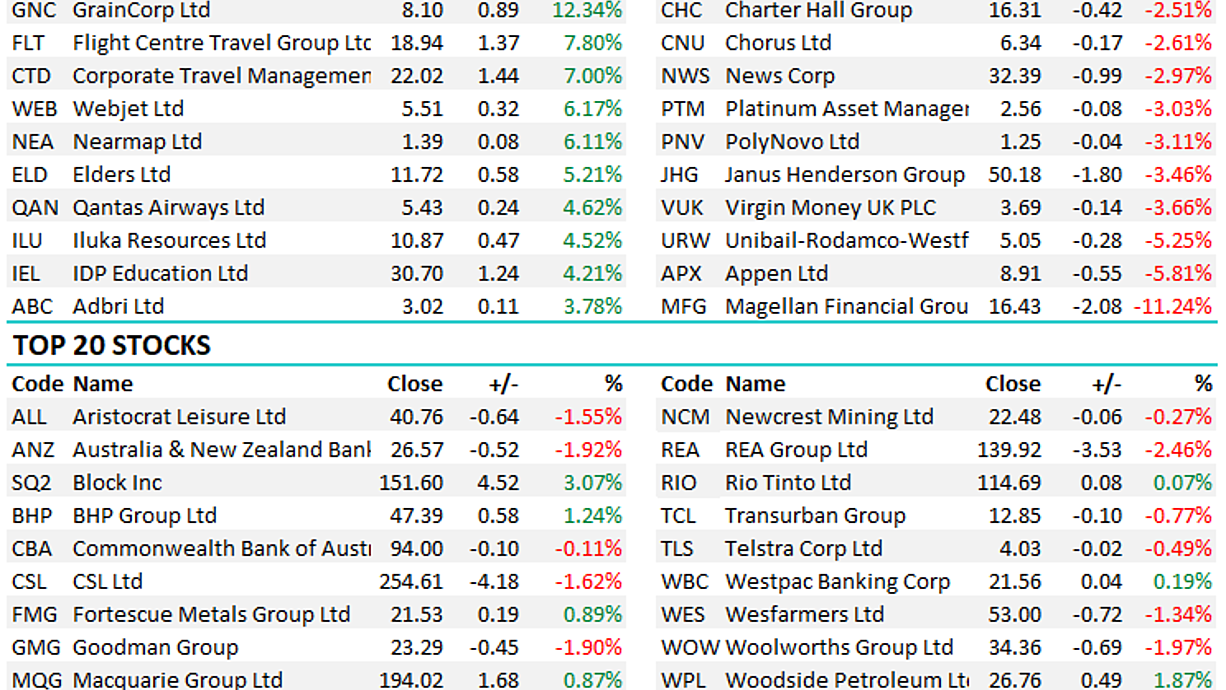 Have a great night
The Market Matters Team.
Make informed investment decisions
At Market Matters, we write a straight-talking, concise, twice daily note about our experiences, the stocks we like, the stocks we don't, the themes that you should be across and the risks as we see them. Click here for your free trial.
The Match Out will be available each day after the market close. Follow my profile to be notified when the latest report is live.