The Match Out: ASX edges higher, New CEO at Magellan, CSR tips more strength in construction
---
The market was in a holding pattern today ahead of important April inflation data in the US tonight – that number will likely drive the next leg up or down in bonds which will have a big bearing on equities. Looking at the volatility in the US market overnight (the Dow trading in an +/- 850 point range), it's fair to say that there is a lot of indecision - traders are jumping at shadows while there is clearly some pain being felt around the place forcing a de-risking of portfolios, another 50 point drop around our open this morning before a persistent recovery for the rest of the session screams of forced liquidation. Importantly, we don't need to play that game, instead, we'll focus on the companies within our portfolio's and simply ensure that we have the best composition of stocks to see us through this volatility – with a cool head!
The S&P/ASX 200 added +13 points / +0.19% to close at 7064.
Healthcare (+1.74%) & Property (+1.25%) were the standouts.
Financials (-1.08%) and IT (-0.62%) underperformed.
US Inflation due out at 10.30 pm our time tonight, US CPI YoY expected to be 8.1%, +0.2% MoM.
Australian consumer sentiment fell this month to the lowest level since August 2020, the combination of inflation and the prospect of faster interest-rate increases spooked households. The index dropped 5.6% to 90.4 points in May, indicating pessimists now far outnumber optimists! Pessimists never prevail…
Magellan (MFG) +2.3% today named its new CEO David George – a very good and well-respected hire coming from the Future Fund. A big job ahead.
Property stocks have been hit hard in recent times, a few starting to find a base. Lifestyle Communities (LIC) +15.09% finally responding to their trading update yesterday.
Link (LNK) -15.09% smashed on concerns with their suitor's finance raising the prospect that the takeover may fall over.
CSR +0.53% reported FY results that were inline with expectations.
Dicker Data (DDR) +1.63% provided a Q1 trading update that was solid.
Healius (HLS) -4.52% was knocked lower on a broker downgrade from CS
Xero (XRO) -1% lower ahead of results tomorrow – yesterday we said it was today, we were wrong.
Aussie Broadband (ABB) +4.95% gaining some traction after a difficult period. The sell-off here was an overreaction and we think ABB will grind higher.
Paladin (PDN) -1.45% trading at 68c is an opportunity. Uranium prices have held up however it looks like ETF selling has forced the stock lower. If we did not own, we would be a buyer sub 70c.
Macquarie (MQG) +1.17% also interesting into recent weakness – plenty of examples where MQG talk down the future only to under promise and over-deliver.
Iron ore futures bounced ~5% today.
Gold was down ~US$9 in Asian sitting back at US$1844/oz at our close.
Asian markets were mostly up, the Nikkei in Japan flat, Hong Kong stocks rallied +1.56% while China was up 1.8%
US Futures are higher, Dow +77pts, Nasdaq +0.66%.
ASX 200 Chart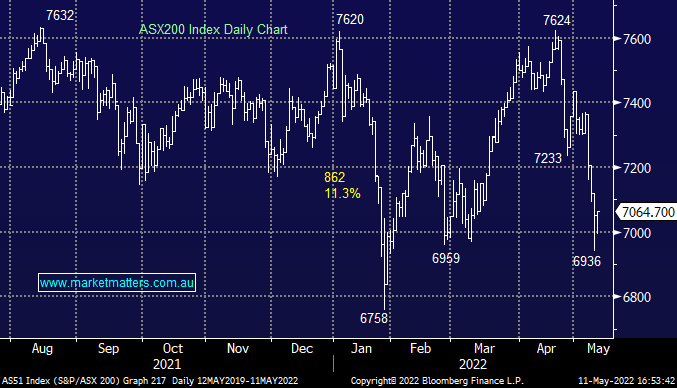 CSR Limited (CSR) $5.72
CSR +0.53%: Reported FY earnings this morning that were inline with expectations. NPAT of $192.6m was as expected and a +20% increase on the prior year while the final dividend of 18c was a slight beat. They talked to a strong pipeline of detached housing projects which is expected to continue in the year ahead as completion times lengthen with supply chain and trade capacity impacting the broader industry while activity in the apartment and non-residential markets has improved after an extended slowdown in the last few years. All in all, a solid update and guidance.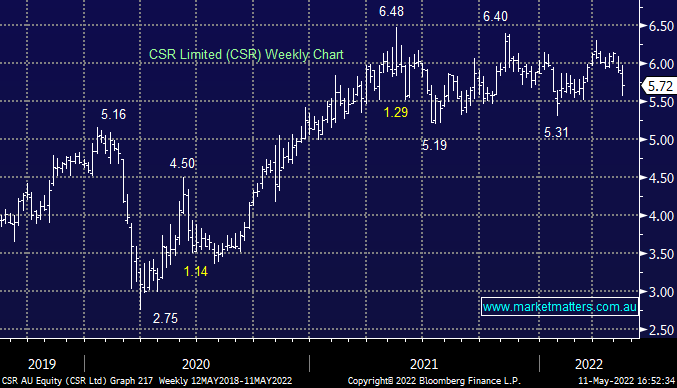 Link Administration Holdings (LNK) $4.22
LNK -15.09%: the company administration group was smacked today only a day after suitor Dye & Durham lodged takeover documents. Dye & Durham was expected to takeover Link at $5.50/sh in a deal announced late last year however concerns are now being raised around the funding needed to secure the takeover. An independent expert cleared the deal and Link's board moved to vote in favour of the takeover ahead of a shareholder vote in July. Dye & Durham had organised a $3.5b loan from a number of creditors, however, the market has fears that the loan, which is more than 3x the market cap of the Canadian listed suitor, is excessive. The ACCC has also delayed its ruling on the takeover with provisional findings now expected in late May. LNK shares are trading at a ~25% discount to terms.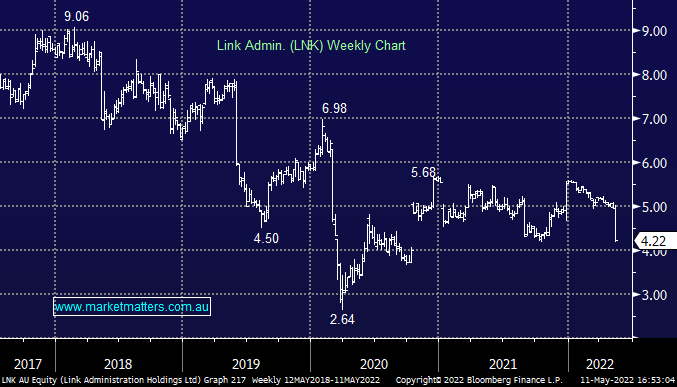 Broker Moves
REA Group Raised to Buy at UBS; PT A$130
Macquarie Telecom Cut to Neutral at Evans & Partners Pty Ltd
Altium Cut to Neutral at Evans & Partners Pty Ltd; PT A$29.70
Healius Cut to Neutral at Credit Suisse; PT A$4.65
Pendal Group Cut to Neutral at Credit Suisse; PT A$5.35
Australian Clinical Labs Rated New Outperform at Credit Suisse
Pendal Group Cut to Equal-Weight at Morgan Stanley; PT A$5.90
Major Movers Today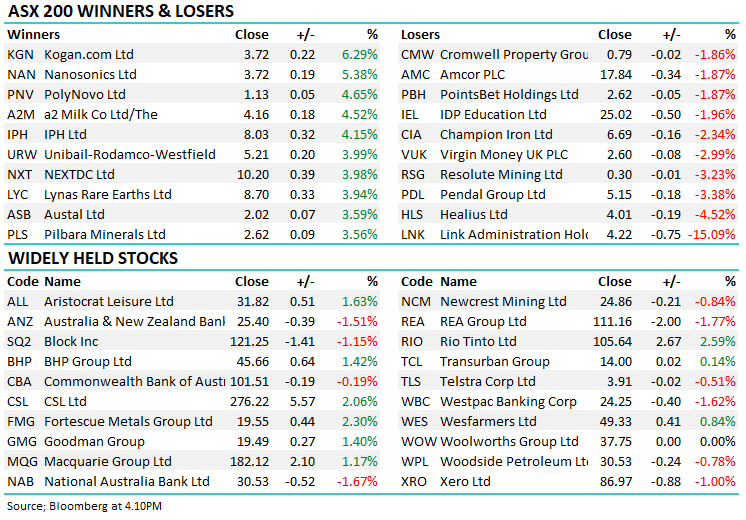 Enjoy your night
The Market Matters Team