The Match Out: ASX edges higher, Tech weakness continues, ALS shares higher after FY22 report
---
The ASX managed a 26 point gain today on the back of strength in the financials and consumer staples sectors. While finishing in the green, the market did give up ~30 points in the last 90 minutes of trading with futures falling further after the cash market closed. The Consumer Discretionary sector slipped -0.6%, one of three sectors to close down on the day, in the process it failed to pace with the stronger more defensive Consumer Staples sector. Technology was the black sheep of the market today though, falling nearly 3% with valuations still in question.

The ASX 200 finished up +26pts/ +0.37% at 7155
The Consumer Staples sector was best on ground (+1.54%) while Financials (+0.81%) & Utilities (+0.68%) were also strong.
Three sectors closed lower despite the index tracking higher. Technology was the worst of them falling -2.98%
While the big cap index traded higher, the S&P Small Ords index closed down -0.66%
Costa Group (CGC) +8.59%, hosted their AGM today with shares rallying on largely positive commentary across the business, particularly in the citrus and berry segments.
Fisher & Paykel (FPH) -2.3%, fell on weak FY22 earnings. Revenue fell 15%, profit down 28%, both small misses to consensus and towards the low end of recent guidance. No FY23 guidance was provided however further margin pressure is expected though hospital sales had improved.
ALS (ALQ) 1.95%, also out with FY22 results today. Shares rallied on a small beat as volumes in the technical testing company were strong. More on this below
Woodside (WDS) +0.66%, began trading under the new name and ticker today with BHP shareholders set to receive their portion on Wednesday, 1 June.
Iron Ore was ~1% lower in Asia today though equities brushed the move. Rio Tinto (RIO) closed +1.35%.
Gold fell -US$10/-0.55% in Asian trade today, giving back the gain seen overnight to currently trade ~$US1,856. Gold equities were some of the best performers despite the move.
Asian stocks were mixed, Hong Kong up +0.3% but Japan down-0.26%
US Futures are all up, S&P +0.3% and Nasdaq +0.5%
ASX 200 Chart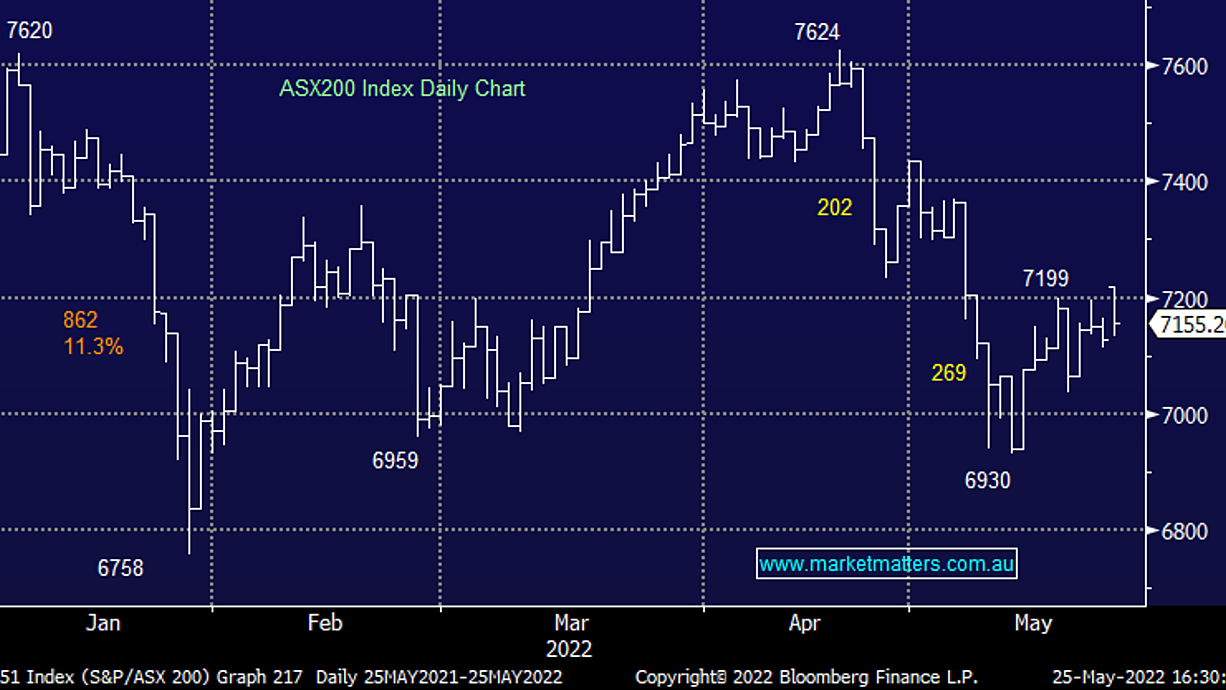 ALS Ltd (ALQ) $12.01
ALQ +1.95%: technical testing company ALS presented FY22 numbers to the market today, coming in slightly ahead of expectations. Revenue grew 24% to $2.2b, and EBIT was up 36% for the year to $409m, around 2% ahead of consensus. The commodities segment saw EBIT growth of over 40% thanks to a strong tailwind of volumes and price increases. Life Sciences also saw solid growth, organic EBIT growth of 29% plus an additional $11m contribution from recently acquired businesses. The report brings to an end a 5 year strategic plan with each of the targets met or exceeded. They didn't provide any FY23 guidance but did say the business has continued to perform solidly since the end of the period, with more to come at the AGM in August.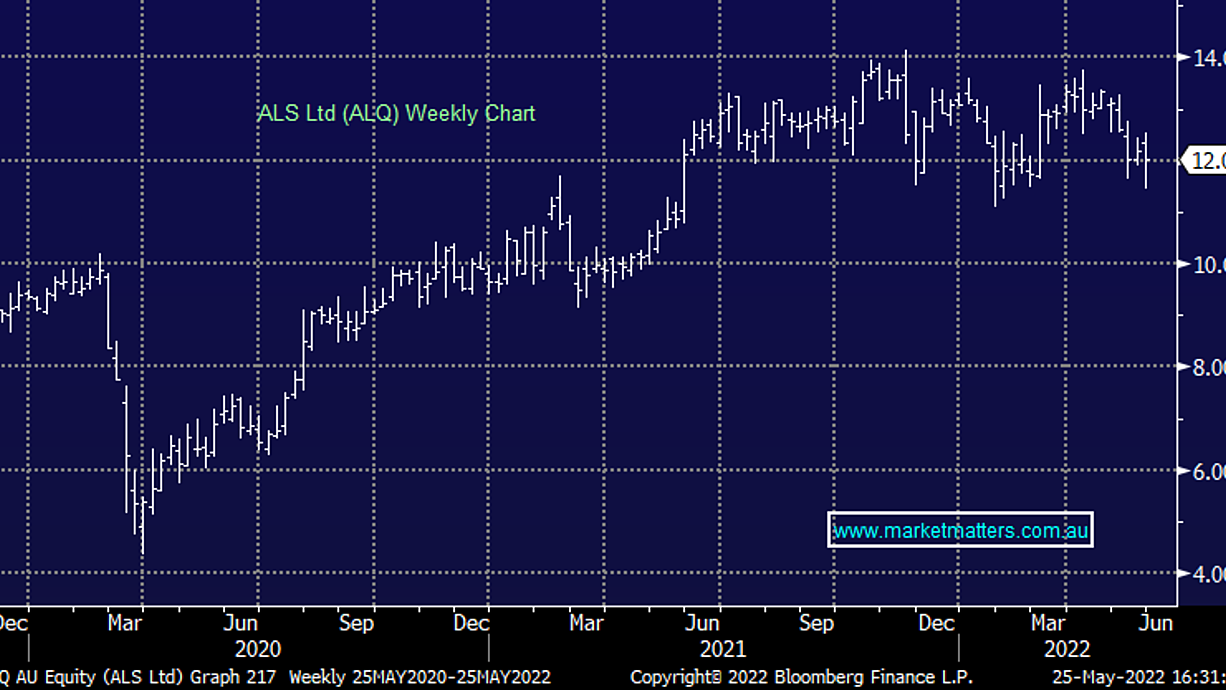 Broker Moves
Lottery Corp. Rated New Neutral at Jarden Securities; PT A$4.52
Tabcorp Cut to Neutral at Macquarie; PT A$1
Lottery Corp. Rated New Overweight at Barrenjoey; PT A$5.50
Lottery Corp. Rated New Overweight at Morgan Stanley; PT A$5.15
Challenger Cut to Underweight at JPMorgan; PT A$6.90
Elders Rated New Underperform at Barclay Pearce Capital
Major Movers Today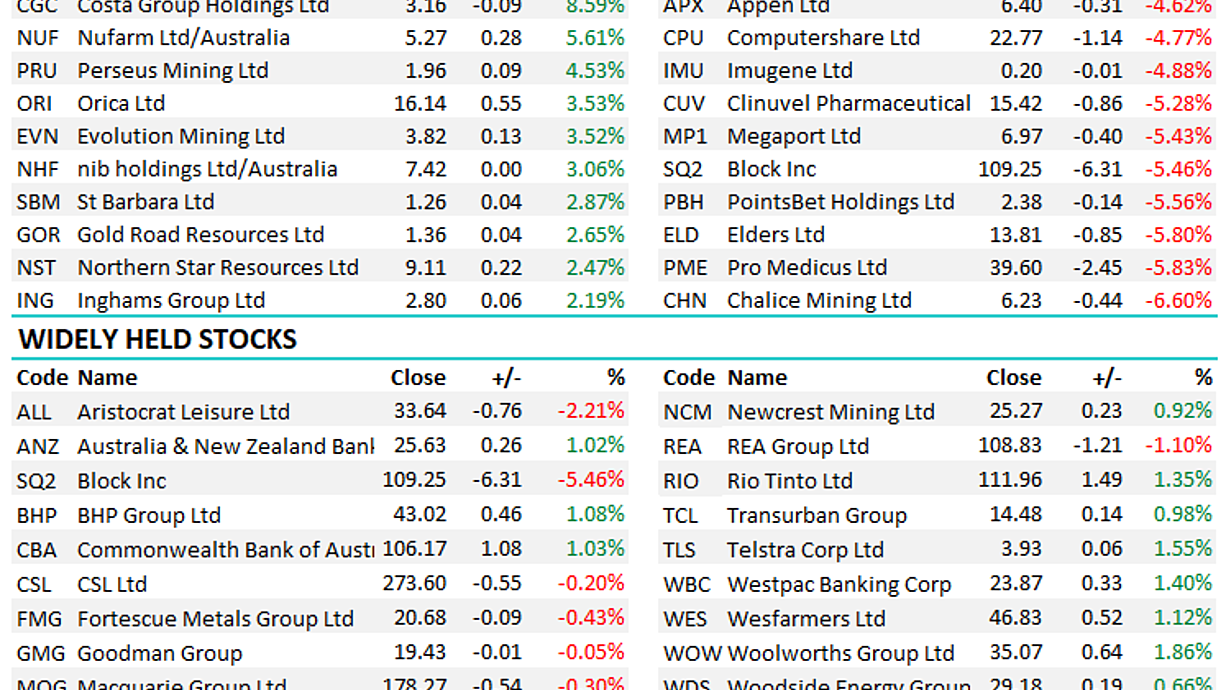 Have a great night

The Market Matters Team
Make informed investment decisions
At Market Matters, we write a straight-talking, concise, twice daily note about our experiences, the stocks we like, the stocks we don't, the themes that you should be across and the risks as we see them. Click here for your free trial.
The Match Out will be available each day after the market close. Follow my profile to be notified when the latest report is live.