The Match Out: ASX edges lower however sellers lose steam, Material stocks advance
---
I was up last night around 3 am with a dog that didn't want to sleep (don't ask) as the US market (and our futures) recovered from the whack they copped yesterday afternoon our time on question marks over the efficacy of current vaccines to the new variant, only for the Fed Chair Jerome Powell to cast another shadow by suggesting that the term 'transitory' was no longer appropriate when it came to inflation. That was a fairly big call and it's understandable why the market fell away. That said, our market has been resilient today down by only 20pts and that in itself speaks to why we are maintaining a positive bias despite the increase in volatility in recent days. Today we saw the Materials sector remain well supported while the Consumer Staples sector was weak, i.e. risk on despite the market being down plus one key aspect we keep a close eye on is credit markets, and they are certainly not pricing in any sort of doom or gloom, a concept Harry and I discussed in a video today that will be out tomorrow morning – keep an eye out.
The ASX 200 finished down -0.20pts/-0.28% at 7235, not a bad result given US markets were -1.9% overnight.
The Materials sector was best on ground up +0.57% followed by Healthcare +0.17% & Financials +0.05%, while the Consumer Staples -1.87% was hit by a 2.4% drop by Woolworths (ASX: WOW) – certainly no flight to safety witnessed today.
It was a mixed November for the Market Matters Portfolios with our Flagship Growth Portfolio the weakest link down by ~3%. This time last year that portfolio put on ~15% for the month alone – a huge result and while the market was up 11% in Nov 2020 after being hit by news of the Delta variant in October, the portfolio was ideally positioned to take advantage of the bounce. We feel that's the case again this year.
This month saw The International Equities Portfolio's shine, up +8.42% for the month followed by the Emerging Companies Portfolio which added +2.19% for the period.
Both the Income (-0.86%) and the ETF Portfolio (-0.42%) finished lower.
We said yesterday that it felt like a tough month on the desk, and that statement still holds true, however putting things into perspective is always key. Keep turning up, doing the little things every day and being consistent works over time – always worth remembering.
The Magellan backed Barrenjoey continues to expand their coverage of companies and a few recent calls caught our eye. Service Stream (SSM) is our weakest stock in our Income Portfolio and yesterday Barrenjoey upgraded to a Buy equivalent and $1 price target (versus current of 81c). While that's a positive call, they are the most cautious on the stock, with 5 buys and a consensus TP of $1.19
Today Barrenjoey initiated on Hipages Group (HPG) with a buy equivalent and $4.65 PT versus a current price of $3.66, while they also published on TPG Telecom with a buy and $7.50 PT versus $6.68 close.
While they have built a very strong team of analysts, the market is not reacting to these positive initiations – why? Because a new broker that has built a large and expensive corporate team needs to generate corporate fees, making the market initially sceptical. That's not downplaying the quality of research, more about commenting on the markets view of it.
Gold was up today +$US5 to $US1780 at our close.
January Iron Ore Futures up +3.42% today in Asia underpinning appetite for the Iron Ore miners.
Asian markets were mostly higher, Nikkei +2%, Hong Kong +0.90% while China was up +0.11%.
US Futures are higher, S&P now up +0.82% while Nasdaq Futures are +2%.
ASX 200 Chart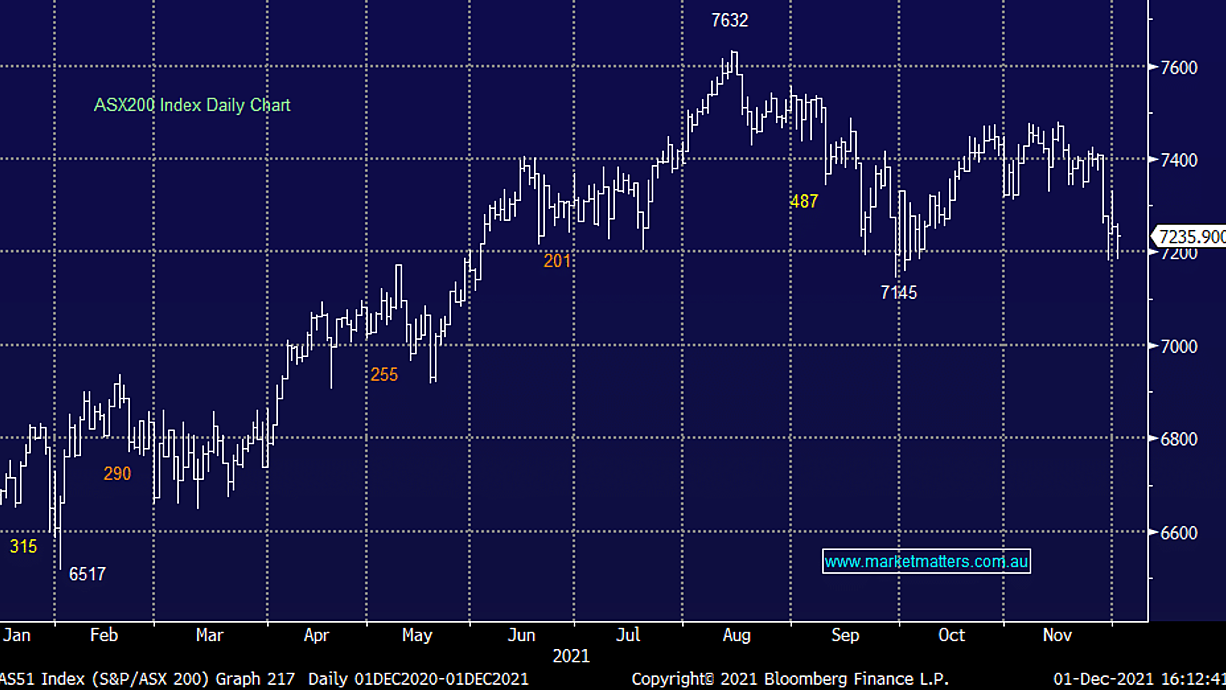 Broker Moves
RAM Essential Services Rated New Buy at Ord Minnett; PT A$1.14
Collins Foods Cut to Neutral at Jarden Securities; PT A$14.16
Top Shelf International Rated New Speculative Buy at Canaccord
Hipages Group Rated New Overweight at Barrenjoey; PT A$4.65
Fortescue Cut to Neutral at Citi
GrainCorp Cut to Sell at Bell Potter; PT A$6.15
James Hardie GDRs Rated New Overweight at Barrenjoey; PT A$63
TPG Telecom Rated New Overweight at Barrenjoey; PT A$7.50
Major Movers Today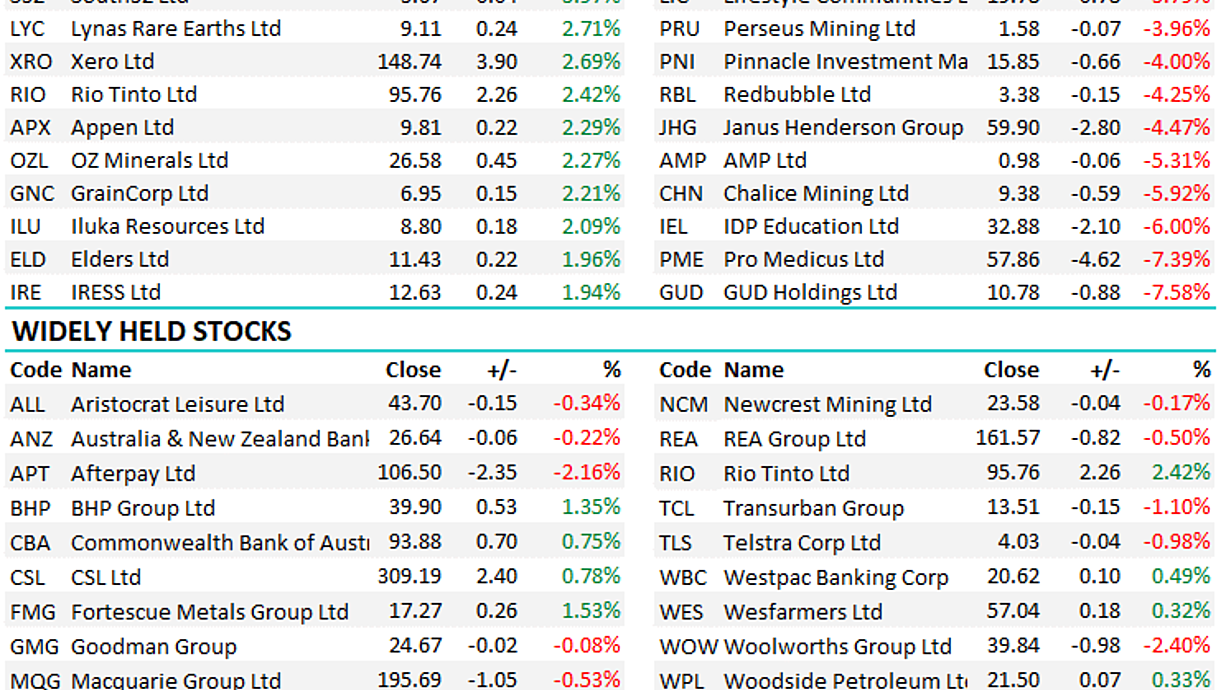 Have a great night
James, Harry and the Market Matters Team. 
Make informed investment decisions
At Market Matters, we write a straight-talking, concise, twice daily note about our experiences, the stocks we like, the stocks we don't, the themes that you should be across and the risks as we see them. Click here for your free trial.
The Match Out will be available each day after the market close. Follow my profile to be notified when the latest report is live.